In the realm of success, Whitney Bromberg Hawkings shines like a modern-day celebrity. Residing in the elegant neighbourhood of South Kensington, London, alongside her husband and three children, Whitney's life is a testament to her accomplishments.
Having had the opportunity of working alongside the esteemed Tom Ford, who gifted Whitney her signature pair of gold bangles, and having journeyed to Kauai to celebrate her father's 70th birthday, the FLOWERBX founder embodies a life filled with experiences that evoke admiration.
But amidst this desirable life, the question remains: How did a former personal assistant at Gucci ascend to become the entrepreneur behind FLOWERBX?
The Rise of Whitney Bromberg Hawkings with FLOWERBX: From Personal Assistant to CEO and Founder
Meet Whitney Bromberg Hawkings, a visionary businesswoman with the remarkable ability to harness and deliver beauty itself. In 2016, she unveiled her next day flower delivery brand, FLOWERBX, to the world, and it was nothing short of extraordinary.
 

 

View this post on Instagram

 
Whitney's journey began in New York, where she pursued her passion for French Language and Literature at Columbia University from 1994 to 1998. After graduating, she took a leap of faith and moved to Paris, where she ventured into the world of fashion, occupied as Tom Ford's trusted personal assistant at Gucci. This position eventually evolved into her role as the Senior Vice President of Communications at Tom Ford, up until 2016.
Whitney's insight into the world of fashion revealed that sending flowers conveyed significant messages about one's character within the industry. While Karl Lagerfeld might opt for elegant white orchids as a gesture, Calvin Klein could choose to send the graceful white calla lilies.
Recognising the demand for such personalised flower delivery, Whitney embarked on a mission to create FLOWERBX.
The Next Day Flower Delivery London Service by FLOWERBX: A tailored Subscription Model leading to Success
 

 

View this post on Instagram

 
What sets FLOWERBX apart from traditional florists, though, is its subscription-based model, offering consistent quality that caters to the big names, as well as those with a keen appreciation for luxury and beauty.
The unique subscription service allows customers to enjoy regular, waste-free deliveries of single-stem bouquets, featuring seasonal delights like tulips, peonies, roses, and more, depending on the time of year.
This sustainable approach means that flowers are freshly cut for immediate consumption and shipped directly from Holland to be promptly reconditioned and repackaged, before arriving at the recipient's doorstep.
Whitney herself emphasises the value of this approach:
"But you're not paying for the waste, and you're not paying for the shop, and you're not paying for the florist, and you're not paying for all the things that other people are charging you for."
Whitney Bromberg Hawkings' Entrepreneurial Achievements
Modest Beginnings: With a starting capital of £50,000, Whitney embarked on her remarkable journey in the bustling city of London. FLOWERBX's operational base and warehouse was set up in Acton in a space that resembled a garage. Despite the lack of basic amenities like heating and a toilet, this space would become the heart of FLOWERBX's operations.
Investors and Success: The company has garnered support from esteemed investors like Alex Chesterman and Natalie Massenet, triumphing a turnover of $10 million in 2021.
Online visibility: In 2023, FLOWERBX reached new heights as the brand achieved an extraordinary milestone in the UK. Among all florists, FLOWERBX stood out as the brand with the most significant year-over-year growth in online visibility, boasting an astonishing increase of 297 percent.
Publication Acclaim: FLOWERBX and Whitney as its CEO have been celebrated by the esteemed likes of Harper's Bazaar, Forbes, and even Vogue Magazine – a testament to her outstanding achievements.
Global Expansion: Having established a solid presence in the UK, especially in London, Whitney Bromberg Hawkings now has her sights firmly set on expanding FLOWERBX further into the United States.
The brand's expertise in floral arrangements has earned it a prestigious partnership with the renowned Mark Hotel in New York.
Additionally, FLOWERBX has had the unique opportunity to collaborate with Tiffany & Co., bringing a dreamy floral installation to life in celebration of Valentine's Day:
@TiffanyAndCo and @theflowerbx have brought our dream subway car to life. See this Valentine's floral installation through Feb. 18 at Tiffany & Co.'s Flagship Next Door at 6 East 57th St, New York, NY – its temporary home while the iconic 5th Ave storefront undergoes renovations. pic.twitter.com/1b7ejBEBqi

— Flower magazine (@flowermagazine) February 7, 2020
Whitney's path to entrepreneurship started early on when she made the daring decision to leave Gucci alongside Tom Ford, and later, to leave what she once considered "the best job in the world" at Tom Ford to pursue her dream of revolutionising flower delivery. Inspired by Mr. Ford's advice to have a 10-year plan, Whitney became resolute in her desire to be more than a Vice forever; she aspired to be an entrepreneur.
Her persistence and drive enabled her to leverage her unique advantages, including her familiarity with London and an already established audience, to lead her own successful brand, even in an entirely different field from her previous fashion background.
Whitney's journey serves as an inspiration, proving that with determination and a willingness to seize opportunities, one can achieve the seemingly impossible.
Author Profile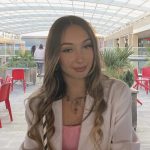 Passionate Blogger and Digital Strategist | 2023 Media, Journalism and Publishing Graduate from Oxford Brookes University | Georgian-British | Establisher and Creative Director of ClickSocial Marketing | Contributor to various Daily, Political, and Breaking News articles