For even the most avid and voracious readers, reading everything on the Internet is impossible.
After all, in 2020, the total data on the Internet hit the 40 zettabytes mark.
But if you are looking for information, opinions, and ideas for polishing up your London lifestyle, you don't have to skim through the many pages on the Internet.
Because we found the best picks for you.
Here are the 9 top London blogs (all available at the click of a link) that Londoners and London enthusiasts can (should!) check out to stay updated, informed, and in the know about this ever-evolving city.
P.S. – If you are looking for the best business magazines, check out this list.
What makes this London Lifestyle Blog list worth taking recommendations from?
We have listed down the options that are:
1. Popular
So, when you tell someone, you read something on one of these blogs, people won't say "what?"
2. Updated regularly
So, you'll get the latest updates and information. No old ideas.
3. Respected
People trust these blogs, and so can you. We've got traffic stats and social stats to prove that.
4. Engaging
Reading won't feel like a chore with these blogs and magazines. You'll genuinely enjoy it.
5. London-focused
Written by Londoners for Londoners, these e-magazines are ideal for your needs and taste.
How did we make this list?
Of course, we checked out the monthly traffic and the socials of the many London lifestyle blogs. But here is what else we looked for while deciding which blogs to feature on this list
A personal touch.
Why? Because you shouldn't have to read content that is impersonal and written just for the sake of writing.
So, all the blogs and magazines on this list come from real people who live in and love London. They are the best equipped to tell you the what, why, and how of this lovely city.
Let's get straight to the list now. Read on.
1. Poppy Loves London – To build your London life to-do list

Website: https://www.poppyloves.co.uk/
What is it about?
Whether you call London your home or have just arrived, the best way to explore the city is to follow Eva aka Poppy Loves London.
What started in 2010 as a way for Eva to talk about things she finds fascinating, has now become a digital dictionary for all things London. From cozy cafes to fancy restaurants, beauty finds, bakeries, and books, this one has it all.
You can also bank on Eva's 10+ years of experience in social media and the branding world. With her masterclasses for small businesses, you can make the most of influencer marketing for your London business.
Special: Poppy Loves London also has an eStore where you can shop for lovely London finds.
2. Don't step out to explore London before you've read about it on London Unattached

Website: https://www.london-unattached.com/
What is it about?
London Unattached is an online magazine, targeted at metropolitan singles and couples. It covers a broad spectrum of topics that range from restaurant picks to recipes, cocktails, and places to explore London culture.
So, whether you are looking for a quiet place for a romantic date, the best opera house, a club to dance the night away, or anything else, London Unattached is where you'll find the right recommendations.
Special: London Unattached is known for running cool giveaways like "High Tea For Two at Colonel Saab". So, you might want to keep checking their Giveaways section.
3. Every London home needs the advice of Homegirl London

Website: https://homegirllondon.com/
What is it about?
The blog itself mentions that its aim is to "make you feel at home in London". And that's exactly what the blog offers.
The blog's contents are divided into two niches.
One, home. So that includes everything you need to amp up your normal homes into lux London homes. From tips to interior design trends, designer references, cool finds for the home, and even garden styling guides, there's everything and more.
And two, the blog talks about London. Where to shop, where to eat out, and just basically how to make the most of the UK capital.
Special: The 'Looks' section on the blog is specifically dedicated to beauty finds to glam up your look. Along with the occasional health, well-being, and beauty tips.
4. Let Babes About Town tell you how to make the most of London with kids

Website: https://babesabouttown.com/
What is it about?
When your family has grown and you have little munchkins to explore and experience London with, Babes About Town comes to your aid. From how to keep kids engaged to how to explore the capital with little ones in tow, the blog offers everything. Parenting tips, exploration guides, and ideas – you name it, the online magazine has it.
Find what you should do the next weekend with kids, right here.
Special: The babe behind the blog, Uju Asika has recently launched her book "Bringing Up Race", which talks about raising kind kids in a prejudiced world.
Halfway alert: You are halfway down the list now. Feeling like your bank balance may not support your London lifestyle? Check out the top passive income ideas.
5. Grab the front-row seat to fashion & luxury in London with Inthefrow

Website: https://www.inthefrow.com/
What is it about?
Founded by Victoria Magrath in late 2012, In The Frow is one of the most celebrated London blogs. Winner of many awards and nominations, In The Frow (Frow = Front Row), is your front-row ticket to exploring London, with the fashion lens.
What stores to stop by, which ones to avoid, fashion favorite picks, advice about grooming, and the hottest trends, you'll find everything here.
Special: Since Victoria purchased her first home, her attention has also shifted to interiors. And she talks and reveals tips about that on her Instagram channel FrowHome, which is also worth checking out.
6. London x London – An expat's guide to London, brought to you by an insider

Website: https://www.londonxlondon.com/
What is it about?
While those born and brought up in London too can check out London X London's tips and guides, it is the ex-pats who will love it the most.
The blog has everything you need to learn about living in London. From life-living guides (like how to tip in London) to life-loving guides (like where to eat & drink), the blog covers more than you could have asked for.
There is also a London history section which will take you to the alleys of the yesteryears.
Special: London X London has a cool newsletter that you can subscribe to and get the latest inspiration and tips delivered straight to your inbox. Plus, when you subscribe, you also get a free map of London's 300 quirkiest spots worth exploring. That's a great asset, for sure.
7. Carl Thompson – A man's guide to London-ing in London

Website: https://www.carlthompson.co.uk/
What is it about?
Fashion and lifestyle have been niches long since dominated by women – both in terms of creators and consumers. But Carl Thompson is set to change that. With his fashion and lifestyle blog, he aims to guide and inspire men. And let them know all that they need to know about living a fashionable life in London.
The blog covers topics ranging from product reviews to practical life advice, men's fashion and styling tech, cars, mental health, and more. You ask and the blog has answers ready for you.
Special: Carl has also been associated with Hawkins & Shepherd, a luxury handmade shirts brand. Inspired by London, the brand offers classic shirts that are made with the finest materials.
8. Discover the luxurious side of London with Lux Life London

Website: https://luxlifelondon.com/
What is it about?
Launched in 2011, Lux Life London is a veteran name in the luxury London lifestyle niche. It has grown both in terms of traffic and social media following in the past decade. And today, it is the ultimate destination for youngsters with money in their pockets and passion in their hearts.
Whether you are looking for local London guides or international travel guides, you'll find them here.
Special: Other than travel and restaurants, Lux Life London also covers events worth attending in London. So don't forget to check their Events section for details about ongoing and upcoming events to be a part of.
9. London Business News Blog

Website: https://www.londonbusinessnews.com/
What is it about?
The London Business News Magazine was only launched in 2019 by passionate bloggers working at the digital marketing agency ClickDo headquarters in Canary Wharf. The magazine covers all of London and business, which means that especially the latest news and lifestyle trends in London are covered here often directly from the featured businesses.
Special: The editors also attend business events hosted in London and appreciate insider guest blog contributions about any London and UK-related trending topics as well as entrepreneur interviews or Q&As and digital PR news releases.
And below are some younger and growing London Lifestyle Blogs to watch:
10. London Local News Blog

London Local News delivers selected activities and trends in London to the locals. Your posts based in London city will be accepted here and the professionals are well-trained to make your blog look good and appear in the first position in SERPs. No matter your topic and content, if it is approved then your blog will attain its best position in a short time with the best backlinks.
Domain authority: 38
11. Yoda London Blog

If you are in London and looking to post your London content, then you might consider YodaLondon. The blogging site consists of several blogs that are related to London city. You can share your London insights and tips to get your article up on this platform.
Domain authority: 39
12. London On Blog

London On is one of the finest blogging platforms for anything to do with London. Whether you are a London-based business, a London blogger, or just simply a writer who has something to report about London and the UK, get in touch with the team to get your post live.
Domain authority: 33
13. London Out Loud Blog

London Out Loud is the best London Lifestyle magazine to know about all the trends, events, and cultural developments in London. Whether you're looking to share insights for a great night out or some ideas on leisure activities in London, you can pitch your London insider topics to the editors and you're on your way to being featured here.
Domain authority: 24
With that, it is a wrap on our list of the best London blogs and magazines. Go on, read your way to the London lifestyle!
If you would like to suggest a London blog or magazine be added to this list, get in touch with the editors or email info@londonbusinessnews.com.
Author Profile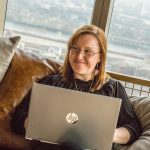 Blogger and Educator by Passion | Senior Online Media & PR Strategist at ClickDo Ltd. | Contributor to many Education, Business & Lifestyle Blogs in the United Kingdom & Germany | Summer Course Student at the London School of Journalism and Course Instructor at the SeekaHost University.