It's that time of year when people begin to worry about Christmas gifts hence why we discuss the best corporate Christmas gifts and gifts for employees so you don't have to break into a sweat over it.
With staff now back in their offices or workplaces, Christmas parties and secret Santa's are back. And with that is the stress of finding the perfect gift for colleagues or staff to avoid embarrassment upon unwrapping them in front of everyone.
Make a start by setting a budget that is reasonable for you and the person who is receiving the corporate gift. The next step is to analyse the colleague or employee. If you are good friends, then this step would be a piece of cake, but if you are just casual acquaintances who perhaps don't even get on very well, this would be a Herculean task.
To help, you will find gifts you can give to work buddies who are passionate about all possible hobbies like reading, journaling, baking, and other popular activities suitable for lower budgets.
They will enable you to be creative while gifting, but at the same time non-offensive and practical while staying within your budget. Plus, they will save your grace at the annual work that everyone remembers.
15 Best Corporate Christmas Gifts For Your Employees or Colleagues
Here are a few ideas if you are still wondering about what to gift at your Christmas party or secret Santa:
1. Crate & Barrel Aspen Wine Glasses – £4.95
There are hardly a few people who do not occasionally relax with a glass of wine. Everyone loves a day off with a glass of red wine and some time spent in the spa, irrespective of gender. Hence, instead of gifting just one wine glass why not get a matching set!
2. Musee Bath Little Lamb Boxed Bath Balm – £9
For those who have sensitive skin, this would be the best gift, and especially for those who love shower time or who have little kids in their homes, this could be a huge help. These bath balms contain almond oil and coconut milk and are thus good for all kinds and types of skin.
3. Anthropologie Tiled Margot Monogram Mug – £14
These adorable coffee mugs are cute, funny, and at the same time useful too! So if your Christmas gift buddy is a coffee lover, buy this gift.
4. The Sill Hoya Heart Plant – £14
We are @cupofjo top-pick for Valentine's Day gift idea. "If you need a low-key Valentine's Day gift, we're loving this heart-shaped Hoya plant from The Sill. Especially good for that tricky do-we-give-gifts phase of a new relationship." Thank you!!! Read: https://t.co/1zCPvPL4uh pic.twitter.com/o0WTEXjXCE

— The Sill (@TheSill) February 5, 2018
For those who love plants, this heart plant would make their day brighter.
5. Mini Capri Blue 5 Oz. Volcano Jar Candle – £14
Yeah, our candles come wrapped…wrapped in glitter 🤩 #glam pic.twitter.com/UUbeY0LbA0

— Capri Blue® (@capribluebrand) December 6, 2022
Who doesn't love candlelight? If your Christmas buddy loves to have candlelight dinners at their home, you can gift this candle to them.
6. Shinola Playing Cards – £15
Play like a champion. Shop our new deck of #cards here: https://t.co/LD9PDkX7FH pic.twitter.com/DVipgBeoq8

— Shinola (@Shinola) June 1, 2016
During this pandemic season, people played various games to kill time. So it's obvious that most of them would be bored with the games that they have at their home by now. This deck of cards has witty phrases and cool graphics, and would make the perfect gift!
7. Atlas Obscura, various editions – £19.07
This book is the perfect gift for all those who love to travel. A hefty hardcover, this book contains gorgeous images and stories about under-the-radar locales and is a haven of fun facts for young and old.
8. Mario Badescu The Facial Spray Collection – £20
These facial sprays are the best things to have in a makeup kit. They are also safe for travel. They can be used for moisturizing and soothing the skin, especially on sunny days.
9. Crate & Barrel Corda Hanging Picture Frame-£20
This wooden frame is for all those who love to preserve their memories in beautiful frames. With a dimension of 8″x10″ or 11″x14″, it can be hung both horizontally and vertically.
10. Poketo Bamboo Coasters In Abstract Set – £24
"At @Poketo we use Pinterest to share creative ideas when we embark on a collaboration or when generating inspirations behind new product collections."

– Poketo founders Ted and Angie on their creative process. How does Pinterest inspire you?

📌:https://t.co/nYYOd2dYX0 pic.twitter.com/SZTvBw4Zjy

— Pinterest (@Pinterest) November 7, 2019
If your co-worker just moved into a new place, this colorful bamboo coaster would be the ideal gift for them.
11. The Rise And Fall Handmade Cotton Pot Holders (Set Of 2) – £24
For all those who are into baking pastries, these cute potholders would be the perfect thing to encourage them to spend more time baking goods. If they love your gift, you may even get a bunch of their handmade cookies!
12. Bloomscape Small KINTO Propagation Vase – £25
Let's propagate some trailing plants! 🙌 pic.twitter.com/eDtpOfxXuJ

— bloomscape (@bloomscape) August 5, 2022
A propagation vase looks way better than a repurposed pasta jar, so this could be given along with the heart-shaped plant to your co-worker.
13. Opinel Le Petit Chef Knife Set & Kids' Apron – £25
Les essentiels portent bien leur nom car on les utilise très souvent en cuisine !
Nous avons toujours besoin de petits couteaux pour préparer des recettes.https://t.co/Ph5mnR09p5

(c) Thierry Vallier pic.twitter.com/OYgMfCvPOd

— Opinel (@Opinel) December 10, 2022
If your co-worker has a little chef in their home, this Opinel Le Petit Chef Knife Set & Kids' Apron is a gift they would cherish forever.
14. The Five-Minute Journal By Intelligent Change – £25
Once-in-a-year opportunity.

Shopping you will feel good about✔️ pic.twitter.com/lhZ5DRvoLx

— Intelligent Change (Five Minute Journal Creators) (@int_change) November 26, 2021
If you want a gift that would touch the heart and soul of a person, The Five-Minute Journal By Intelligent Change is something that you should go for. It gives its readers short prompts, persuading them to write things that they are grateful for. This would make the perfect gift for everyone.
15. POPPY + SAGE Bali Box – £26
These beautiful handwoven and hand-beaded catch-all boxes are perfect for storing little things like small trinkets, keys, little matchboxes, and so on. The Balinese artists are famous for such crafts, so make sure you buy one for your co-worker.
Get Festive in Style
The festive time is all about love, sharing, and caring. Hence spread the word of love and happiness amidst these tough times and have each other's back. So, while giving your worker or colleague the gifts keep a smile on your face and pass on warmth and happiness and see the change that you brought forth in your workplace.
Author Profile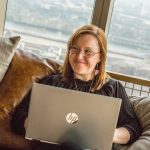 Blogger and Educator by Passion | Senior Online Media & PR Strategist at ClickDo Ltd. | Contributor to many Education, Business & Lifestyle Blogs in the United Kingdom & Germany | Summer Course Student at the London School of Journalism and Course Instructor at the SeekaHost University.