The education system is now growing with technology trends like online classes, learning management system, artificial intelligence and more.
Education has changed tremendously, and it no longer requires classroom set-ups like a black board, table, chairs, etc. With the help of EdTech platforms, students can learn from any desired location, and teachers can teach from anywhere while working from home.
Covid-19 has impacted the education system. Schools remained closed for a long time, but students couldn't sit idle at home, so schools have adopted new technology trends in education. These recent trends are helping students in their studies, especially the higher classes and college students, and due to Covid-19, EdTech is not a choice anymore. It is now an essential in the field of education.
Here are five rising technology trends in education in 2022 that you should keep an eye on.
6 Rising Technology Trends in Education
E-learning
3D Modelling and 3D Printing
AI and Robotics
Personalized and Adaptive Learning
Digital Masterclasses
Learning with VR and AR
1. E-learning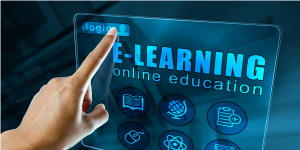 Distance learning became the top educational technology trend in 2020 because of the spread of Covid-19. Every school even in primary education, university and college has started to teach their students using E-Learning platforms. Teachers began to use software like Zoom and Google Meet to take online classes.
Educational content is delivered to students through computers, laptops, and smartphones. Students get a new way of learning, and they become very excited to take classes on smartphones and laptops.
One of the most significant education trends is that some colleges have started offering online bachelor's degrees, and many other colleges had offered online courses during the Covid-19 pandemic.
It's a significant advantage for college students because, with the learning process, they get so much extra time. During that time, they can prepare for private job interviews or start preparing for civil service exams. Many students say that lockdown has given them so much time to prepare for civil service exams.
The best feature of an online class is that students can record the classes, and whenever they get the time, they can watch it again to clear more concepts.
2. 3D Modelling and 3D Printing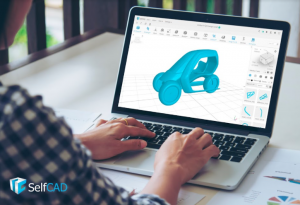 Before, 3D modelling and 3D printing was only considered to be something meant for experts and professionals only. But right now this technology is making its way to schools too as many teachers and students are adopting it. It's also interesting to note that 3D printing has even been used recently to create schools like the world's first 3D printed school that was created in Madagascar early this year.
The 3D printing process begins by a digital file being created using a 3D Modeling software. The digital file is called a 3D model. This 3D model is then converted into a 3D printable file called G-Code using a Slicing software which is then later 3D printed using a 3D printer. The final physical model produced is much similar to a real-life object.
Many schools are now adoption this new technology because easy to use 3D modeling software like TinkerCAD and SelfCAD have been adopted that makes learning easier. There are also cheaper 3D printers for schools that you can buy and set up 3D printing in your schools within just a few weeks if not months.
3. Artificial Intelligence (AI) and Robotics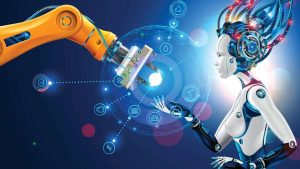 Artificial intelligence is one of the most prominent technology trends in education. AI is used to automate many essential activities in education. Schools and colleges are using AI to automate the grading of multiple-choice questions.
This process saves a lot of time for teachers and professors because they don't have to check every student's answer, and the grading process can be done automatically.
To check the performance of college students, professors usually administer the test in the form of multiple-choice questions, and the professor has to check the sheet of each student. But, nowadays, AI does the grading work.
Sometimes, teachers take the test via Google Forms, and as soon as the students submit their answers, they get their results.
Robotics is a skill that every student should learn because the era of robots has come, and schools are also focusing on this skill now. Many college students are doing awesome projects on Robotics.
Developing and coding robots help students understand STEM (Science, Technology, Engineering, and Mathematics) concepts and develop 21st-century skills.
4. Personalized and Adaptive Learning
Every student wants personalized and adaptive learning. They want to learn according to their own time and pace. In traditional education, students have a fixed time of learning, and they have to learn things continuously.
Online classes offer a flexible learning hour to students, they have to take live classes at a fixed time, but other downloadable courses can be taken at any time and at that time, students can learn the necessary concepts according to their pace. If they don't understand anything, they can watch it twice or more.
Adaptive learning aims to provide efficient, effective, and customized learning paths to engage each student. Teachers adjust the path and pace of learning to bring out the best result from students.
5. Digital Masterclasses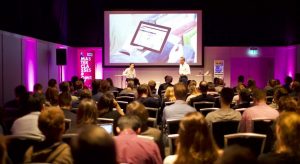 Many colleges and schools are using digital masterclasses because digital classes allow students to be taught by experts from different fields.
Students see everything virtually, and it helps them to understand all necessary concepts. College students have more need for digital masterclasses because they have to carry out many projects, and for that, they need masterclasses to help them better understand concepts.
There are various platforms that allow experts to create and sell their courses such as Udemy, Coursera and more.
Students from the physics, chemistry, and biology fields can understand their subject more deeply with the help of digital masterclasses; that's why schools and colleges are using digital masterclasses as well as online learning platforms.
6. Learning with VR and AR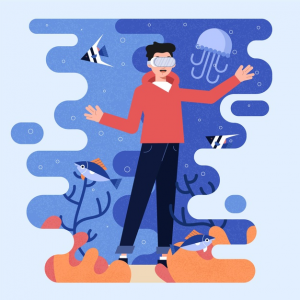 The class learning experience can be changed using VR (Virtual Reality) and AR (Augmented Reality). This will make the classroom become more exciting.
VR will provide a real-world experience, while AR will give an enhanced view of an actual image. VR and AR will help to clear complex concepts that plain text or lab experiments can't explain.
VR has a massive use in sports where coaches and players are using it to train more efficiently. Now, this is a technology trend in education, and many colleges and schools are using it to provide a better learning experience to students.
By using VR and AR technology, students can better understand complex concepts through the use of real-world experience.
Conclusion
Many educational technological trends have experienced changes since 2020. Schools and colleges are adopting new ways of learning. Things are changing, and students can no longer effectively learn new things with traditional educational methods. They have to learn new ways, and schools and colleges can help them by providing them with new technology trends in education.