On the 16th of September, the London Business News team joined in the two-week-long celebration of the 2023 Open House Festival.
View this post on Instagram
This annual London event, which has been a tradition in London since its inception in 1992, welcomes both locals and tourists to explore the city's most remarkable and revered architectural marvels.
What is the Open House London Festival about?
Open House is orchestrated by Open City, a charity organisation devoted to rendering London's architecture more accessible and welcoming to the public. In doing so, they not only unlock the physical doors of buildings but also foster conversations among people.
Today, Open House stands as the world's largest architecture festival, offering free access to over 800 buildings, lectures, and guided tours through London's vibrant neighbourhoods.
While it traditionally spanned a weekend, this year's event extended up to two weeks, running from the 6th to the 17th of September below you can see how different venues opened their doors at selected times that visitors could sign up for:
View this post on Instagram
View this post on Instagram
View this post on Instagram
The concept of Open House has transcended boundaries, spreading to more than 35 cities across five continents, becoming a global celebration of architecture.
In London alone, the festival engages tens of thousands of visitors, encompassing all 33 boroughs.
During the event, we had the privilege of conversing with some volunteers who had previously participated in Open House events worldwide, now lending their friendly presence to the London edition.
However, the journey of Open House was not without its challenges during the COVID-19 pandemic. Understandably, people were hesitant to enter others' homes or open their own to strangers. To sustain the tradition of offering free access to this remarkable event for three decades, the festival now welcomes donations from those willing to contribute.
In a typical year, this event draws around 250,000 individuals, granting access to diverse venues usually not accessible to the public like Marlborough House or the Foreign and Commonwealth Office for example.
How the LBN Team Participated in the Open House London Festival 2023
The London Business News team chose to participate by visiting several venues on a sunny Saturday. Unable to cover all the venues in one day, we focused on three destinations that reflect the diversity of locations – check out our video to see what we experienced:
We began our day near Old Street Station, taking a leisurely stroll to Haggerston Wharf.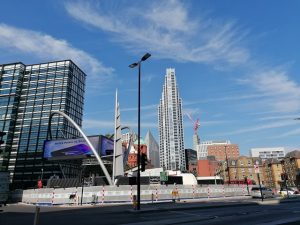 Our curiosity was piqued by this boat community, and so we ventured inside to meet both boat owners Emma, and Morgan. Emma's 'Empire Queen,' a 50-foot traditional canal boat, was a boat of eclectic furnishings and decorations.
Exploring a Unique Lifestyle in London by Meeting Canal Boat Owner Morgan Stetler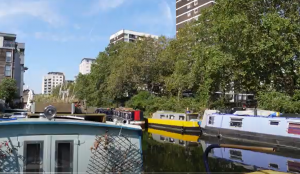 Morgan's 'Sleeping Kitten's Moment', a 55-foot-wide beam canal boat, impressed with its open-plan living area and kitchen, where visitors were treated to fresh lemonade. A conversation with Morgan provided insight into his boat and lifestyle.
Morgan shared why he opened the doors of his boat, realising that many people are unfamiliar with the experience of living on one, as he had been before. He recounted his early pandemic experience on a smaller boat, which gave him a firsthand understanding of boat living. This experience inspired him to embrace boat living full-time.
Morgan values the close-knit community at Haggerston Wharf, considering them all friends. While he highly recommends it, he also notes that it may not be as straightforward or cost-effective as some people might assume.
Discovering the Baring Archive Collection at ING Bank in Moorgate & the partnership with Open House London in conversation with Martha McKenzie-Minifie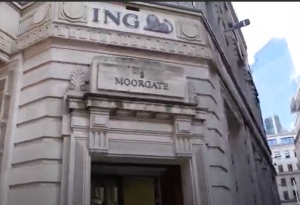 Our next stop led us to the ING Bank office at 8-10 Moorgate, a modern corporate setting adorned with a blend of old and new art pieces. Warmly welcomed by ING Bank staff, we were swiftly guided to the top 9-storey floor via an elevator. The building showcased inspiring art from the Baring Archive as well as a remarkable collection of modern British art.
We had the chance to interview Martha McKenzie-Minifie, the Global Wholesale Banking Communications and Brand Experience Lead at ING Bank, who shared some intriguing insights with us.
She informed us of ING Bank's longstanding involvement in Open House, emphasising how it fosters community spirit and enables current and former employees to showcase their workplace to friends and family.
Martha shared with us that ING Bank, home to the Baring Archive, received the City Heritage Award in 2016 for their building, a testament to its historical significance.
She emphasised that many ING Bank staff get involved in the event and enjoy participating as it brings the community closer together and even current or previous employees use the opportunity to show the building to their relatives or friends.
Martha therefore recommends just coming along and seizing the day.
Participating in Guided Open House Tours at the Roman Amphitheatre at the Guildhall Art Gallery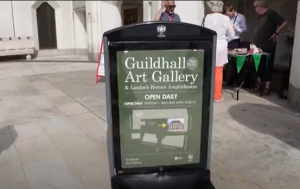 Our final stop led us to the Guildhall Art Gallery, where we descended to the Roman Amphitheatre on the lower floor. As part of the Open House Festival, free guided tours were available on both weekends, shedding light on the history of this ancient venue, once the Wembley Stadium of Roman London, where brutal spectacles unfolded before a crowd of over 7,000 spectators. The engaging tour guide regaled us with tales of its violent past.
Remarkably, London's Roman Amphitheatre remains open to the public year-round, with free admission.
Historically, no evidence of a Roman amphitheatre in London existed until February 1988 when workmen, while preparing the site for the new art gallery, unearthed ancient walls. The Museum of London's archaeology team stepped in, and their discoveries changed the understanding of Roman London. Following an extensive restoration process, the amphitheatre opened to the public in 2002.
This is the beauty of the Open House Event – you always discover and learn something new!
How to Navigate the Open House London Festival
After a day filled with engaging conversations, architectural wonders, and artistic treasures, our team reflected on the experience.
To make the most of this brilliant London event, we advise future attendees to:
Book tickets in advance – it's easy and free, simply register for an account and you can sign up for as many events available!
Wear comfortable footwear, as you will likely spend the day walking.
Regardless of the event or outing in London, stay hydrated and carry a bottle of water!
Protect yourself from the sun/UV rays by wearing sun protection or SPF, as you will likely be travelling around London for the whole day.
Plan your travel routes in advance, using reliable resources like the official TfL website or Citymapper
Be open to changing your plans during the day to maximise your exploration. Make use of the Open House map as we did throughout the course of the day.
Attending Open House was an inspiring experience, and for me, a first-time participant, it ignited excitement for future festivals. The diverse interactions with ING staff committed Open House volunteers, and fellow festival attendees were a testament to the shared passion for opening London's treasures to the public.
It was indeed a remarkable experience, and the London Business News team warmly encourages others to partake in this celebration of London's architectural wonders in the future.
Author Profile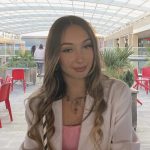 Passionate Blogger and Digital Strategist | 2023 Media, Journalism and Publishing Graduate from Oxford Brookes University | Georgian-British | Establisher and Creative Director of ClickSocial Marketing | Contributor to various Daily, Political, and Breaking News articles