HSBC recently announced that it plans to swap its 8 Canada Square address, which it has occupied for the past twenty-one years, for a more modest suite in the City of London, the traditional home of banking and finance in London.
Other banks may follow suit, but for now many are choosing not to leave the Isle of Dogs financial centre altogether but downsize their existing space instead.
Both Barclays and Citi Group have opted to shrink their square footage as their employees increasingly choose to eschew the office and work in a hybrid arrangement post-pandemic.
This downsizing reflects a post-covid trend across the finance sector, where a mix of AI with automation and a move to hybrid work has caused banks and big financials to rethink their office space needs.
So what does it all mean for the shops and restaurants in Canary Wharf that have historically relied on bankers and office workers to keep going?
The Lie of the Land in Canary Wharf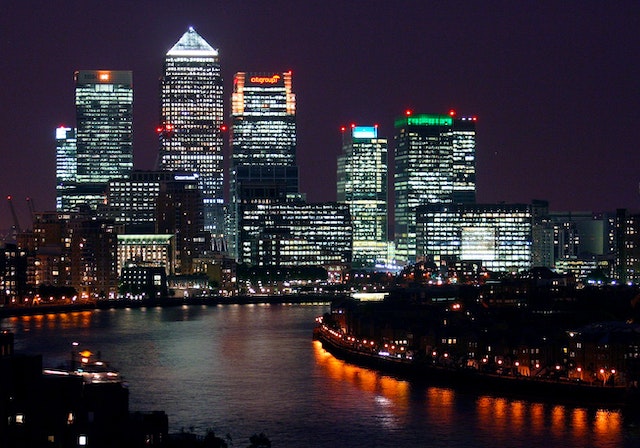 There are around 300 shops, restaurants, and bars spread across Canary Wharf's 16.5m square feet. The site's operator, Canary Wharf Group (CWG), says that represents a 97% tenancy rate for its shop space.
Space on the peninsula is not just plentiful, but cheap, too, especially when compared to its rivals.
Knight Frank, an estate agency, reports that the most desirable square feet of space in Canary Wharf are changing hands for £49.50. In the City, a square foot of the choicest office space will set you back £72.50, while in the West End, it costs £107.
Given its competitiveness on price, it's perhaps surprising that around 15.5% of Canary Wharf's offices are empty, which compares unfavourably with the City, where just 11% of office space is unoccupied, according to commercial real estate firm CoStar.
Downturn in Canary Wharf with increasing Hybrid Work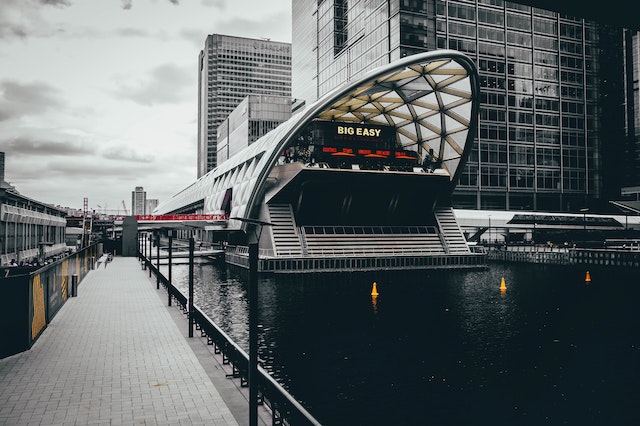 The reduced tenancy rates reflect a downturn in trade on the wharf post-covid.
With many bankers and corporates choosing to work from home part of the week, some shops and food sellers have seen trade slow to a trickle and responded by closing their doors early; others have stopped opening at weekends.
Plateau, a French-style restaurant, is the most recent casualty of the post-covid slump. The owners, D&D, pinned the blame for the closure on the virus and its "major impact on the corporate market and footfall".
It's a similar story for some of the wharf's big retailers.
The likes of Ted Baker and Church's Shoes have had to shutter their shops permanently because they simply can't get sufficient numbers through the door to make their sites profitable.
Restaurants in Canary Wharf hardest hit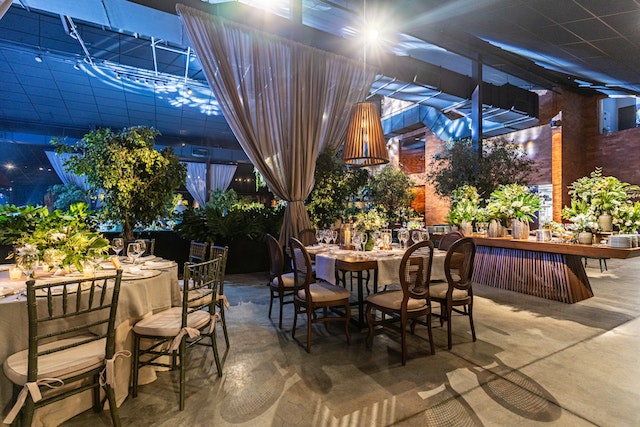 As the Plateau's recent travails suggest, restaurants are often the hardest hit when the local economy takes a turn for the worse.
The 2008 financial crisis was especially brutal for the sector, with a slew of once-popular Docklands eateries shutting closing down as the credit crunch began to bite and bankers got the heave-ho.
This time around, if restaurants are to keep their doors open as the bankers leave, they will have to pivot and adapt to the changing demographics and tastes of the people who still use Canary Wharf.
To give you an example of how this might work, M Restaurant, a bar, and grill, has set up shop in one of the peninsula's new builds, the Newfoundland building.
The steak house doesn't just serve up tasty meat dishes but also provides a 24-hour concierge service to the residents of Newfound Land Place, the housing block above the eatery that recently welcomed its first tenants.
Another new restaurant, Fish Game, has also decided the time is ripe to set up shop close to one of Canary Wharf's new residential communities, this time in Wood Wharf.
Fish Game founder, Roberto Costa, says he opted to put down roots on the site because he believes the nearby residential tower block represents "a novel concept of living and working".
It's a sentiment echoed by Sam Anstey, the managing director of the Mildreds Restaurant Group, which has recently launched its plant-based restaurant, Mallow, in Wood Wharf.
In announcing his plans for the new restaurant, Anstey drew attention to the fact that the wharf is not just a place of business but "a thriving, social and sustainable community where people live".
Pop-Up Shops in Canary Wharf to test the Waters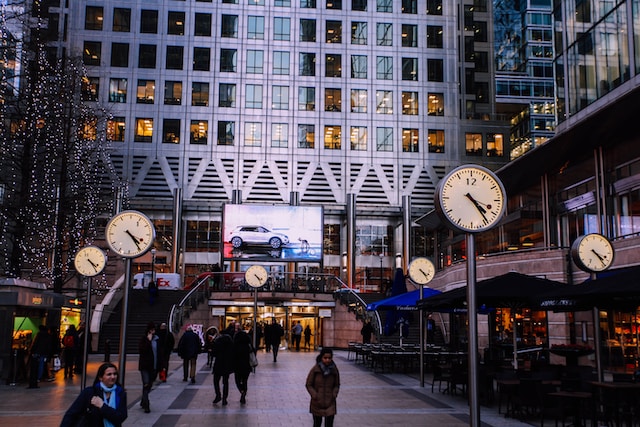 As bankers become thin on the ground and the demography of the Docklands evolves, perhaps pop-up businesses can test the waters along the wharf before setting up shop permanently.
That's just what Pergola, a botanical-themed tavern and cocktail bar, did a few years ago.
Prior to putting down roots in Canary Wharf, they operated pop-ups across several sites in West London.
They finally decided on a site near Crossrail Place Roof Gardens as a permanent site when the 700-seater space previously occupied by the now-defunct street food vendor Giant Robot became available.
Rapha, a retailer of cycling gear, has tried something similar. They tested the waters by opening a pop-up shop for their cycling wares in Canary Wharf over the summer of 2020.
The Docklands is not without its green spaces, especially since CWG partnered with the Eden Project to boost the peninsula's eco-friendliness and establish a 'green spine' down its centre.
Rapha recognised this represented an opportunity to set up a cycling clubhouse on the estate, which they used as a launch pad for their guided cycle tours of the peninsula's docks and wharves. It also gave them ample opportunity to advertise their cycling equipment to a captive audience.
Canary Wharf and its everchanging Demographics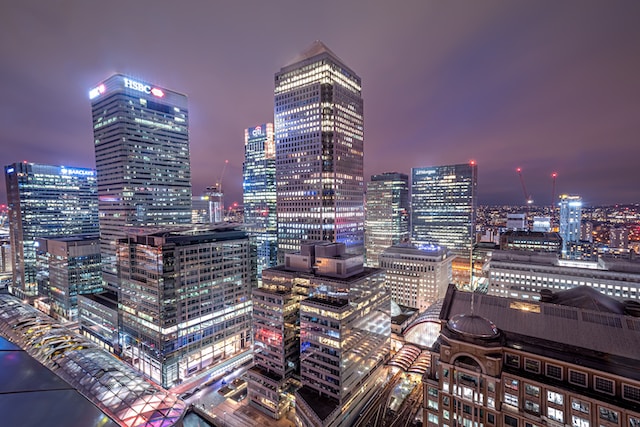 Canary Wharf is slowly but surely transforming from a place of business to a mixed-use residential area. Indeed, the demographic makeup of the Docklands is now more residential than at any time since its redevelopment.
CWG reports that the ratio between financial and non-financial tenants currently stands at 55:45; the split was 70:30 a decade ago.
The shifting demographics are no more in evidence in the east of the wharf, where there are currently 4,000 homes either built or in the process of being erected on Wood Wharf.
Recent residential developments on Wood Wharf include:
10 Park Drive: the peninsula's first residential site. Residents moved in June 2020 and the address is currently at 80% occupancy.
8 Harbord Square, a 12-storey loft-style apartment block that offers New York warehouse-style living.
1 Park Drive, which is currently at 75 per cent occupancy.
10 George Street opened in February 2020 and comprises 327 apartments over 37 storeys.
8 Water Street has 174 apartments over 13 storeys. It is CWG's first pet-friendly building.
Newfoundland: a 200-metre residential block located between Westferry Road and Bank Street.
The Future of Canary Wharf
The new residential communities putting down roots in Canary Wharf will transform what has been hitherto a somewhat soulless business quarter into somewhere families want to live and play.
The businesses that serve these new communities will have to come to terms with the fact that many of the estate's first permanent residents will be drawn from a very different demographic than the suited and booted bankers who have held sway there these past thirty years.
At the same time, the estate's owners are looking to fill the space freed up by the bankers with brains from the sciences.
Encouraged by the success of Level 39, which has established itself in One Canada Square as something of a hub for science startups, CWG is soliciting the business of healthcare and science startups that need lab space in a bid to plug the gaps left by fleeing bankers.
Change is coming to Canary Wharf, but one thing will remain constant: those who survive the upheaval will be, as ever, those who are best able to adapt to the new conditions and the surviving businesses and shops in Canary Wharf.
Author Profile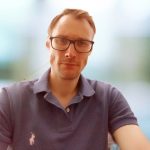 Content creator, freelance journalist and writer based in the North West of England | Contributor to several business blogs and publications | University of Durham & UCLAN graduate