Besides the endless skyscrapers and a slight NYC charm, Canary Wharf in London has tons of unique things to do.
Though the business district isn't known as a London hot spot for tourists, you can discover appealing restaurants, rooftop gardens, art centres, some shopping spots, museums, and other places of interest to visit.
Many are unaware that Canary Wharf has a rich maritime history being located by the river Thames and it's a stone's throw from Greenwich, the famous East India Docks, and the new City Hall in the Royal Docks away.
So, get to know this shiny London corner better by digging into ten unique activities to do in Canary Wharf.
1. Stop by the Museum of London Docklands
Happy #BurnsNight everyone! 🔥

Be sure to 'loch' up next time you're walking through Victoria's Embankment Gardens and you might just spot a statue of Robert Burns, Scotland's beloved bard, sitting in quiet contemplation.

📸 George Davison Reid, 1920-1933 pic.twitter.com/NMFLMzMIfl

— Museum of London (@MuseumofLondon) January 25, 2023
Visiting a museum and recollecting history is mesmerizing, especially when it is the Museum of London Docklands, established in 2003. It explains the history of the river Thames, the Port of London's growth, and the docks' development and draws a historical link to the Atlantic slave trade. It showcases the rich history of Canary Wharf from the Roman era to modern-day development. Get a ticket for free and enjoy walking through the pages of history from one floor to another, unravelling the rich maritime history of London.
Address: 1 Warehouse, West India Quay, No, Hertsmere Rd, London E14 4AL, UK
Contact: +44 20 7001 9844
Entry Fees: Free
2. Slide around the Ice Rink
The
Ice Rink of Canary Wharf
is one of the largest outdoor ice rinks in London and should not be missed during the winter months, especially around Christmas. One can enjoy the morning view of the city while ice skating or spend an evening here with some drinks afterward. It remains open from 10 am to 10 pm.
Canary Wharf transforms into a winter wonderland at the arrival of Autumn, and the glistening outdoor ice rink attracts thousands of tourists and locals. You can also book for special events like curling and barre on ice, enjoying wine in the Grandstand Bar, and others.
Address: Canada Square, London E14 5AB, United Kingdom
Contact: +44 (0)207 418 2423
Entry Fees: Adult/teen (13 years and above) £17.95, Children (4-12 years) £11.95, skate aids £5.00
3. Wander through the Crossrail Place Roof Garden
Stroll through the
Crossrail Place Roof Garden
, one of the largest in London, admire the exotic plants and relax on the benches between hidden pathways to feel a natural beauty or visit the amphitheatre to enjoy a show.
Below the Roof Garden, you can find an eclectic mix of cinemas, restaurants, shops, and gyms on the ground level. Crossrail Place presents a series of surprises, from dinner at Breakfast Club to Yi-Fang for Taiwanese tea and a lot more shops and restaurants to visit and enjoy a day out at Canary Wharf.
Address: Crossrail PI, London E14 5AB, United Kingdom
Contact: +44 20 7418 2000
Entry Fees: Free
4. Roam around Jubilee Park
Speaking about public squares and parks, Canary Wharf has mainly four areas, Canada Square Park, Westferry Circus, Cabot Square, and Jubilee Park. Among these, you will find Jubilee Park at the exit of Canary Wharf station, a beautiful place that offers an escape from the city crowds. You can sit on the park's benches and enjoy the view of skyscrapers through the trees. The park is surrounded by sculptures and a waterfall to give visitors a tranquil break in nature amidst all the concrete.
Address: Bank St, London E14 5JP, United Kingdom
Contact: +44 20 7418 2500
Entry fees: free
5. Halt at Billingsgate Market
It may sound boring to halt at a fish market, but you can enjoy some exceptional scenery at the Billingsgate Market. This wholesale fish market is open to the public though you need to walk cautiously as the regular traders don't appreciate too many visitors.
Billingsgate Market is the largest inland fish market in London. The trading time is around 4 am to 6 am and closes at 8 am, so you need to get ready early in the morning if you plan a visit to this place and grab some fresh fish or seafood.
Address: Trafalgar Way, London E14 5ST, United Kingdom
Contact: +44 20 7987 1118
Entry fees: Free
6. Grab a beer after a Meantime Brewery Tour
Having a brewery in the Home of Time means we have a passion for all things round, clock faces, cogs, pints and BURGERS! 🍔

Time is the 5 ingredient to everything we do so we take it and source other local ingredients to produce the best burgers in town! 🤤🔥#DrinkResponsibly pic.twitter.com/XsbilQWHGk

— Meantime Brewing Company (@MeantimeBrewing) January 25, 2023
It will be a breath-taking experience to step inside a modern craft brewery. The tour usually lasts 1 hour and 30 minutes. The tour includes 4x ⅓ pint tasting beers. The Meantime Brewery is located a short distance from Canary Wharf in Greenwich. You can learn about the brewing process during the tour and enjoy a tutored tasting session of locally produced beers.
Address: Lawrence Trading Estate, Blackwall Ln, London SE10 0AR, United Kingdom
Contact: +44 20 8293 1111
Classic tour fees: £20.00 (£16.67 excl VAT)
7. Stroll through Adams Place Bridge
View this post on Instagram
Adams Place Bridge lies between One Canada square and Crossrail place and will give you a feel of being in a Star Trek movie. It is commonly known as the "Star Wars tunnel" by the locals. This illuminated pedestrian pathway gives a futuristic vibe.
Canary Wharf offers great city landscapes for business or lifestyle photoshoots and if you are an entrepreneur, influencer/London Blogger or freelancer you can take impressive and futuristic photos here with a professional photographer which you can use for your online presence including websites and social media.
Address: One Canada Square, Canary Wharf, London, United Kingdom
Fees: Free
8. Enjoy a cocktail party at Boisdale's
If you want to enjoy a signature cocktail in the middle of a business hub, head to
Boisdale's
. The American-themed bar offers a range of classic and contemporary cocktails alongside a combo of American cuisine influenced by Mediterranean and Oriental cuisine.
The place has a stylish finish with a large dining area and floor-to-roof windows, offering an exciting experience for visitors. And if you enjoy having food and drinks outside then check out these recommended outdoor restaurants in Canary Wharf.
Address: Upper Level 1, Cabot Place, Canary Wharf, London, E14 4QT
Contact: 020 7715 5818
Reservations: reservations@boisdale-cw.co.uk
Average Cost: £30 – £49
9. Ride a hot tub with Skuna Boats
Riding a hot tub through the city with
Skuna boats
is one of the unique things to do in Canary Wharf. These floating boats remember the Scandinavian tradition of keeping yourself warm no matter what the weather is. Each boat can fit up to seven people at 38°C  and pass by the canary work locals. You can enjoy sightseeing for 75 minutes floating around with boats.
Address: West India Quay, Off Hertsmere Rd, London E14 4AL, United Kingdom
Contact: +44 20 7205 2827
Price: Starting from £225
10. Enjoy Shopping at Canary Wharf Malls
Our Christmas Shopping Guide has gift ideas to suit all budgets and styles https://t.co/AAVmtQveVT #christmasgifts #christmas #gifts #giftideas

— Canary Wharf Shops (@CanaryWharfShop) December 14, 2021
Canary Wharf Shopping Mall is an underground mall that is probably one of the best places to shop in London during the wet season and on a hot summer day. There are several other interconnecting malls like Jubilee Place Mall and Churchill Place Mall. You may get lost in the tunnels and walkways, which look very similar after a while. Some High Street chains like Waitrose and Boots and several other fashions, confectionery, and general retailers can be found in the mall to fulfil all your shopping needs.
Address: 1 Canada Square, London E14 5AB, United Kingdom
Contact: +44 20 7418 2000
Entry fees: Free
Conclusion
There are numerous things to do in Canary Wharf that you may not think about while visiting London and you should certainly check out some very stylish and modern hotels that also host business events here. You can explore the CrossHarbour to find a hidden island dockside from Canary Wharf, relax at Everyman Cinema, enjoy food from Street Food Vans, or spend time at Breakfast Club. You can try a never-ending list of restaurants, shopping malls, and places to visit in Canary Wharf.
And for the hardcore London lovers (or travel bloggers) who want to make their London trip the most memorable to look back on with stylish photos and videos, you can arrange a professional London photoshoot!
You may come across seasonal surprises like summer screens, ice skating, and lots more. Hopefully, this guide will help you discover some of the best things to do in Canary Wharf and London.
Check out the best places to live in London if you want to explore more London districts.
Author Profile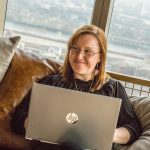 Blogger and Educator by Passion | Senior Online Media & PR Strategist at ClickDo Ltd. | Contributor to many Education, Business & Lifestyle Blogs in the United Kingdom & Germany | Summer Course Student at the London School of Journalism and Course Instructor at the SeekaHost University.