Despite the pandemic turning our lives on our heads, we have navigated our way through the new normal and changed our ways of interacting with each other. The gradual unlock phase is underway, and we couldn't be happier! Eating joints have started to open up, and because of better social distancing between people, outdoor dining has become the way to go. Plus, any excuse is a good excuse to enjoy the spring sun!
So if you are interested in getting a taste of life (and the food and drinks, of course!) you once had until Covid-19 hit us, you can visit the reopened outdoor dining restaurants, bars, and pop-ups in Canary Wharf. To save you the hassle of going through reviews and ratings before finding out the restaurant that best captures spring sunshine, we have made a list of the 18 best outdoor dining restaurants in Canary Wharf to guide you. So, book your table now!
18 Best Outdoor Dining Restaurants In Canary Wharf
1. La Terraza At Ibérica

If al-fresco dining is on your mind, La Terazza beside Ibérica is the place to be. It has an exclusive outdoor dining and drinking space, and yes, it has beautiful umbrellas that give authentic al-fresco dining vibes! If the sun isn't nice to you, worry not. They have patio heaters. Their menu is an impressive spread of seafood, light and healthy seasonal salads, and traditional Spanish sandwiches to go with the host of cocktails they serve. Watch the world go by as you have a moment of relaxation amidst the chaos, with great food and drinks.
2. Plateau Restaurant, Bar & Grill

Plateau is an ideal outdoor dining space if you enjoy the contemporary cityscape of London. Sitting atop Canada Place, this outdoor dining restaurant gives a futuristic spin to the décor, and that, combined with the excellent vantage point, makes for a cherish able experience. The highlights of this restaurant are the towering windows into the city! They have two outdoor terraces apart from the main restaurant and an informal Bar & Grill. Their menu features French classics paired with the best-tasting wines.
3. The Alchemist

The Alchemist is a cocktail bar par excellence. They live up to their name, mastering the art of mixology to churn out some of the best cocktails you will ever have! They have elevated cocktails with their creative combinations, presentation skills, and the right amount of theatrics. But it's not just their cocktails that will hook you, but their impressive spread of mouth-watering dishes. The all-day dining at the two-floor restaurant, which they call their den of molecular mixology, is nothing short of a magical experience!
4. Boisdale Of Canary Wharf

If your idea of a perfect terrace meal involves British food and anything to do with music, the Boisdale of Canary Wharf is your dream come true! The two-floor restaurant comes with gorgeous views of the Cabot Square while serving authentic British classics alongside an oyster bar & grill and a whiskey bar to top it all off. The restaurant also has a Cuban cigar library, four private dining areas, a lovely terrace, and most notably, live music!
Their taste in music is approved by none other than Jools Holland, Boisdale's Patron of Music. They have had the best in Jazz perform at their Jazz and Blues every night. So if you want the best Scottish seafood and fresh fish while humming to Mitch Winehouse sing live, head to Boisdale of Canary Wharf. They even offered exclusive vir­tu­al tast­ing & experiences dur­ing the national lockdown, so you don't miss out!
5. Manhattan Grill

"Great steaks… and that's no bull!"—that's what their website's homepage reads, and we say, right on! Manhattan Grill overlooks the Canary Wharf quayside and is the downright king of steaks in the area. They have a new cut every month to tantalize your taste buds, and choosing among the abundance of options available is intimidating for sure. Executive Chef Damian Trejo expertly navigates through the wide range of steaks they offer—from the tender, wet-aged steaks from Creekstone Kansas to the grass-fed, dry-aged cuts like the Scottish Aberdeen Angus. So, when life is at "steak," give Manhattan Grill ago.
6. The Grandstand Bar

The Grandstand Bar is the definition of what an outdoor dining or drinking space should look like, with the towering skyscrapers surrounding its lush greens where the summer bar is situated. It is a pop-up meant for casual and informal drinking sessions with friends on a bright summer day. The chilled-out ambiance adds to its charm. You can select from a wide variety of beers, wine, champagne, cider, spirits, and soft drinks. The Canary Wharf station is within walking distance from the restaurant. In the mood for some summer sunshine with a glass of chilled beer and the company of friends? Grandstand Bar it is.
7. BrewDog Canary Wharf

The BrewDog Canary Wharf is a beer lover's paradise! This brewery adds a touch of leisure to the otherwise uptight Eastern Financial District. They are within walking distance from the Jubilee Line, and the bar has the best views of the Bellmouth Passage, the canal that connects the old North and South docks. They offer a wide selection of drinks, some you probably have never seen on tap before! They also have a wide selection of hearty burgers, buffalo wings, loaded fries, and much more to go with your beverage of choice.
8. Big Easy

The Canary Wharf outlet of Big Easy is the biggest one among all and is an oasis in the hustle and bustle of the city. It transports you to a 19th century American Gulf Coast shack, complete with live music (yes, we are talking cowboy hats!), wooden decor elements, and a 150-seat al-fresco terrace. They bring you an authentic bar. b.q, lots of seafood includes their signature fresh East Coast lobster and over 500 whiskies! Their menu also boasts of a fine selection of rum, cocktails, and an award-winning wine list!
9. Humble Grape

Humble Grape is a versatile outdoor dining restaurant that combines classy and fun elements in the ambiance that suit both office outings or an evening with friends. And, drum roll, please, dogs are more than welcome! They have independent wine bars and shops spread throughout London, but the Canary Wharf outlet's waterside terrace has stunning views. Their goal is to have every individual create their world of wine. They have staff who passionately tell you the backstory behind each curated wine, from the vineyards to your glass.
10. Café Brera

The Café Brera Terrace makes you feel like you are right in the middle of a serene little Italian village. Plus, you don't have to worry about not adhering to the Government's 'rule of six' as they have 6-per-table seating. They have a delectable breakfast menu that features eggs, Italian meats, farm cheese, and fresh sourdough pizza base from just £12! Needless to say, their pizzas, pasta, specialty coffee, and cakes will keep you coming for more.
11. The Ivy In The Park

If you are looking for the perfect al-fresco spot to hang out with friends and family, The Ivy In The Park is ideal. With warmer weather on its way, this all-day brasserie is open seven days a week and serves dishes from around the world along with British favourites. They are masters of coffees, elevenses, afternoon tea, cocktails, and much more to delight your palate.
12. No35 Mackenzie Walk

No35 Mackenzie Walk is a lively independent neighbourhood bar and restaurant. They offer seasonal serves à la sustainability—sustainable plates, scratch cooking, and sharing meals. Their Bottomless Brunch on the weekends beside the sun-drenched waterfront couldn't get better. That includes free-flowing drinks and a DJ belting out your favourite tunes.
13. Sticks 'n' Sushi

Back in the days, Canary Wharf used to be the busiest harbours globally, and so life surrounding it was different. People in blue jumpsuits scurried around. Sticks 'n' Sushi pays homage to this life at Canary Wharf. You can see paintings by the immensely talented artist Mie Olise Kjærgaard, recreating the old dockyard atmosphere and pipes from those times across the ceiling. It is a trip through the history of Canary Wharf with high-class sushi, meat, grilled delicacies, and healthy salads.
14. Franco Manca

A trip to Italy without stepping out of London is what best describes Franco Manca. Opened in 2008 by Giuseppe Mascoli, they have since become very popular for their sourdough pizza. They are as authentic as they get, with a minimum of 20-hour slow-risen sourdough pizza bases that are showered with the love from organic tomatoes, homemade mozzarella cheese, and organic chorizo. Neapolitan pizzas as they should be!
15. Shake Shack

Situated right in the middle of London's docklands, with roots in NYC, the Shake Shack spices up Canary Wharf's outdoor dining scene with their delicious spread of burgers, hot dogs, hand-spun shakes, chilled beer, wine, and more on the menu. Their contemporary "roadside" shack aesthetics add to their widespread appeal. Their motto is to Stand for Something Good®.
16. The Parlour

In the heart of Canary Wharf and within walking distance of the tube station, this botanical bar and restaurant is an adorable all-day al-fresco dining and drinking place. Apart from the terrace space, they also have a beautiful timber-panelled cocktail lounge, wine room, and a conservatory lounge! They cater to canapé parties too, and with the huge umbrellas and fire pits, you are sure to have the best socially distanced evening with friends.
17. Electric Shuffle

Are you game? If you are, Electric Shuffle is where the game is. Even if you don't know what shuffleboard is or how it works, you will fall in love with this restaurant. They offer delicious pizzas, bottomless brunches, cocktails, and other mouth-watering delicacies while enjoying a game of shuffleboard.
18. ROKA

Ro means friends, and Ka represents all-embracing energy surrounding us, and ROKA together is a place where good food and drinks are shared with warmth. They serve authentic Robata grill, which comes from the fishermen of Japan who cooked the catch of the day on their boats using various types of charcoal. If you are a sushi and sashimi lover, book your table now!
For more trendy restaurants to take clients or guest out, have a look at these best Canary Wharf restaurants that are now also accessible indoors again thankfully.
Bon Appetite!
Author Profile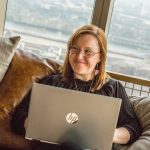 Blogger and Educator by Passion | Senior Online Media & PR Strategist at ClickDo Ltd. | Contributor to many Education, Business & Lifestyle Blogs in the United Kingdom & Germany | Summer Course Student at the London School of Journalism and Course Instructor at the SeekaHost University.