Time and time again London proves to be a place where many choose to celebrate special occasions. And at London Business News we're at the heart of what keeps this city buzzing.
On September 28th, London Business News was invited to attend an event organised by Go Vilnius, celebrating the 700th anniversary of Vilnius, the capital city of Lithuania.
Before the event, we were informed that it would be an immersive and exciting experience for both media attendees and the public, and it certainly lived up to that promise. I had the opportunity to engage in meaningful conversations with various media representatives and even had the pleasure of discussing Vilnius' history with the Lithuanian ambassador to the UK, Mr Eitvydas Bajarūnas. Our discussions revolved around Vilnius, not only as a historically rich city but also as a travel destination waiting to be explored by Londoners and business travellers alike.
The Anniversary Event's Venue – Aures London
The event itself was hosted at Aures London, an exceptional venue conveniently yet discreetly situated directly beneath Waterloo station. During a conversation with one of the venue's staff members, I learned that Aures London is a versatile space known for hosting a diverse range of events, catering to business professionals, party goers, and enthusiasts of the arts.
In the past, it had played host to the Astrofeels Art Exhibition curated by Tom Ford's Visual Director, Adrian Barbu, as well as an event for Sony Music's AWAL Records Label. Clearly, this venue was an ideal choice for conveying the essence of a city, especially when celebrating its significant anniversary.
The immersive experience at the Vilnius Anniversary Celebration Event
Upon arrival, we, the attendees of this immersive experience, mingled while the dedicated Aures staff put their final touches on the space. To our delight, a wide array of Lithuanian dishes were laid out for us, accompanied by various chilled Lithuanian beers.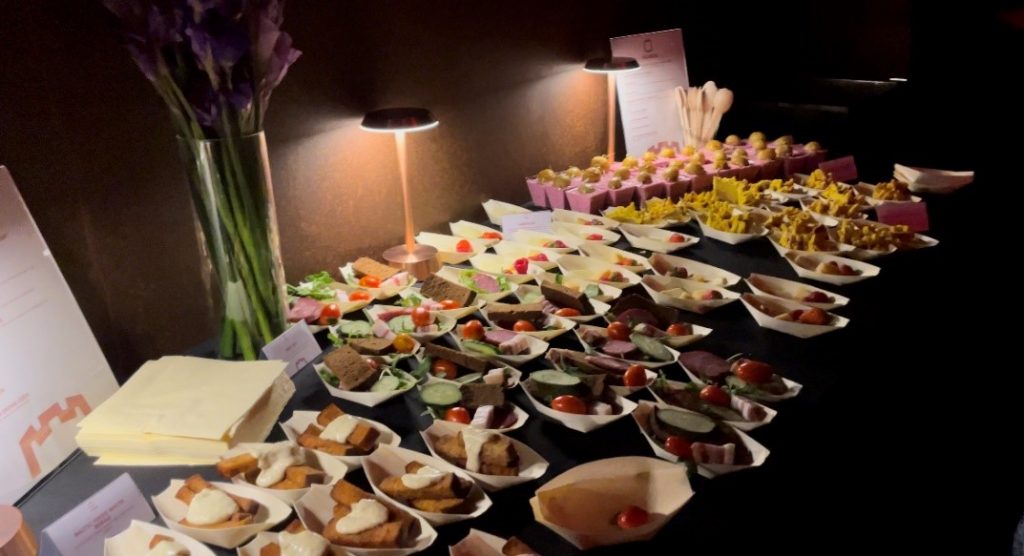 I must confess that the food and drink alone could be reason enough for me to plan a visit to Lithuania in the future.
Vilnius Events and Attractions to Plan Your Visit
We were later invited to take our seats, where we were treated to a presentation about Vilnius's 700th anniversary and the remarkable features that make this city truly stand out.
One highlight that particularly thrilled me was the Pink Soup Fest, which took place on June 10th, 2023, and is scheduled to return in 2024. This festival is a magnificent celebration of Lithuania's beloved cold beetroot soup. Festival attendees dress in pink attire and partake in a variety of whimsical activities, including the exhilarating experience of sliding into a giant bowl of soup.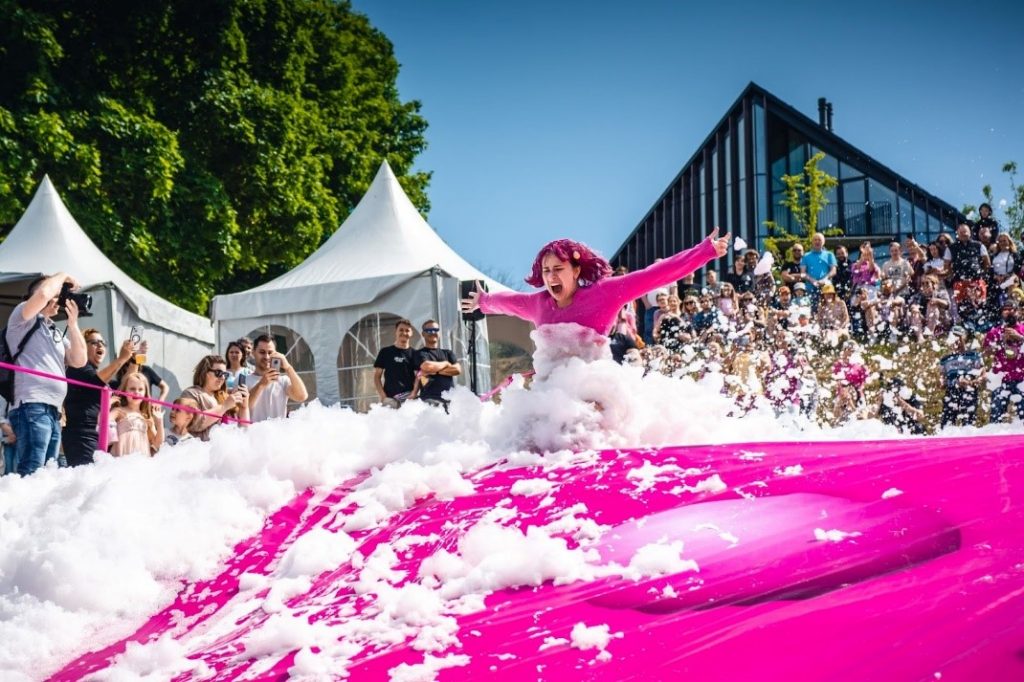 The event also introduced us to the Lithuanian Song Festival, a unique event where Lithuanians from all over the country meet in Vilnius to sing traditional Folk songs and dance together. This extravaganza spans over a week, culminating in the grand 'Day of the Songs' where more than 50,000 participants gather at Vilnius Vingis Park for a final mass performance. It's an experience that promises to leave folklore music enthusiasts in awe.
The event revealed how Vilnius is a city that knows how to truly celebrate. The As Young As Vilnius urban festival, known for its family-friendly and fun atmosphere, promises to be even bigger in 2024.
Another highlight is the indie music festival 8 Festival, hosted in the iconic century-old Lukiškės Prison 2.0 from June 16th to 18th. In 2022, it received nominations in several categories at the UK Festival Awards and European Festival Awards, attesting to its popularity and appeal.
While exploring well-known sites like the historic Lukiškės Prison, now a thriving cultural hub, or the contemporary MO Museum is always a delight as we learned, there are some hidden gems waiting to be discovered. The Auto Museum, situated in the renowned Vilnius taxi park, boasts an extensive collection of unique and exclusive cars, attracting car enthusiasts from around the world.
For Londoners seeking a touch of adventure, a hot air balloon ride offers a unique vantage point, soaring over the fields and forests surrounding Vilnius, even towards the Old Town.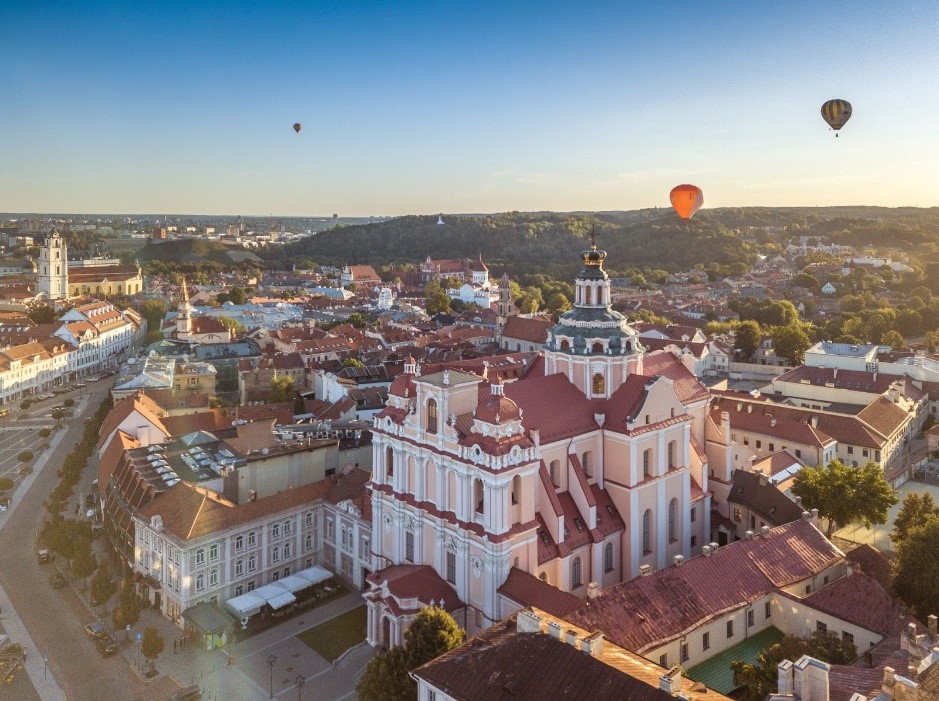 And for those craving a more thrilling dining experience, consider a meal at the Vilnius TV Tower Milky Way restaurant, which offers a slow 360-degree rotation and breathtaking city views all year round.
Vilnius in a whole new light – Interview with Lithuanian Ambassador, Twenty Fingers Duo Performance & Stunning Visuals
What struck me most during the event and my conversations with the attendees was the sheer authenticity of Vilnius.
Lithuanian Ambassador Eitvydas Bajarūnas emphasised this, underscoring Vilnius's unique charm and its fascinating 700-year history. He expressed his excitement about the performance, as it presented Vilnius in "a completely new, non-boring, 3-dimensional way", breaking away from traditional narratives.
The highlight of the evening, however, was the performance by the Twenty Fingers Duo and Rokas Vaitkevičius, seamlessly blending with thought-provoking artistic visuals curated by Rimas Sakalauskas, unveiling Vilnius in an entirely new light. It was an unforgettable immersive experience that showcased the city's diverse facets, encouraging a deeper appreciation of its culture.
View this post on Instagram
Travelling to Vilnius from London
As city dwellers, we often find ourselves ensnared in the routines of urban life, but a weekend getaway to Vilnius, with its array of unique experiences, including a once-in-a-lifetime dinner at the Vilnius TV Tower restaurant, is an enticing proposition.
For those seeking exciting dining adventures in London, there was the thrilling experience of London in the Sky. Regrettably, it was absent in the summer of 2023 but is anticipated to make a return next year. Therefore, if you're in search of remarkable dining options with a view, consider the Milky Way restaurant in the Vilnius TV Tower. It could also prove to be a more budget-friendly alternative to London in the Sky's dining choices.
Currently, return tickets, especially during the period from November to mid-April, can be acquired for less than £50 for a round trip, rendering Vilnius an attractive and cost-effective choice for a swift getaway.
To assist in pinpointing the most budget-friendly travel dates, you can rely on reputable travel planning tools such as Skyscanner. Similarly, when seeking accommodations in Vilnius, consider using trustworthy platforms like Booking.com for hotels or exploring Airbnb options for your stay.
To delve deeper into our event coverage and gain a more personal perspective, we extend an invitation to watch a brief video that captures my firsthand immersive encounter with Vilnius at the event on our LBN YT channel.
We thank Go Vilnius for sharing this immersive experience and celebration with us and our audience. For more event coverage by the LBN team head here and if you are interested in having a London or business event covered in the LBN magazine, get in touch with us via info@londonbusinessnews.com and we'll be happy to discuss a possible collaboration!
Author Profile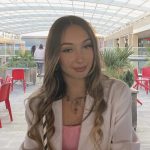 Passionate Blogger and Digital Strategist | 2023 Media, Journalism and Publishing Graduate from Oxford Brookes University | Georgian-British | Establisher and Creative Director of ClickSocial Marketing | Contributor to various Daily, Political, and Breaking News articles