If you're seeking a reliable and affordable plumber in London, navigating the many options available can be overwhelming.
To help you make an informed decision, we've compiled a comprehensive list of the top 10 plumbers in London, evaluating them based on their ratings, customer reviews, range of services, and pricing.
We understand that finding a skilled plumber at a reasonable cost is essential as Londoners deal with a cost of living crisis, so we've compared their hourly and daily rates to estimate how much different plumbing jobs might cost.
With this valuable information, you can confidently select the right plumber for your needs, ensuring quality service without breaking the bank.
Please remember that pricing and offerings may vary over time, so we encourage you to double-check with the plumbers directly for the most up-to-date information. Let's dive into our list of the top 10 plumbers in London and find the perfect match for your plumbing requirements should you ever experience a plumbing emergency.
1. Pimlico
Pimlico provides a wide variety of all-inclusive plumbing services in London. They provide various plumbing solutions, including installation, repairs, and upkeep. The organisation has extensive experience with plumbing emergencies, including pipe instals, leak repairs, drainage fixes, and heating system upkeep.
They offer specialised and effective plumbing solutions that address specific needs with a team of qualified experts.
View this post on Instagram
"Pimlico Plumbers" is renowned for its quick response times and precise approach, which reflects their dedication to providing high-quality service. Their expertise in plumbing solutions has made them a trustworthy choice for people looking for dependable plumbing services in the London area. For individuals needing skilled and efficient plumbing services, Pimlico offers a reliable option for anything from routine maintenance to complicated repairs.
2. Plumb London
Plumb London is a reputable plumbing and heating company serving London and the wider UK region, committed to delivering a top-tier service experience. The company stands apart by adhering to a Rolls Royce standard of service, ensuring excellence from the initial phone call to fault diagnosis and solution provision.
🚰 When life gives you plumbing problems, call us for a quick fix! We're your go-to team for all things plumbing. 💪🔧 #PlumbingExperts #FixItFast

— Plumb London (@PlumbLondon) August 17, 2023
Plumb London takes pride in its transparent approach, avoiding unnecessary work while delivering superior plumbing and heating services at affordable rates. The company has garnered a loyal customer base over the years, with many clients referring friends and colleagues due to their positive experiences.
Plumb London maintains a close customer-engineer relationship, offering the expertise of skilled craftsmen and engineers who consistently provide reliable and friendly solutions. With an unwavering commitment to professionalism and quality, Plumb London guarantees a standard of work that instils confidence and peace of mind for every client.
Website: https://www.plumblondon.com/
Location: 22 Notting Hill Gate, Holland Park, London, W11 3JE
Pricing: Only available for individual quotes.
3. AZ Plumbing Contractors
AZ Plumbing Contractors Limited is your local, family-run plumbing and heating company located in the heart of Islington, North London. With a team of engineers and plumbers who bring over a decade of experience to the table, they are well-equipped to handle all your plumbing and heating needs.
Transform your bathroom today with AZPC pic.twitter.com/hiRJe0MMsJ

— AZPC (@azplumbingcon) February 14, 2019
From routine maintenance tasks to complex repairs and brand-new installations, they've got you covered. AZ Plumbing Contractors take immense pride in the quality of the services, and their ultimate goal is to ensure customer satisfaction by consistently delivering high standards of workmanship.
4. My Plumber
My Plumber, based in London, stands as a reliable and proficient solution for all your plumbing needs. With a wealth of experience, their dedicated team of experts delivers top-notch plumbing services tailored to your requirements. From repairs to installations, their comprehensive range covers residential and commercial spaces.
Blocked toilet?

Got a blocked toilet that needs clearing in London? Our qualified team of plumbers are expert at clearing blocked toilets.https://t.co/M75JGZP6P3 pic.twitter.com/Tsslot5Yvw

— My Plumber (@MyPlumberLtd) June 29, 2018
My Plumber's commitment to excellence is evident in their prompt response, skilled technicians, and transparent pricing. With a customer-centric approach, they ensure your plumbing concerns are addressed efficiently, offering peace of mind and hassle-free solutions. As a trusted name in the industry, My Plumber's professionalism and dedication have earned them a reputation for quality and reliability.
5. Will I am Plumbing and Heating
"Will I am Plumbing and Heating" commits to delivering plumbing services that not only meet your expectations but also do so at a competitive and affordable price. What truly sets them apart is the unwavering dedication to executing their work to an exceptional standard, in full compliance with both plumbing and building regulations.
The team takes pride in not just completing plumbing tasks but in doing so with a level of excellence that exceeds industry standards. Their priority is to ensure that your plumbing needs are not only met but surpassed, leaving you satisfied and confident in the functionality of your systems.
Website: will-i-am-pnh.co.uk
Location: Thurtle Road, London, E2 8PH
Cost: They charge about £100 (Monday- Friday), depending on the quote.
6. Plumbers4U
Plumbers4U is a London-based platform that offers a comprehensive range of plumbing services. Their services encompass various aspects of plumbing, including installations, repairs, and maintenance.
The platform's expertise extends to addressing a wide range of plumbing concerns, such as leak repairs, pipe installations, drainage solutions, and heating system maintenance. With a team of skilled professionals, they provide tailored and efficient plumbing resolutions to cater to diverse needs.
Additionally, they offer emergency plumbing services to address urgent issues promptly. From routine maintenance to complex repairs, Plumbers4U serves as a reliable resource for individuals seeking expert plumbing assistance in the London area.
7. Best Plumbing and Drainage Contractors
BEST Plumbing and Drainage Contractors stands as a trusted plumbing partner in London, Ontario, renowned for its dedication to client education and top-notch service. Their licensed and certified plumbing contractors boast extensive expertise in addressing a wide spectrum of plumbing challenges, be it repairs, installations, or renovations.
From initial rough-ins to meticulous finishing touches, BEST Plumbing & Drainage Contractors ensures unparalleled workmanship and service quality. Clients benefit from a diverse array of offerings, including minor and major repairs, comprehensive plumbing planning for new structures, faucet replacements, backflow testing, and eco-friendly commercial plumbing modernizations.
With services encompassing everything from sump pumps to sewage ejectors, and garburator installations to water line replacements, their team provides comprehensive solutions tailored to homes and businesses alike. Dedicated to responsiveness, they offer round-the-clock emergency plumbing services, reaffirming their commitment to excellence.
8. Sandhurst
Dealing with plumbing issues can be not only inconvenient but also stressful. Fortunately, Sandhurst Plumbing alleviates those concerns by offering effective solutions to all your plumbing problems. Instead of enduring the frustration of broken pipes, running toilets, or a leaky water main, you can rely on their team of certified plumbers to handle the task.
With this expertise, you can rest assured that your plumbing problems will be resolved efficiently and professionally, allowing you to regain peace of mind and the comfort of a well-functioning plumbing system. Sandhurst Plumbing ensures that plumbing issues don't disrupt daily life, providing reliable solutions to get the job done right.
Social Media: Facebook.
Website: sandhurstplumbing.co.uk
Location: Unit 13, Heckford Street Business Centre, Heckford Street, London, E1W 3HS
Pricing: £90 per hour but prices can vary depending on the quote.
9. Parallel Plumbing
Parallel Plumbing, a London-based company, offers a wide range of plumbing services to meet different demands. Installation, repair, and maintenance of plumbing systems are all part of their service offering. Their knowledgeable crew handles problems, including pipe installs, leak repairs, and drainage problem solutions, with ease. They provide efficient, individualised plumbing solutions that consider specific needs.
Due to its quick response and meticulous attention to detail, Parallel Plumbing distinguishes itself as a provider of high-quality services. Their expertise in plumbing solutions has established them as a trustworthy option for people looking for dependable plumbing services in the London area. For individuals needing qualified and effective plumbing assistance, Parallel Plumbing provides a reliable choice, whether for routine maintenance, immediate repairs, or complicated installations.
10. Jacobs Plumbing Merchants Limited
With a rich heritage dating back to 1972, this family-run business has been a trusted name in the plumbing industry. Over the years, they have established themselves as a reliable supplier of plumbing essentials, offering a wide range of supplies, fittings, tools, and accessories to meet the needs of DIY enthusiasts and professionals alike.
@BahcoTools @pegleryorkshire @weratoolsuk @Hep2O @saniflouk @mcalpineplumb @honeywell @DraytonHeating

new business poster 👍 pic.twitter.com/X5pM08dvox

— jacobs plumbers merchants ltd (@jacobsplumbing1) April 28, 2021
Whether you're tackling a plumbing project on your own or seeking assistance from their experienced team, they've got you covered. Their installation services ensure that plumbing fixtures are expertly fitted for optimal performance and longevity. Additionally, when issues arise, their repair services come to the rescue, swiftly resolving any plumbing problems you may encounter.
With their dedication to providing quality products and services, this long-standing family-run business continues to serve the community with excellence and commitment to customer satisfaction.
Closing Thoughts
These plumbing companies have been recognized for their outstanding services, professionalism, and customer satisfaction. Whether you need a quick fix for a leak, a complex installation, or emergency assistance, these top-rated plumbers have the expertise to handle it all.
It's essential to consider each plumber's specific services and compare their pricing with individual quotes to find the best fit for your needs and budget. Don't hesitate to read reviews and seek recommendations from friends and family to make an informed decision.
Author Profile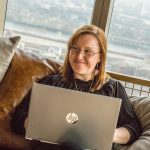 Blogger and Educator by Passion | Senior Online Media & PR Strategist at ClickDo Ltd. | Contributor to many Education, Business & Lifestyle Blogs in the United Kingdom & Germany | Summer Course Student at the London School of Journalism and Course Instructor at the SeekaHost University.