Cryptocurrencies in the UK have not been welcomed with open arms yet. Though cryptocurrencies are not illegal, it seems a bit unfair to say that it is all legal and open. The freedom of using cryptocurrencies has rather been carefully measured as it lacks standard money-related definitions and procedures. In this article, we are going to discuss websites and applications you can use to create and manage your cryptocurrencies, mainly Bitcoin.
Best Bitcoin Exchange Platforms in the UK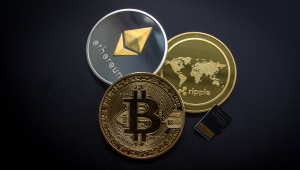 Bitcoin is a virtual currency based on a ledger (record of transactions) that is decentralized and secured by cryptography. Here are some well-known and secure websites you can check out in order to buy any kind of cryptocurrency and convert bitcoin into cash.
1. LocalBitcoin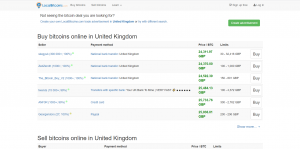 Local Bitcoin is a peer-to-peer Bitcoin trading platform. It was founded in the year 2012 and currently spans over a hundred countries. It uses escrow services that go hand in hand with OTC trading and supports 60 plus payment methods.
Benefits of using LocalBitcoin are:
Access to the global marketplace
Quick and easy bitcoin transactions
Escrow protection: Escrow services act as the middlemen in a transaction. When you place a sell order, the Bitcoins are transferred from your wallet to the escrow account. Once the buyer is confirmed, the Bitcoins are sent from the escrow account to the buyer's wallet.
Filters trustworthy clients: It does so by keeping track of the client's payment histories and a number of successful transactions and trades.
Real-time rates: You will find real-time analysis of bitcoin rates. Charts and graphs are also provided for you to make a buy or sell decision.
Automatic trading: You select the desired amount of Bitcoin to sell at the limit you set. The website will automatically check for the right time to sell the order to help you make maximum profit.
2. Coinbase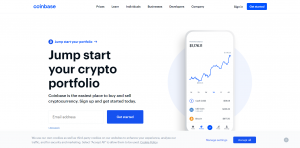 Coinbase quotes itself as the most trusted place for the conversion and trading of Bitcoin. You can either link your bank account to the website or use applications like Paypal. You can also perform Bitcoin transactions with credit and debit cards.
3. CoinJar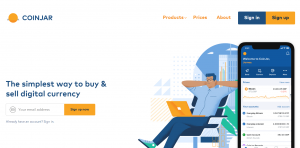 CoinJar, along with a website, has its own mobile application. It supports debit and credit card purchases. A 1% fee is charged as a transaction fee while buying or selling.
4. Blockchain.com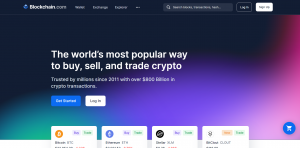 Open to the public since 2011, Blockchain not only supports Bitcoin trading but also provides users with their personalized Bitcoin wallets. You can also install their mobile app to take full advantage of the freedom of buying and selling this website provides.
You can buy Bitcoin with your credit or debit card or you can directly link your bank account to the website. Linking your bank account will require you to go through all the authorization and verification processes.
The drawback of this application is the rate at which Bitcoin is bought. There is slight inflation in the rates of Bitcoin shown on your screen on the website. Hence, the purchase rate is according to the website's market order and not the raw price of Bitcoin.
Basic Steps Involved in Buying Bitcoin in the U.K.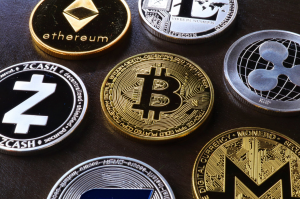 Bitcoin owners can sell and buy Bitcoin from peers via various mobile applications and desktop websites. In some countries, buying daily essentials using Bitcoin has also taken place. People have started ordering food and paying electricity bills the bitcoin way. To do so, one must follow the steps given below to successfully create their bitcoin account.
1. Open an Account
Most of the websites require new users to sign up and create an account. There are, but very few, U.K. website hostings that offer discounted rates on Bitcoin.
2. Get an online or hardware wallet
Remember, it is not essential to purchase a wallet if you're buying Bitcoin just for the sake of selling them or gambling in casinos. But if you choose to go for long-term investing, you need a wallet to store all of your Bitcoin. Online wallets are mostly free. All you need to do is check out the links mentioned in the previous section of this article. After creating an account, the website will ask you for your payment details and other authorization questions.
The wallet will provide you with a public key that you will use for future bitcoin transactions. You can opt for a hardware wallet that is nothing but a USB memory stick that you can connect to your laptop to check on your crypto portfolio. Online wallets include Exodus, Electrum, Coinbase. Hardware wallets include Exodus, Electrum, mycelium.
3. Get your hands on a vendor
This is where the actual trade begins. Split your laptop screen with a live bitcoin price chart on the left and the list of sellers on the right. Compare the rates on the left to those on the right. Once you find a reasonable buy, select the vendor and check the mode of payments. Since it's the blockchain we are dealing with, every seller has their own set of rules and regulations. Make sure to read them carefully. If possible, get in touch with the vendor to see whether they are trustable or not.
4. Transfer money from bank accounts to your bitcoin wallet
If you do not have personal possession of your bitcoin, it will always be at risk. Use your bank money to buy Bitcoin and after purchase, immediately transfer it to your bitcoin wallet. Leaving your bitcoin with a third-party website could make you have less control over it.
Conclusion
Bitcoin is the most popular cryptocurrency in the U.K. Hence, in the future, the U.K. won't have a scarcity of sellers and buyers. The only issue while buying Bitcoin is selecting vendors. Click here to check about the Bitcoin Evolution Pro if you are planning to invest in Bitcoins.
You must be aware of the current rate of Bitcoin (BTC) and must always compare it with that of the vendor. Improve your small business into a leading business and check what kind of payment method the vendor uses to make sure you are aware of the whole transaction process. Do your research before you select a vendor and then you are good to go.
Author Profile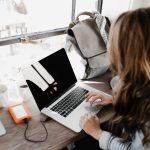 Blogger by Passion | Contributor to many Business Blogs in the United Kingdom | Fascinated to Write Blogs in Business & Startup Niches