On November 24th and 25th 2021 East London's ExCel Centre hosted the 43rd Business Show with the motto:
"Getting Britain back to Business".
And boy is Britain back in business!
The team at londonbusinessnews.com teamed up with Petra Eujane Photography to capture a selection of the 500 exhibitors to see how hard business owners and entrepreneurs are working to grow their business, innovate and lead.
The event also featured prominent keynote speakers like Touker Suleyman, but what really stood out were the expert speakers and exhibitors that make a difference and face all the challenges head on, believing in their business and investing in its potential.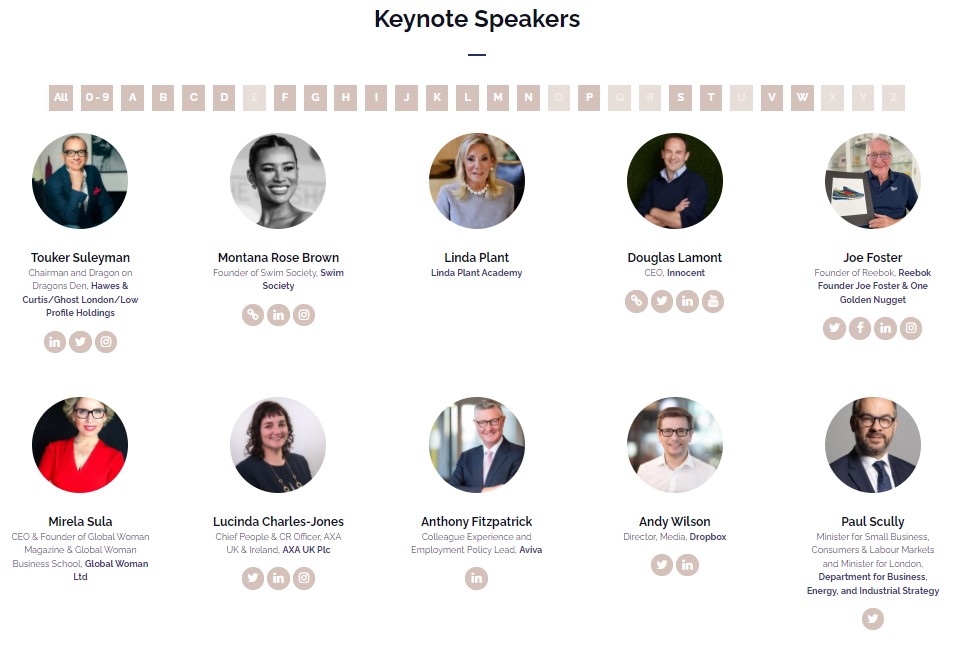 To see the full list of speakers and exhibitors you can head to the Great British Business Show website or follow the social media handles.
Here we give you a flavour of Europe's largest annual business event hosted in London by sharing our experience, speaking with selected business exhibitors that we felt offer innovative business products and services while being extremely motivated despite all the challenges that 2021 held.
Their business stories are truly inspiring, and we believe that these business examples show that Britain is definitely back in business.
5 Business Show Exhibitors & their Unique Business Stories
1.      What2Eat – Home Cooked Meals Delivered to You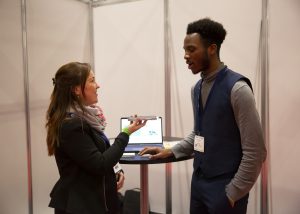 We interviewed Makini Kayira, the CEO of What2Eat, a marketplace platform for home cooks earning through selling authentic food from home, and discovered how even in London, where you think you can find any type of food, there's still a gap to fill by offering foods cooked by people from all 7 billion+ ethnicities.
Makini is very enthusiastic about his project as he loves food, explaining that he used to play a darts game with a world map with his housemates, blindfolding them and wherever their dart landed on the map, he would cook food from that region for them. He realised while researching more regional cuisines how many undiscovered regional dishes there are that we cannot order through JustEat or Deliveroo.
This led him to investigate the original idea of What2Eat, which is to make it as easy as possible for any passionate home cook to start a home food business and earn from it.
Makini explained:
"We want to give you different and healthy food options at the same time with our platform, enabling people to share and access cuisines from ethnic cultures that remain under the radar."
We further enquired how the platform works for home cooks and users, so he further elaborated:
"All that is required of a home cook to get started with us is that they register with their local authority, but they do not require any food license and we will support them with getting the food hygiene rating above 4 so that they are accepted to the platform. All cooks are also required to get a level 2 qualification through a one-day online course, so they understand how to handle food safely, following all government guidelines. We are currently looking into ways to give our home cooks free access to such courses. The final steppingstone is to get high ratings from our selected food tasters and each home cook can even make money out of sending out food samples for reviews. 100% of the sales go to the home cooks, we do not take a cut or charge a fee."
For the users he explained: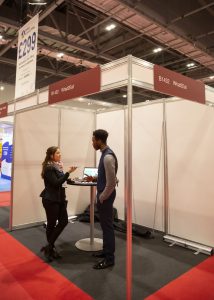 "For just £3 you can order a home cooked meal that you have never tried before as we want to encourage our users ordering and tasting different and new foods every time to get the most out of the platform. If you want to stick with your favourite home cooked meal, then you will pay a premium of £10 as you clearly love what you get."
Makini went on to state how getting the funding for his business has been a challenge, but that he believes the platform will offer tremendous value to customers and that they will be willing to pay for that."
He believes that by empowering home cooks, also through additional training provided through the platform, and by providing food packaging and food delivery options, this concept will take off as flexible working combined with starting a business will make a big difference to people's lives, especially as we face a pandemic and the economic challenges that derive from it.
So, watch this space and the www.whattoeat.uk website coming soon your way or get in touch with Makini via Hakim@whattoeat.uk or LinkedIn.
2.      Startups Magazine – Startups supporting Start-Ups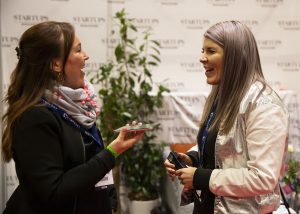 Next, we stopped at Startups Magazine's stand and spoke to editor in chief Anna Flockett, who was kindly handing out printouts of the Startups magazine, which we clearly took advantage of.
We learned that the magazine offers business expert advice with a focus on start-ups and that they collaborate with UK start-ups by sharing their unique stories as well as featuring expert insights from organisations and companies that support start-ups.
Anna clarified:
"In each issue we focus on a theme, e.g., funding or sustainability, to support start-ups while at the same time getting their name and brand out there. We offer a digital and print issue, which are completely free, you can just subscribe, and we distribute to workspaces all across the UK and Northern Ireland. The magazine is in its fourth year now and going strong, but I suppose we're a start-up ourselves, so we share the journey with the other start-ups."
When asked how the editorial process works to run stories, feature start-ups, and get business advice, Anna explained:
"A lot of start-ups and businesses pitch us ideas and we network with various partners at business events like this, so that based on our theme we reach out to them as well to cover relevant issues and topics. We also run a podcast where we feature entrepreneurial stories of start-ups, and we host events with every issue as we love bringing people together either online or physically."
Finally, we were curious to learn what Anna looks to achieve in 2022:
"The goal is to gain as many subscribers and reach as many start-ups as possible through providing even better and more tailored content to reach as many readers as we can."
You can get in touch with Anna via anna.flockett@startupsmagazine.co.uk or via LinkedIn.
3.      TuKo App – The First Super App in the UK
As we continued to make our way through the exhibition hall at the ExCel London, we bumped into the very friendly and enthusiastic team at TuKo App, so we chatted with them about their digital product.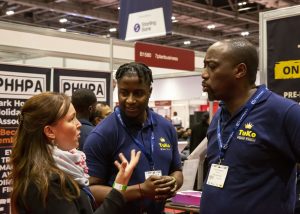 Chatting with TuKo representative Climate Wiseman, he immediately informed us that we are having an encounter with the first super app in the UK. So, of course we wanted to know more.
We first clarified what a super app is, and Climate clarified:
"Super apps come from China and you may know AliPay or WeChat with over 1 billion active monthly users. TuKo is a similar all-inclusive super app where users can shop for all their needs in one place."
He took us to the tablet where the TuKo app was accessible. He showed me how easy and quick it is to find a service and book it, it literally took a few seconds, if you knew exactly what you were looking for.
All that is required is to login using Facebook, LinkedIn or Gmail or register with name, mobile number and email address, then search and select the service you're after in your location, connect with the service provider and complete your order to get it delivered. We were certainly impressed!
Climate excitedly described further:
"Forget all your apps on your smartphone, you will have everything you need in your TuKo app. From hiring a taxi to doing your online grocery shopping or booking a cleaner – it's all there with a few taps. We offer over 1000 on-demand services at the moment, but it's likely to grow even more. We want to become the UK's first super app reaching millions of people to make their lives easier."
The whole TuKo App team were extremely knowledgeable about their super app and we could tell they are very passionate about it. And we have to say that it truly was our first encounter with a super app, which we learned is still a rarity in Europe.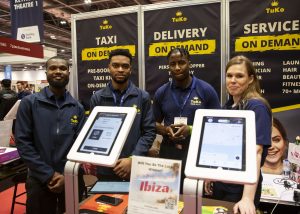 However, we discovered later through our own investigation that more super apps are being developed such as Google, Uber or Revolut that will offer many more services soon. But what makes TuKo stand out is that it offers a real-time tracking feature, helping you keep track of your booked ride, delivery, or service. Plus, it is backed by enthusiastic individuals, which always makes a difference.
You can get in touch with Climate via dr@tukoapp.com.
4.      Atom Bank – The UK's first App-Based Bank
Sticking with the tech theme, we discovered Atom bank and were curious to find out how they are doing as the UK's first app-based bank.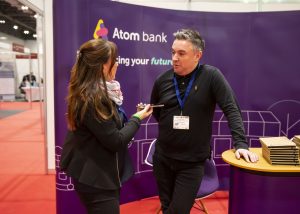 We interviewed Liam Brodie, Atom Bank's regional business development manager, and he shared some very insightful details about the bank's journey.
Liam started off by describing what Atom bank has been doing over the last 5 years since its launch:
"We are not only the UK's first online bank, but we also offer business funding and financing, which is why we're here. However, we also offer mortgages and savings accounts for private and corporate customers. Compared to the traditional high street banks, all our banking services are offered online, which in turn enables all Atom Bank staff to work remotely. The pandemic has probably helped us grow in the sense that more people opt for online banking and more workers look for remote work. We are based in Durham and there's a hybrid work model in place so that employees can choose to work from home or alternate between the office and home."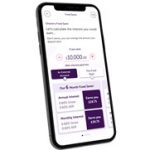 He then highlights another very interesting fact that sets Atom Bank apart from other banks:
"We have recently introduced a 4-day work week for all staff. I myself have every Monday off and staff can mainly choose to have a Monday or Friday off. It's now a 34-hour working week, which means less time for lunch and an additional hour of work over 4 days, which works very well so far. I have more time for my family now and can use my time more effectively."
We are impressed to have found a bank leading the way with remote work as the londonbusinessnews.com blog is very intrigued by the way work is changing for many and we often cover this topic. Most businesses we interviewed at the Business Show reported that they now offer hybrid working options, so it is certainly becoming the norm it seems in applicable industries.
You can contact Liam via LinkedIn if you have more questions.
5.      Women's Business Club – Female Empowerment for the Future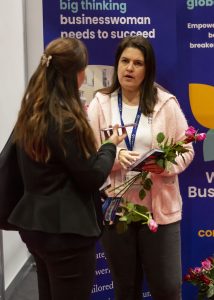 Girl power was next on the agenda as we spoke with Women's Business Club CEO Angela De Souza about her global movement to empower women in their careers as she kindly handed out roses!
She started off by describing the mission of the Women's Business Club:
"Women's Business Club offers support for women in their business or career, and we do that through mentoring and training. We offer women a membership, providing access to our vault full of training resources, the member directory for global networking and free events such as the one we're promoting today, which is our virtual business conference on the 14th and 15th of December 2021 where we love to celebrate women through awards. Our main mission is to give women around the world a voice and a chance."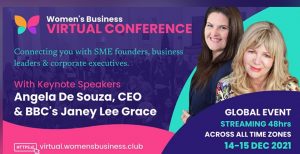 We further enquire whether the club only focuses on female entrepreneurs and business owners and Angela explains:
"To us it doesn't matter where the women are at in their business journey. It's about a woman reaching her full potential. For every member that signs up we invest a percentage of their membership in a fund for younger women and their education. We want to support the next generation of women as well and our members will be allocated to mentor them. We want to empower women to be confident and strong and to believe in themselves. We do this by giving them free access to our vault where they will find advice on interview preparation, CV writing and many other downloadable resources and courses."
Angela continues to highlight the different gaps women face apart from the gender gap. They also face pension gaps for example, and these are challenges that still require work to offer women more equal opportunities around the world.
Angela made a bold statement that really underlines the core purpose of the club:
"I'd hate to be in a job or position because I am a woman, but rather because I am the best"
To reach more women globally, especially in countries or regions where they still find it challenging to get access to education and work, the club is partnering with a translation app service to translate all content and even live events or mentoring sessions through live translations.
In 2022 the Women's Business Club is celebrating its 10th anniversary and with this success in mind, Angela states the following ambitions:
"We want to scale and reach as many women as possible. We want to connect more fortunate women with women in less fortunate positions to offer better support. As a movement of women across the globe we can do so much good. We started with in-person events only, but the pandemic has forced us to go virtual, which has actually provided us with a far wider reach. Going forward we will offer hybrid models for events and meetings as we believe in-person gatherings are very valuable especially for networking."
We walk away from our chat with Angela feeling inspired and reassured that women are certainly a force to be reckoned with.
Find out more about the speakers at the Women's Business Club virtual conference and complete this survey to get free tickets.
British Businesses in Full Action
Wow, we were truly elated to see, meet, and hear multiple inspirational and motivating business success stories here at The Business Show 2021 in London's ExCel and sadly we couldn't cover more businesses and keynote speakers. But we hopefully gave you an idea of the vastness of British talent making a difference here and worldwide and below you'll find a gallery of more impressions of this event, so we may see you there next year on the 16th & 17th of November 2022.
Author Profile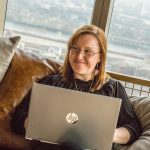 Blogger and Educator by Passion | Senior Online Media & PR Strategist at ClickDo Ltd. | Contributor to many Education, Business & Lifestyle Blogs in the United Kingdom & Germany | Summer Course Student at the London School of Journalism and Course Instructor at the SeekaHost University.