If you are dealing with missing teeth and seeking a permanent solution to restore your smile and oral functionality, dental implants may be the answer you are looking for.
Dental implants are a revolutionary treatment option that provides a natural-looking and long-lasting replacement for missing teeth.
We explore dental implants' benefits, costs and how they compare to other traditional options like dentures and bridges. Making an informed decision about your dental health is essential, and we aim to equip you with the knowledge needed to choose the best treatment option for your unique needs. We must acknowledge that prices and availability can vary depending on numerous factors and are subject to change.
In this guide, we outline the top 5 dentists in London for dental implants, ranked by their pricing, starting from the most affordable to the highest priced. As of our knowledge, London is known for its world-class private dental care and innovative dental solutions, making it an attractive destination for dental implant treatments.
So, let's embark on this journey together, exploring the world of dental implants in London and discovering how they can transform your smile and boost your self-confidence for years to come.
How much do Dental Implants cost in London?
The cost of dental implants in London can vary significantly. Let's take a closer look at these factors and how they can influence the overall cost of dental implants:
1. The number of implants needed:
The more implants are required to replace missing teeth, the higher the cost. Some individuals may need a single dental implant, while others require multiple implants to restore their smile and dental function.
2. The type and quality of the implant, abutment, and crown:
Various dental implants are available, each with different materials and features. High-quality implants and components may be more expensive but can offer better long-term results and durability.
3. Additional procedures:
Some patients may need different treatments, such as bone grafting, to improve the jawbone's density and suitability for dental implant placement. Sinus lifts might also be necessary for certain patients. These supplemental procedures can add to the overall cost.
4. The experience and reputation of the dentist and the clinic:
Highly experienced and reputable dentists or specialists may charge more for their expertise and the quality of their services. However, choosing a skilled professional is crucial for ensuring successful outcomes and minimising the risk of complications.
5. The clinic's location:
Dental practices in different areas of London may have other pricing structures. Clinics in more affluent or central locations might have higher costs than those in less significant areas.
The average cost of a single dental implant in London typically falls within the range of £1,500 to £2,500, which includes the implant, abutment, and crown.
This cost estimate is often given as a baseline, and the final price may vary depending on the abovementioned factors. It's important to note that dental insurance coverage for dental implants can vary, and some insurance plans may not cover the entire cost or may have specific limitations.
Patients should verify their insurance coverage and discuss payment options with their dental provider to make informed decisions about their treatment. When considering dental implants or any significant dental procedure, it is advisable to schedule a consultation with the dentist or oral surgeon in London of your choice. They can comprehensively evaluate your dental health, discuss the treatment plan, and provide a more accurate cost estimate tailored to your specific needs and circumstances.
Renowned Dental Implant Clinics in London reviewed
Below you find a selection of the most renowned and top-rated dental implant experts in London to help you identify who to consult – please note that these are all private dental service clinics.
1.  Forest & Ray – Dentists
Forest & Ray is a reputable and specialised dental clinic in London Holborn, focusing on orthodontics and cosmetic dentistry. Their emphasis on patient-centred care is reassuring, showing their commitment to providing a comfortable and confident patient experience.
View this post on Instagram
With a commitment to excellence, their skilled team ensures a seamless implant procedure that restores missing teeth, offering stability and natural aesthetics. The cutting-edge techniques guarantee enduring results, enhancing your oral health. As a premier dental practice, Forest & Ray prioritises patient comfort and satisfaction, delivering a transformative experience that redefines smiles.
Address: 8F Gilbert Place, London, WC1A 2JD
Contact: +44 20 8124 6138
Email: info@forestray.dentist.
Website: forestray.dentist/
Pricing: Their basic packages start from £69 (consultations) and continue to £22,500 (all on 4 implants both arches).
2. Dental Artistry
Dental Artistry offers a range of dental services with a notable specialisation in dental implants. Their comprehensive approach includes personalised treatment plans and state-of-the-art technology. The clinic's emphasis on dental implants demonstrates its commitment to providing effective and lasting solutions for patients seeking tooth restoration.
Their skilled team of specialists ensures the precise placement of dental implants, catering to individual needs. Dental Artistry's expertise in this field underscores their dedication to delivering quality oral care and functional outcomes.
Address: Dental Artistry, 6-8 High Street, Hornsey, London N8 7PD
Contact: 020 8340 9745
Email id: info@dentalartistry.co.uk
Website: https://www.dentalartistry.co.uk/
Pricing: Their price range starts from £125 (implant consultation) and continues up to £15,000 (full set of implants). They have multiple offers and special packages on offer including finance options available for treatment plans of over £2000.
3. Elleven Dental
Elleven Dental's commitment to excellence shines through in its dental implant procedures. With a deep understanding of the significance of a healthy smile, their skilled team ensures a seamless experience from consultation to implantation. Utilising state-of-the-art techniques, they provide stability, natural aesthetics, and lasting results.
Elleven Dental's dedication to patient well-being is evident in its personalised approach, prioritising comfort and satisfaction. Their expertise extends to transforming smiles by replacing missing teeth and enhancing both oral health and self-confidence. As a leader in dental care, Elleven Dental combines innovation and compassion, offering a superior dental implant solution that not only restores teeth but also revitalises lives.
Address: 74 Wimpole St, London W1G 9RR
Contact: 020 7018 2267
Email: info@ellevendental.com
Website: http://www.ellevendental.com
Pricing: The starting cost for the stage 1 Implant Placement (Surgery) is £1950 & the stage 2 Implant Restoration is £1750
4. NW1 Dental Care
NW1 Dental Care, situated in the heart of Camden, is a reputable and well-established private dental clinic. With a wealth of experience, they have completed numerous dental procedures and treatments, ensuring that each patient feels confident and secure in their care.
The dedicated Camden dentists and support staff are deeply committed to providing top-notch customer care and service, always delivered with a warm and friendly demeanour.
Address: NW1 Dental Care,92 Camden Road, London NW1 9EA
Contact: 0207 485 4626
Email: info@nw1dentalcare.co.uk
Website: nw1dentalcare.co.uk/
Pricing: The dental implant prices start from £1,995.
5. Dental Implant London
The Dental Implants Clinic in London provides comfortable restorative surgery to help patients regain confidence in their smiles and maintain their oral health. Dental implant surgery is an advanced and effective solution for replacing missing, damaged, or failing teeth.
It's crucial for patients considering dental implant surgery to consult with experienced and qualified dental professionals who specialise in restorative surgery. With a dedicated focus on patient comfort and well-being, the Dental Implants Clinic in London will likely provide excellent care and results for those seeking therapeutic dental treatments.
Address: 70 Great Russell St, Holborn, London WC1B 3BN
Contact: 0203 7457526
Email: info@dental-implants-london.co.uk
Website: dental-implants-london.co.uk/
Pricing: On average, the cost of a single dental implant can range from around £2,000 to £4,000 but they offer financing options starting from £78 per month for your convenience.
How do Dental Implants compare to other Options?
In case you're undecided whether dental implants are right for you, let's look at the advantages of dental implants compared to the other options:
Dental implants offer a secure and stable foundation for artificial teeth. Unlike dentures, which can sometimes slip or move in the mouth, dental implants stay firmly in place, providing more comfort and confidence during eating and speaking.
Preservation of Healthy Teeth:
Unlike bridges, which require the reduction or alteration of adjacent healthy teeth to support the artificial teeth, dental implants do not affect neighbouring teeth. This process helps preserve the integrity of your natural teeth.
Dental implants stimulate the jawbone through osseointegration, preventing bone loss and maintaining your facial structure. Dentures and bridges do not provide this benefit; over time, bone loss may lead to changes in facial appearance.
Aesthetic and Functional Benefits:
Dental implants closely resemble natural teeth in appearance and functionality. They blend seamlessly with your existing teeth, offering a more natural smile. Additionally, they allow you to eat various foods without restrictions.
Durability and Reliability:
Dental implants are known for their longevity and durability. Proper care can last for many years, making them a reliable long-term solution for tooth replacement.
It's essential for individuals considering tooth replacement options to consult with a qualified dentist or oral surgeon to assess their specific dental needs and determine the most suitable treatment.
While dental implants offer numerous advantages, each patient's situation is unique, and the best option may vary based on factors such as oral health, budget, and personal preferences. An informed decision will ensure optimal oral health and overall well-being in the long run.
How to choose a Dental Implant Clinic in London?
Choosing a dental implant clinic in London is a crucial decision, and it's essential to find a reputable and experienced dentist to ensure high-quality care and successful results.
Here are some tips to help you make an informed choice:
1. Research:
Start by conducting thorough research. Look for online reviews and testimonials from previous patients to gauge the clinic's reputation and patient satisfaction. Check before-and-after photos to assess the quality of their work. Verify the dentist's credentials and qualifications, ensuring they have specific expertise in dental implant procedures.
2. Compare Services and Prices:
Compare the services and prices offered by different dental implant clinics in London. While cost is a factor, prioritise quality and experience over the cheapest option. Dental implants are a significant investment in oral health, and choosing a skilled professional is crucial for successful outcomes.
3. Schedule Consultations:
Contact the clinics you are interested in and schedule consultations. During the consultation, ask about the proposed treatment plan, the potential risks and benefits, the expected outcomes, and the aftercare process. An experienced dentist can answer your questions and address any concerns.
4. Evaluate Communication and Comfort:
Pay attention to how the dentist and clinic staff communicate with you during the consultation. They should be attentive, transparent, and willing to address all your inquiries. Choose a dental implant clinic where you feel comfortable and confident in the dentist's expertise.
5. Trust Your Instincts:
Trust your instincts and intuition when making your decision. If something feels off or you are not entirely satisfied with the information provided, exploring other options is okay. Dental implant treatment is a long-term commitment, and you should feel entirely at ease with your chosen clinic.
6. Seek Recommendations:
If possible, seek recommendations from friends, family, or colleagues who have had dental implant treatment in London. Personal referrals can provide valuable insights into the quality of care and experiences at specific clinics.
Remember that dental implant treatments are investments in oral health and overall well-being. Finding a reputable and experienced dental implant clinic in London near you will increase the likelihood of achieving successful and long-lasting results as whenever you face problems, you can go back to them.
Summing up
The listed London dental implant clinics offer an excellent solution for those seeking tooth restoration, providing stability, durability, and natural aesthetics. However, it's crucial to acknowledge the investment both financially and in commitment. Thorough research and consultations with reputable clinics are vital steps to establish the best option.
Choosing an experienced dentist and trustworthy clinic ensures quality care and positive outcomes. Opting for dental implants can be transformative, enhancing oral well-being, and self-confidence, and delivering the satisfaction of a natural-looking smile. As you consider London dental implant prices, remember that it's not just about cost – it's about the service and result you get.
Author Profile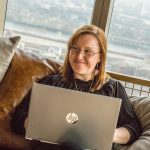 Blogger and Educator by Passion | Senior Online Media & PR Strategist at ClickDo Ltd. | Contributor to many Education, Business & Lifestyle Blogs in the United Kingdom & Germany | Summer Course Student at the London School of Journalism and Course Instructor at the SeekaHost University.