If you are going to hire bouncy castles for your kid's birthday, a summer party, or a corporate event, then you must be wondering about the options and prices. Unfortunately, when you are hiring a bouncy castle from a reputable company on such an important day for your little one, it can be frustrating to deal with some companies who won't help you make a wise decision based on the reasons shown above.
Have you ever wondered how much does it cost to rent a bouncy castle in London? If you're having a child party or organizing an adult party, you should ask this vital question since these inflatable castles are pricey if you do not get the best offers. Here, you will find out how much it costs to hire bouncy castles for kids and adults from the collection at Ready Steady Bounce, prices ranging between £90 to £240.
1.   Dragon's Den Bounce n Slide (£140)
When the plot provides a thrill and exciting experience for children, Dragon's Den Bounce n slides are an essential play item in theme parties, child-friendly restaurants or hotels. The size of the castle is 18ft x 16ft, and the height is 13ft. What makes it most attractive to children to go inside the slide. It's best for birthday parties or carnivals where you can provide events like face painting services along with this castle.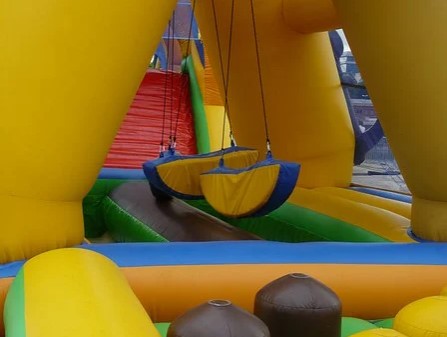 2.   Low Height Unicorn Castle (£90)
The Unicorn Low-Height Castle is a deluxe bouncy castle with a unicorn theme. This smaller bouncy castle has an open front to maximize bounce space, so it's perfect for keeping children entertained on a small budget. With a height of 8 ft and a size of 10ftx12ft, it will fit perfectly into your garden and would also be great as part of one of the Soft Play Sets or fabulous Packages!
3.   Spiderman Bounce n Slide (£140)
Spiderman has always been a hero in the eyes of youngsters. He is strong, kind and above all else, friendly. That's why Ready Steady Bounce decided to present to you with a bouncy castle with a 4 metre tall 3D Spiderman. So it's time to jump. Hop on this Spiderman Bounce House and battle evil villains with your fellow Avengers! This 26ftx 13ft bounce house is the perfect size for indoor or outdoor use and will provide hours of fun for kids, both big and small.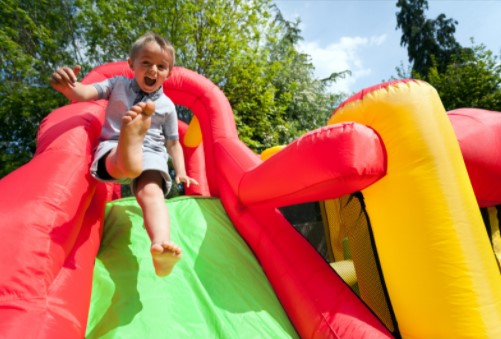 It has a slide as well, designed for children of ages five years to 16 years old. Due to the low access height, it will make your child want to return again and again as it encourages their freedom and independence. In addition, the slide is built with many safety features ensuring that your child will have fun playtime in an environment where they are safe.
4.   Old Mcdonald's Farm Play Park (£240)
Immerse your children in the Old Mcdonald's Farm Play Park! From the mini slide to the interactive ball pond, there are loads of exciting features to keep them busy. The fully enclosed play area keeps the kids out of harm's way and makes it perfect for toddlers, leading parents to rave about it. Furthermore, the open design on one side means parents have excellent visibility of all the kids, making hiring safe for little ones!
With its heavy-duty, durable design, this inflatable is a popular choice for outdoor venues due to its generous 26ft x 20ft floor space and height of 8ft which makes it ideal for indoor venues. The animals have been carefully placed so that they do not pose any risks to young children, and all entrances to the play area are accessible for small hands. As a result, it can fill with ease and give children ample space to run, jump and explore!
5.   Princess Carriage Bounce n Slide (£140)
This bouncy castle is designed with an attractive theme that the kids will love playing in. It's perfect for your Princess's special day. In addition to being bright and colorful, they have considered your money as well. Plus, this 13ftx20ft bouncy castle comes is suitable for children up to 16 years old. It also has a low access height which makes it suitable for younger children but is also preferred by parents due to its safety features.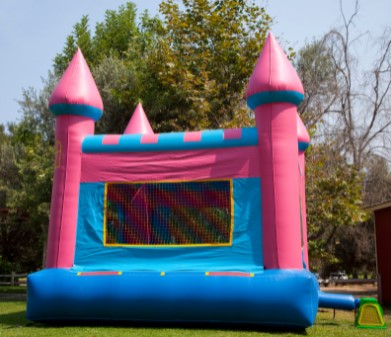 6.   Fortress Kingdom Bouncy Castle (£90)
Are you looking for a fun gift for children and adults alike? Want to provide hours of bouncing fun for you, your family, friends, or colleagues? Then the Fortress Kingdom Bouncy Castle is a perfect choice! Made from thick and durable materials, with an open front, so it has a large bounce area. The walls on three sides protect against falls as well as insects and other bugs. This Bouncy Castle only costs £90, so it is excellent value and professional, quality friendly and built to last.
Final Verdict
Ready Steady Bounce is the ideal place to hire for a royal birthday party or Superhero outing. Contact them for bouncy castle hire. Its safety, ease of assembly, and durability make it a welcome addition to any venue. However, in many ways, the cost to hire bouncy castles in London depends on the customers' unique requirements.
This is because factors like the size, type of party, theme, and duration need to be considered before hiring the equipment. With this in mind, this comprehensive guide will help you find the answers to your questions.
Author Profile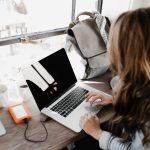 Blogger by Passion | Contributor to many Business Blogs in the United Kingdom | Fascinated to Write Blogs in Business & Startup Niches