A study by the UKGCVA found that the e-gift card market in the UK was worth £6.5 billion in 2020.
What's UKGCVA, you might ask – well, it is the UK Gift Card and Voucher Association.
Yes, an association specifically looking out for the interests of gift card and voucher enthusiasts.
It's like discovering there's an association for people who love eating tacos on Tuesdays. (Tuesday Taco Association? TTA?)
But in all seriousness, the existence of the association and the fact that the e-voucher industry is worth close to £7 billion is good enough proof of the popularity of e-vouchers and gift cards.
And why wouldn't that be?
COVID restrictions and the threat of being sneezed on by someone carrying the virus make shopping online a much safer and more comfortable option.
Also, let's be honest. Who wants to go to a crowded shopping center and fight over the last sock or stand in a queue to get to your table? (Not me!)
So, e-vouchers are the perfect solution for those looking to treat their loved ones to a special experience. Right from the comfort of home.
Plus, an e-voucher also allows for flexibility. There is no urgency to avail of the experience. There's always a possibility of postponing it for a later date.
But the tough part is finding the right e-vouchers. You want something that the receiver would actually enjoy. And something that meets your budget as well.
Also, wouldn't it be great if you could support local London businesses near where you live in London while gifting e-vouchers to loved ones?
Well, the genie granted all your wishes. We have here a list of the top 10 e-voucher gift ideas.
Read on.
10 stellar e-voucher e-gift ideas for Londoners
1. A relaxing experience at the Aqua Sana
Aqua Sana is an award-winning spa in the UK. It offers an array of 25 unique spa experiences and beauty treatments. Plus, a café bar with food and drink options.
Aqua Sana spa vouchers are a good gift idea if you want to let your loved ones relax and unwind in a luxurious forest setting. Alone or with someone.
View this post on Instagram
Price: £99 to £518
Where to buy and how?
Select from a wide range of options depending on your budget and preference.
Add the preferred voucher to your basket.
Click on Checkout.
Select whether you want the voucher to be delivered by email or post.
Personalise the voucher by adding a gift message.
Make the payment and you are done.
Validity: 24 months
How to redeem?
Contact the venue named on the gift voucher for booking.
Present the gift card upon arrival at the venue.
2. An ArtPass for pan-Britain cultural exploration
If you're looking for the perfect gift for an art lover, look no further than the National Art Pass. This little beauty grants free entry to hundreds of museums, galleries, and historic houses all over the UK. And also half-price off major exhibitions.
The pass reaches you by post and is a mighty artistic achievement in its own right. Opt for express delivery to receive it within 2 days, while it may not be as instantaneous as an e-voucher, its long-lasting benefits make up for it.
It's a golden ticket to a world of art and culture.
View this post on Instagram
Price:
Individual membership – £75
For recipients under 30 years of age – £45
Double membership for two adults at the same residence – £112
Add a plus one at £82 and a kid at £15
Where to buy and how?
Scroll down to the "Choose your National Art Pass" section.
Toggle the 'For You' button to 'As a gift'.
Choose the pass you want to gift.
Click on Add to Basket.
Proceed to Checkout.
Login or Signup.
Confirm your and the recipient's details and make the payment.
Validity: 12 months
Individual life membership is available for £2,100.
And Double life membership is available for £3,150.
How to redeem?
Contact the museum or exhibition you wish to visit to confirm opening times.
Carry your pass along to avail of the benefits.
3. Food, fun, and savings, with The London Experience Card
The London Experience Card is a digital access card to the best that London has to offer, for less. To whomever you gift this card, you're essentially gifting attractions, tours, and experiences across the city, all at a discounted price. From exploring historic landmarks to trying new and exciting cuisines, the London Experience Card has something for everyone.
Note: From the beginning of 2023, there's a £2.99/month fee for access to offers and deals. You can write to info@thelondonexperiencecard.com and pre-pay for a year for whom you're gifting the card.
Here's an example of the kind of offers you might expect. 
Price:
Minimum £50
Where to buy and how?
Download the free London Experience App from the Google Play Store or the App Store.
Create a profile for your chosen voucher recipient.
Select some events and experiences you think they'd enjoy.
Purchase them.
Now tell them to download the app, give them their profile credentials, and encourage them to begin with your pre-bought experiences.
They can, of course, change their password, and keep on benefiting from the app.
Validity: Until you (or your recipient) cancel.
How to redeem?
Show your London Experience Card at participating attractions, tours, and experiences.
Gift experiences and make memories that will last a lifetime.
4. An adventurous experience at Go Ape Adventures
If you are looking for e-gift vouchers for adventure-loving Londoners, there's nothing better than Go Ape Adventures London. With their e-vouchers, you can give the gift of a unique and thrilling outdoor experience and let your loved ones climb, swing and zipline through the trees in any of the 34 Go Ape locations in the UK.
The activities are suitable for individuals, families, and groups, making it a gift for solo adventurers or a group of nature lovers.
Let's wander where the wifi is weak.

🌲 @Whinlatter
📷 https://t.co/qVdSmBWxuj pic.twitter.com/cTxDXXVSyG

— Go Ape (@GoApeTribe) January 20, 2023
Price: Starting from £10
You can gift a voucher for a specific activity or adventure or get monetary vouchers where the recipient chooses their adventure.
Where to buy and how?
Visit this link.
Select the desired package or amount.
Select the details, add recipient details, and proceed to payment.
The gift can be delivered via post or sent out immediately via email.
Validity: 1 year
How to redeem?
Book online and apply the voucher code during checkout.
Visit any of the 34 locations and ask the staff for help.
Call the contact center at 01603 895500 for booking assistance.
5. Borough Kitchen essentials or classes for the MasterChefs
Borough Kitchen is a London-based company that offers high-quality kitchenware and cookware sourced from around the world. They are known for their selection of hard-to-find and unique kitchen items.
Borough Kitchen also provides cooking classes and events. Their digital (and physical) gift cards are great for anyone who is a cooking enthusiast.
📣 Cook School Announcement 📣: We now offer three different fresh pasta classes (+a gluten-free pasta class) for students of all experience levels, from learning the basics of pasta dough and sauces to more complex shapes and fillings. Book now online at https://t.co/ynaO1k4qu4 pic.twitter.com/ZSjtb7Bh0a

— Borough Kitchen (@BoroughKitchen) January 13, 2023
Price: £25 to £500
Where and how to buy?
Select the gift card amount or cook school gift card for one or two.
Make the payment.
Send the email directly to the recipient's email, use a link to share it directly with them, or print it from your own computer to send a physical version of the e-voucher.
Validity: 2 years
How to redeem?
Add the e-gift card code when prompted during online checkout.
For redeeming at physical stores, show the e-voucher to the staff who will apply it to your purchase.
6. A virtual reality escapade at Meetspace VR
When looking for e-voucher ideas for technology lovers and gaming enthusiasts a day out at Meetspace VR is the best bet.
This virtual reality experience lets participants escape the ordinary and get inside the virtual adventure land. Backed by the latest technology, Meatspace VR offers a wide range of games and experiences suitable for solo gamers as well as groups of technology fanatics.
An e-voucher for Meetspace VR makes for a unique and befitting gift for tech-loving Londoners.
Where the magic happens 💫

Our VR arenas are like no other in the country! Over 200m2 in size, they're roughly the same size as a tennis court and big enough to swing more than just a cat around in there…

Find out for yourself, book today: https://t.co/NXeIC8FpiV#vrgaming pic.twitter.com/HBdQVLEiJq

— meetspacevr (@meetspacevr) September 24, 2022
Price: Minimum £30
Where to buy and how?
Visit here
Enter the amount you want to gift.
Fill in the form with the recipient's details.
The e-voucher can either be emailed to the recipient or you can print it to send it out yourself.
Proceed to payment.
Validity: Lifelong 
How to redeem?
Visit this link
Fill in your details including when and where you want to avail of the voucher and the e-voucher code to book.
7. Magical potion making at The Cauldron
The Cauldron is a London-based immersive experience that combines a magical-themed cocktail class with a DIY molecular mixology experience. With a "wizarding" cocktail class and a DIY molecular mixology kit, visitors can create their own magical potion-inspired cocktails.
E-vouchers from The Cauldron are an ideal gift for anyone who loves fantasy, magic, and mixology.
View this post on Instagram
Price:
£39.99 for adults and £20.99 for those under 18
The Cauldron Shop gift card: £10 to £100
Where to buy and how?
Select your location.
Choose whether you want an e-ticket or a physical ticket (e-tickets are free while paper tickets cost £10.00 extra).
Select the number of people you want the ticket for.
Checkout and make the payment.
OR
You can also buy a gift card for the Cauldron Shop by visiting https://shop.thecauldron.io/collections/gift-cards/products/gift-card
Validity: 12 months
How to redeem?
8. The gift of tea from The London Tea Merchant
Londoners have a long-standing love for tea and that's no secret. So what could be better than gifting them a gift voucher from The London Tea Merchant?
The London Tea Merchant specialises in high-quality loose-leaf teas, tea accessories, and gifts. They offer a wide range of teas from all over the world and sell tea-making equipment such as teapots, infusers, and cups. They also have a range of tea-themed gifts like candles, soaps, and more.
Their e-vouchers can be used in-store or online and can be used to purchase any of the teas, accessories, and gifts available. They can be personalised with a message and delivered either by post or email.
Price: $5 to $500
Where to buy and how?
Fill in the details required on the page.
Decide whether to send the e-voucher immediately or at a later date.
Click continue and proceed to make the payment.
Validity: 1 year 
How to redeem?
Visit The London Tea Merchant store or website.
Pick your desired products.
Show the gift voucher at checkout or enter the code when shopping online.
The voucher value will be applied to your purchase.
9. Unleash the creative side at The Goodlife Centre
Londoners who enjoy creative pursuits will love a gift voucher for The Goodlife Centre. The vibrant community hub offers a variety of workshops and classes. From painting and drawing to knitting and upcycling, you can find your next hobby here. With expert instructors and a supportive environment, it offers a chance to hone existing artistic skills or tap into unchartered creativity.
Whether you send an e-gift voucher for a one-off workshop or a series of classes, relaxing learning, and fun experience is guaranteed.
#Happiness is… learning something new together at #TheGoodlifeCentreUK with #TheGoodlifeBears! 🧸

Check our upcoming workshops here 👉 https://t.co/euCjm5jmyF pic.twitter.com/DFfYpwfEf7

— The Goodlife Centre (@goodlifecentre) January 30, 2023
Price: £10 to £365
Get the wooden voucher for gifting at an extra £4.95.
Where to buy and how?
Visit the Gift Voucher purchase page
Select the voucher value.
Click on View Cart.
Proceed to checkout and pay via PayPal.
The voucher is emailed to you as a PDF for sharing with the recipient unless you opt for the wooden one.
Validity: 1 year
How to redeem?
The voucher code can be applied during checkout while booking any of the workshops via the Goodlife Centre website.
10. A pampering session at the Townhouse
After a long and tiring week of hammering on the keyboards, Londoners would love a pampering session at the Townhouse – a luxurious nail salon.
It is known for offering a wide range of nail services including manicures, pedicures, gel nails, nail art, and more. The services are high-quality, and you get the job done by experienced technicians and with top-notch products.
Their e-gift vouchers are a great way to give the gift of a pampering experience. The vouchers can be redeemed at the salon or their online shop.
View this post on Instagram
Price: Variable
Where to buy and how?
Visit this link.
Select whether you want to gift a particular service or an amount that can be used for any service/product.
Select the details, add recipient details, and proceed to payment.
Validity: 1 year
How to redeem?
Gift cards can be redeemed against Townhouse treatments, drinks, or any retail products.
Call or visit the salon to schedule an appointment.
Present your gift voucher at the time of your appointment.
To redeem online, apply the e-voucher code during checkout.
How to choose the perfect e-voucher e-gift for a Londoner
Now that you have a bunch of options, all you have got to do is choose the most suitable one. And just send it across via email!
To further help you make the right choice, here are some tips that will come in handy:
London has a wealth of cultural and recreational activities to offer. But consider picking something that offers a unique experience or is hard to come by.
If you know the recipient well, personalise the gift. Think about what they'd like and what would make them happy.
People might appreciate a gift that allows them to explore a new part of the city. Or to indulge in something quintessentially local. Based on how willing the recipient is to travel/explore, consider the location before choosing a gift voucher.
If you are not sure about the person's preference, it's always a safe option to give them a voucher for a shopping center or a flexible e-voucher that can be used in multiple places.
Take into account the recipient's schedule and availability. If you know they find it hard to take time off during the week, gift them something they can indulge in over the weekend, especially if it's a colleague or staff member gift.
With that, it is a wrap on the e-voucher gifting guide. Start e-gift shopping now!
Author Profile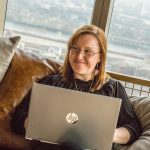 Blogger and Educator by Passion | Senior Online Media & PR Strategist at ClickDo Ltd. | Contributor to many Education, Business & Lifestyle Blogs in the United Kingdom & Germany | Summer Course Student at the London School of Journalism and Course Instructor at the SeekaHost University.