London is for me at least, my favorite city in the world and it is a great place to start a business.
I was born in Aldershot, Hampshire and grew up near a town called Fleet, which is a very nice place to grow up — a lovely little town, forty minutes by train to London and surrounded by countryside.
I actually started my first business in a nearby town to Fleet called Basingstoke and that is because I met my first business partner at Basingstoke Technical College and also at the same time as the lovely actress Elizabeth Hurley was studying there.
My first business was not a success and not so much because we couldn't make it work, but because whatever money we had earned, we spent on clothes, meals and on several trips to London.
We were both nineteen and lured by the big city life — vowing one day to start and run a business there.
Each trip, which we made by train, would see us travel all over via London Underground service and explore various parts and we couldn't get enough of the atmosphere, the vibrant city life which was run at a much faster pace than where we lived.
It was a totally different world despite being accessible within one hour from either Fleet or Basingstoke.
The move to London
Sadly, our first business beat us not by failing, but by personal issues — my partner had decided to move to the North of England for family reasons and I decided to take the plunge and move to the city.
I had a few jobs, mostly to pay the bills and then I found my real passion in the recruiting and staffing industry, where I settled perfectly into the technology industry and I never looked back.
Living in London and these were pre-Internet days, meant travel around London was easy and the sheer amount of opportunities were mind-blowing and when I used to travel back at weekends to my hometown of Fleet, it felt like I was going back in time.
There was simply no comparison to life in the big city and all of the parts that go with it for a young man!
I started my main staffing business in a town that was on in a London Borough called Bromley.
Bromley had two train stations which could take you to the center of London in fifteen and around thirty minutes depending on which station you used and it was therefore also easily accessible to people living in the city which meant hiring staff would be a lot easier than trying to do so in Fleet or Basingstoke.
I remember having my first "mass" interview and having nearly forty people turning up for a day of interviewing and the selection and the positions were easily filled.
The city of London is also home to may potential customers if you are serving the financial and technology industry and that meant getting out to see those customers was easy, and in the good old day of client entertaining, there were so many restaurants and bars to help lubricate and feed appetites whilst negotiating deals.
For me, it was a dream come true and the change form being a "country boy" to a city man was a great one and it certainly helped me progress in life as there is another side to London which is that you have to keep pace with the life up there and "go with the flow."
I know in today's world that there is a huge switch in culture, the way we work and also how we live our lives and that is part of what I call "decentralization."
If you are running an online business today or living the true "laptop lifestyle" like my friend Fernando Raymond does, then you can live and work anywhere.
Read his Digital Entrepreneurship Blog for inspiration and tips.
Fernando came here from his native country of Sri-Lanka to study and then decided to work here, ultimately settling in London, where he now spends most of his time.
With the ability to work from anywhere in the world, which he often does, travelling to different cities to promote the laptop lifestyle and his hosting company SeekaHost, he still makes London his main base!
London is vibrant, multi-cultural and still my favorite city after traveling to most parts of the world and it is a great place to do establish a business.
Read the full story about how I started my first business from a living room in London.
Neil
Author Profile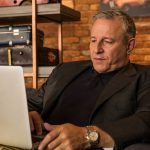 Neil Franklin is an award-wining entrepreneur. He provides coaching and mentoring for startups and entrepreneurs who need guidance to build thriving businesses.