Cannabis has many active ingredients that promise to provide miraculous health benefits to human beings. There are dozens of drawbacks associated with smoking cannabis, such as getting paranoid about THC, stained teeth, or losing weight after regular use.
CBD or cannabidiol is extracted from the cannabis plant and then diluted with a carrier like a hemp seed oil or coconut oil. With a surge in active CBD oil users in the UK accrued to its health benefits; CBD oil has become so easily available in London that you can buy a bottle from Holland & Barrett!
We know you are up for experimenting and that's why we did what we do best – go out on the streets of London to discover experiences and businesses to try CBD oil in the city.
Sumptuous CBD – Infused Food & Drinks
Farmacy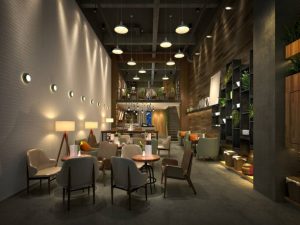 The first venue in London to add CBD to their menu in 2016 was Farmacy. Their plant-based 'High Tea' is presented on a three-tier stand and is free from chemicals, additives, refined sugars, and dairy.
The highlights of Farmacy include a pot of hemp leaf tea, CBD-infused cocktails, and CBD chocolates.
Where?
74-76 Westbourne Grove, Notting Hill, W2 5SH
Must Try
Grass me Up (pineapple juice, frozen bananas, raw coconut water, and CBD powder)
OMG Syringe Shot (grapefruit, flaxseed oil, and wildcrafted CBD)
Something About Mary (mango puree, lime juice, house hemp, and vanilla-infused vodka)
Kalifornia Kitchen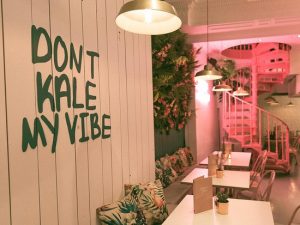 Focusing on the power of plants, and abstaining from the use of any animal products, Kalifornia Kitchen brings sustainable and nutritious food & drinks that they are passionate about.
Start your perfect day with one of its CBD-infused lattes and enjoy the breakfast, lunch, or dinner that is available via delivery or collection.
Where?
20 Percy Street, Fitzrovia, W1T 1DZ
Must Try
Special CBD-infused Latte
Buckwheat & Banana Pancake
Homemade pink Croissant
Maison Bab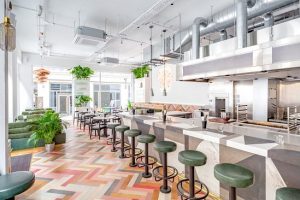 A hidden 10-seater fine dining experience with a picture-perfect setting is what makes this new style of kebab house so stylish. The executive chef of Maison Bab, Manu Canales Garces is well-known to be the former sous chef at a two-Michelin-starred Le Gavroche.
If you're just starting out with your CBD life, there's no other place to begin your journey from.
Where?
4 Mercer Walk, Covent Garden, WC2H 9FA
Must Try
Miso-marinated celeriac chunks with pickled onion rings.
Gin & Chronic (Bombay Sapphire, CBD oil, and lemon)
Mouth-Watering CBD-Infused Cocktails and Beers
The Coral Room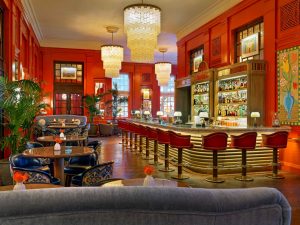 The Coral Room, a sophisticated spot serves both alcoholic and non-alcoholic drinks with a dash of CBD. There is a different kind of buzz when you drink the CBD-infused cocktails from the luxe menu of this world-class bar.
Where?
The Bloomsbury Hotel, 16-22 Great Russell Street, WC1B 3NN
Must Try
Glow Spritz (lime, cardamom bitters, elderflower syrup, and CBD soft drink)
Bloomsbury Blush with CBD oil
Behind This Wall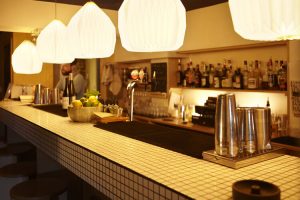 A contemporary basement bar in Hackney that redefines cool with its approach to design, music selection, and new CBD cocktails. Behind This Wall makes their own CBD pine syrup and honey to pimp a number of cocktails with them.
Where?
411 Mare Street, Hackney, E8 1HY
Must Try
Chitty-Chitty Bhang-Bhang (Seedlip Grove 42, house CBD pine syrup, and aquafaba)
'Fo' Sizzle Dizzle Swizzle (CBD honey, ginger syrup, kenaf leaf, and Honjozo Genshu)
The Gorgeous Brewery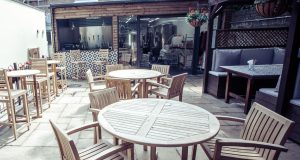 Unlike our other entries, Gorgeous Brewery is London's first pure-play CBD shop where you can buy a combination of hemp extract, and hops. A 100% organic CBD oil-infused, low bitterness, and resinous citrusy flavour makes the CBD beers amazing.
Where?
The Bull, 13 North Hill, Highgate, London, N6 4AB; also available online.
Must Try
6 Goofyhoof (Pacific Pale Ale)
Buckwheat & Banana Pancake
Hot Chocolates, Coffees, and Smoothies with CBD
Farm Girl Café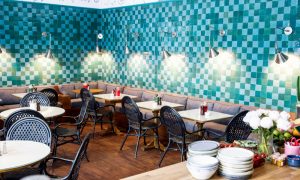 With cafes in Soho, Notting Hill, and Chelsea, Farm Girl is a casual spot for breakfasts and smoothies for the health-conscious. The place provides an extensive selection of juices, coffees, and healthy breakfast.
You can infuse CBD oil into any of your drinks. Do not miss out on the Birchers and buckwheat pancakes with amber maple syrup.
Where?
9 Park Walk, Chelsea, SW10 0AJ;
59A Portobello Road, Notting Hill, W11 3DB;
1 Carnaby Street, Soho, W1F 9QG
Must Try
Matcha Hot Chocolate (Chocolate, hazelnut/almond milk, matcha, mint, and CBD oil,)
Liquid Golden Latte with CBD oil
Glow Bar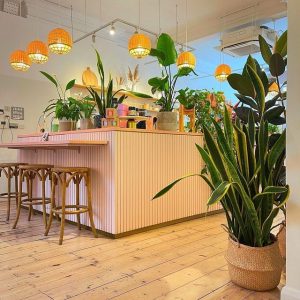 A mecca for health & wellness maniacs, Glow Bar in London has a jaw-dropping list of gut-friendly and mood-boosting dishes. You can add CBD to any drink at a nominal price of £1.50.
Where?
70 Mortimer Street, Marylebone, W1W 7RY
Must Try
The Golden Moon Milk (Wunder Workshop Golden Milk with CBD)
CBD infused Smoothies
Get Your CBD-Fix for Health and Wellness
Gymbox
Gymbox has come up with a one-of-its-kind program that provides members with CBD patches to apply on the arms. Mobility movements and exercises are incorporated by using CBD oil to relieve everyday stress and anxiety.
The natural and potent CBD oil gets delivered into the body by osmosis and provides anti-inflammatory relief to the wearer of the CBD patch.
Where?
Must Try
'Cannabliss Yin-Yoga' classes with CBD oil
Stretches and mobility exercises with CBD oil patches
Cloud Twelve
In an unassuming street at the heart of Notting Hill, Cloud Twelve is nested like a crown jewel. It's a well-being wonderland that has a family-friendly members club too. They recently introduced CBD oil massages designed to help ease aches and pains at £165 an hour.
The spa, salon, holistic wellness clinic, and nutritionally focused brasserie are worth your time and money.
Where?
2-5 Colville Mews, London W11 2DA
Must Try
Deep Tissue CBD oil massage.
Aromatherapy and Stretching with CBD oil massage
CBD for Facial Rejuvenation
Young LDN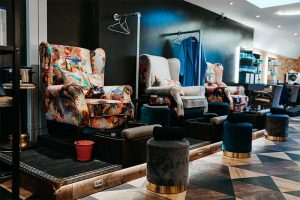 The hippest beauty destination in Notting Hill Young LDN was made keeping millennials and Gen Z in mind. It has become cooler by offering natural CBD oil facial too. CBD has the tendency to reduce acne, unclog pores, and rejuvenate the skin.
The session begins with a CBD coffee to get you in the zone and then 45 minutes of calming the congested skin to lessen visible signs of aging.
Where?
228 Westbourne Grove, Notting Hill, London, W11 2RH
Must Try
Natural Grön's CBD Rejuvenate Awakening Clay Mask
Grön's CBD Time-Reversing Face and Neck Cream
The Harley Street Clinic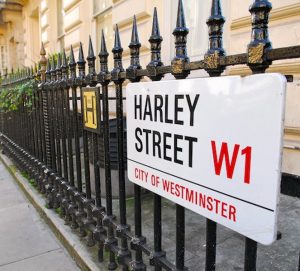 CBD facial designed to leave the complexion looking dewy has made The Harley Skin Clinic popular among celebrity clientele. Botanical enhancement helps people who are geared towards having congested skin and clogged pores at just £120.
Where?
48 Harley Street London, W1G 9PU
Must Try
Rehydration boost with CBD oil
Relaxing CBD-infused Facial Mask
Herb-infused CBD massage to release toxins
London and CBD – a perfect combo
Most of you still have your doubts about CBD and we empathize with you completely. Organic is the new trendy lifestyle in this city to adopt and CBD takes it at least three notches higher with its benefits towards the immune system and mental well-being.
With so many ways to try CBD in London, you can enjoy something you love with a hint of health. An amazing mix of eclectic flavours in your cocktail, beer, food, or coffee with the goodness of CBD will never let you down.
Author Profile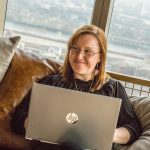 Blogger and Educator by Passion | Senior Online Media & PR Strategist at ClickDo Ltd. | Contributor to many Education, Business & Lifestyle Blogs in the United Kingdom & Germany | Summer Course Student at the London School of Journalism and Course Instructor at the SeekaHost University.