The London Business News Magazine attended UK Black Business Week between October 25th – October 30, 2021.
The event with the mission to Develop. Empower. Inspire. Recharge. did not disappoint and connected some 50 inspirational speakers with extremely motivated attendees that all thrive to make equal opportunities normality.
Among the 25+ sessions that were on the agenda throughout the week, we attended the Finance Talks on Friday the 29th of October, where business funding and financing for entrepreneurs of colour was a key topic.
However, many other aspects such as cultural differences in finance, recruitment, and issues around access to financial support for different ethnic groups were covered to delve deeper into inequality and systemic racism in the business world.
David Fisayo, Co-Founder of Wealth 8, opened the Finance Talks and moderated the first round "a career in finance" with speakers who have established themselves in the finance sector while bringing about change in their companies in terms of a more equal recruitment process.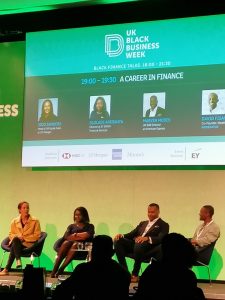 The talk gave an insight into the speakers' own experiences of inequality and racism on their career journey and the obstacles they tackled. It also provided the audience with many constructive concepts about finance career options and opportunities.
Attendees were given the opportunity to ask the speakers questions, which made the whole event very interactive and insightful.
Here are some core challenges, concepts, and suggestions that were raised during the talks by speakers and attendees:
Institutional & systemic racism can be tackled by starting with one's own mindset, enablement and by following core values

Discrimination can be confronted by bringing systemic changes about in the workplace or community
Speaker Marvin Moses, UK B2B Director at American Express, highlighted that he started out in recruitment and ended up in finance through a contact. He emphasised how important networking is to be successful and overcome possible barriers and explained that the most important lesson he learned was to be authentic and follow one's core values.
Speaker Jojo Sanders, Head of UK Equity Sales at J.P. Morgan, underlined the importance of education and hard work to achieve success and to stand up to things that aren't right by changing them. She explained she influenced the recruitment process of new talent at JP Morgan by creating more awareness and new initiatives.
Speaker Ololade Adesanya, Director, EY EMEIA Financial Services, underpinned the importance of changing the mindsets of people in the workplace by acting as a role model and not giving up on change until it is achieved. She has initiated fairer trainee and intern acquisition schemes at her company Ernst & Young.
Moderator David Fisayo agreed with all speakers and enquired whether they believe that increased regulation in the recruitment process would give more career opportunities to people of different cultural backgrounds or minority groups. He explained that with his company, Wealth 8, he and his team are offering support to Africans for access to global investment funds and tailored financial education to boost their wealth creation.
Cultural differences can be obstacles to get approval for business funding

Members of the black community remain underrepresented in investment funding & business funding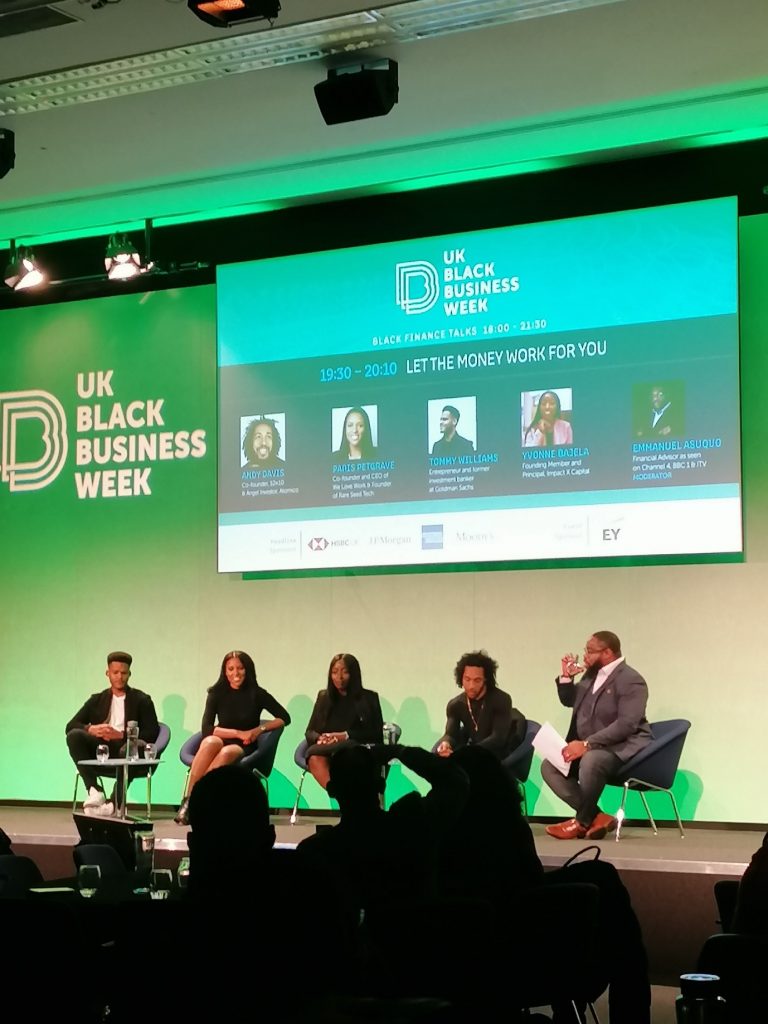 The second talk "let the money work for you" was moderated by Emmanuel Asuquo, Financial Advisor as seen on Channel 4, BBC 1 & ITV, who asked the panel important questions with regards to accessing and attracting business funding and ways to become more business finance savvy as a black entrepreneur or business owner.
Some recent statistics that underline the challenges for black-owned businesses discussed at the Black Finance Talks during the UK Black Business Week can be found in this article reporting the current situation in the US: Fundera 20 Black-Owned Business Statistics for 2021:
Black business owners receive less business financing
Federal Reserve numbers show that 80.2% of white business owners receive at least a percentage of the funding they request from a bank. Only 66.4% of BIPOC (Black, Indigenous, or people of colour) business owners can say the same. When BIPOC-owned firms do get funding, the amounts tend to be about $30,000 less than comparable white-owned businesses, while their interest rates are about 1.4% higher.
Over One-Third of black business owners say they are "discouraged" from applying for loans
The primary reason many Black business owners don't apply for loans is that they believe they would be turned down even if they applied. Just 12.7% of white business owners feel the same way.
The average level of start-up capital for black entrepreneurs is just $35,205.
Compared with white entrepreneurs reporting an average of $106,720 of start-up capital.
Just 1% of black business owners obtain business loans in their first year
Comparatively, 7% of white-owned firms get business loans in their first year.
Other first-year financing stats:
Credit cards: 30% of white business owners, 15% of Black business owners
Personal loans: 18% of white business owners, 14% of Black business owners
Family loans: 9% of white business owners, 14% of Black business owners.
Only 18% of black business owners report receiving assistance from loan officers in completing applications
Starting a business and getting the capital to sustain or grow that business is complicated. Therefore, it's an issue that 59% of white business owners report receiving help from loan officers, while less than one-fifth of Black business owners do.
Creating Awareness is Key for Tackling Inequality & Systemic Racism
The UK Black Business Week events have certainly helped with creating more awareness of the disadvantages black-owned businesses still face worldwide and in the UK. They have also brought many influential and highly motivated individuals and industry leaders together that are on a mission to tackle inequalities and racism in the business world and beyond through their own work, projects, and businesses. The UK Black Business Week has certainly not failed in what it promised: to equip Black Professionals and Entrepreneurs with business insights, new skills, and knowledge to navigate the world of work. There still lies a lot more work ahead, however, the movement is heading in the right direction.
If you have attended the UK Black Business Week and would like to add anything valuable to this article or to our website about this event, please get in touch with the editors.
Author Profile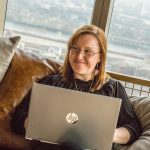 Blogger and Educator by Passion | Senior Online Media & PR Strategist at ClickDo Ltd. | Contributor to many Education, Business & Lifestyle Blogs in the United Kingdom & Germany | Summer Course Student at the London School of Journalism and Course Instructor at the SeekaHost University.