Hatton Garden can be considered the headquarters of diamonds and other timeless jewellery in London. It is home to some of the most experienced, renowned and sought-after jewellery merchants in the world.
Should you be in search of that perfect unique jewellery piece, no matter the occasion, visit all or a few of our recommended 50 jewellery shops for the most valuable, authentic jewellery and advice in Hatton Garden:
You can list your business on our top business directories for free to boost your SEO and exposure online or contact us for any queries.
Get listed on UK Business List
Get Listed on SeekaHost Business Directory
Ovadia Jewellery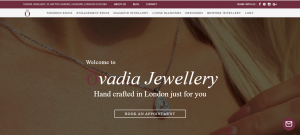 Ovadia Jewellery is a leading experienced family-run bespoke jewellery shop in Hatton Garden known for high-quality diamond rings. The jeweller offers engravings of your messages on the handcrafted rings to show your undying love. It also provides for equally stunning necklaces, earrings and bracelets to complement your unique ring for any budget. They're highly reviewed for their outstanding and individual customer services.
Webley London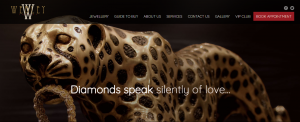 If you are looking for a dedicated supplier with an exquisite collection of jewellery, Webley London is the place to visit. With a dedicated bespoke jewellery designer and a consultant, Webley looks to create you a masterpiece within your budget. It also has a group of qualified gemologists, craftsmen and designers for the best quality handcrafted jewellery.
Simon Lewis Jewellers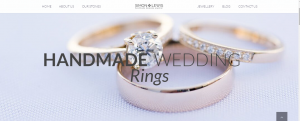 Simon Lewis Jewellers is all about craftsmanship and precision. With a team of well trained and experienced jewellers, the store provides accuracy in all your jewellery needs. It works with you to only offer stylish rings but also unique ones for a lifetime pride.
Shining Diamonds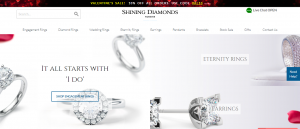 Shining Diamonds is one of the most reputable jewellery stores in Hatton Garden. Having been featured with several top business and fashion magazines, the store does not compromise on quality. It provides for a wide range of diamonds that come in any colour and size. Only your taste and budget are the limits here.
Rennie & Co. Jewellers

Rennie & Co. Jewellers is all about top luxury. If you are looking for a timeless engagement ring, wedding band or a diamond pendant, this is the place to visit. The store understands that purchasing a diamond is a lifetime commitment. It allows you all the time you need to settle on the best choice for you and your partner.
Holts Gems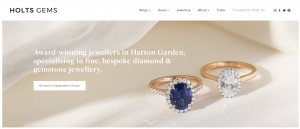 Holts Gems is an award-winning jewel store that is one of the oldest in Hatton Garden. With the experience amassed over the years, the store understands some of the best cross-generational pieces that work wonders on your appearance. Contact them for the best of the classical fused with contemporary designs.
Hatton Garden Jewellers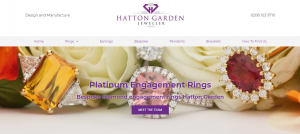 Hatton Garden Jewellers has built a reputation as one of the best customer care stores in Hatton Garden. The excellent customer service has seen it establish several top quality stores around the city. It provides a wide variety of diamond and other vintage jewellery for all special occasions.
Hatton Jewels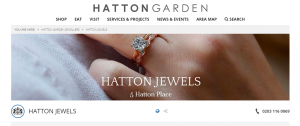 Hatton Jewels is the best jeweller to visit in Hatton Garden if you are looking for quality at affordable prices. With some of the most qualified jewellers in London, the jeweller offers you a wide range of wedding, engagement and eternity rings. The staff are patient to work with you as you bring your design to life.
Hearts of London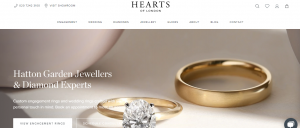 With talented and skilled gemologists among the ranks at the store, Hearts of London seeks to provide you with top quality jewellery with precision. The team is always at hand to guide you on the look you want to achieve and the occasion.
Farringdon's Jewellery

Farringdon's Jewellery is a small family-run jewellery shop in Hatton Garden with some of the world's finest jewellery collections. The store boasts a group of antique and vintage jewellery from the Victorian, Georgian and Edwardian eras. It is also home to the vintage that dates back to as early as the 1940s.
A&S Jewellery Manufacture Limited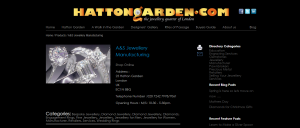 With over 30 years of operations, A&S Jewellery Manufacturing Limited is one of the most reliable jewellers in Hatton Garden. The store produces stunning conflict-free diamonds set with GIA certificates. All the engagement rings are uniquely designed for a natural fit.
Brown & Kings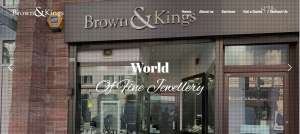 Brown & Kings has established a reputation as one of the top destinations for luxury masterpieces. Boasting of a wide range of meticulous wedding rings, diamond jewellery, luxury watches and other jewellery, the store is a haven for shoppers. It also purchases some of the luxury jewellery you no longer use.
Madison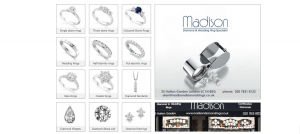 Madison is one of the most renowned jewellers located in the heart of Hatton Garden. The store offers a broad range of diamond rings made within the premises for the uniqueness, unlike no other. Based on trust and confidence, the jeweller seeks to provide you with the best quality at affordable prices.
Flawless Fine Jewellery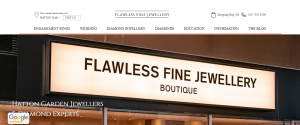 Flawless Fine Jewellery is a top-rated jewellery shop in Hatton Garden that is after providing you with stunning, stylish jewellery made with precision at an affordable price for all. Whether you are looking for a gorgeous diamond pendant or a bespoke engagement ring, the store has something for you.
Eric Ross Jewellers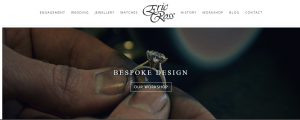 Eric Ross was one of the earliest jewel stores in Hatton Garden and has since grown to be one of the largest jewellery retailers in the country. Using ethically sourced stones and materials, the store specializes in producing the very best of handmade jewellery. It has a large workshop that can handle every individual customer need.
The Diamond Shop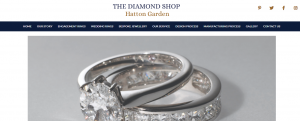 The Diamond Shop is a reputable jeweller specializing in luxury, bespoke and handmade diamond jewellery. With over 30 years' operational experience, the jeweller has mastered the art of creating stunning diamond jewellery right from their design studio and workshop. It offers a wide selection of diamond wedding rings, engagement rings and any special requirement.
Berganza Limited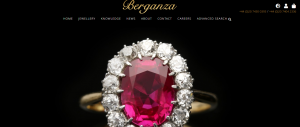 Based in the heart of Hatton Garden, Berganza Ltd is an established jewellery retailer specializing in excellent antique products. The jewellery shop seeks to provide the finest in timeless and unique jewellery for your needs. Every piece is expertly handcrafted to match the specific period you seek. A visit to the store will give you a glimpse of the exquisite history of jewellery.
Diamond Palace Jewellers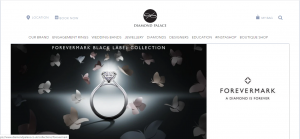 With some of the world's most enchanting diamonds, Diamond Palace is a dream for those looking for the best jewellery pieces. Whether you are looking for a top of the range engagement ring or a designer mount ring, this is the store to visit. It is set in a laid back and happy environment for an exceptional shopping experience.
D G Bespoke Jewellery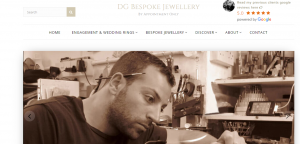 Are you craving a personal touch in your jewellery making process? D G is the jeweller to consider! An independent run jewellery shop in Hatton Garden, D G bespoke seeks to give you one-on-one services from start to completion. The jeweller does not cater for advertisement, staff or high-end building. Hence it affords to charge considerably lower prices than the other jewellery stores.
Lewis Malka London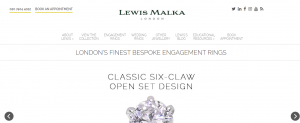 Lewis Malka London is a specialist engagement ring located in Hatton Garden. Headed by one of the most distinguished designers, with over 16 years' experience, the store seeks to give you the very best in engagement rings. By allowing you to come up with your designs, the store involves you in the entire process for the perfect ring.
Arlington & Co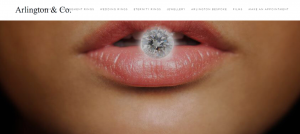 With over 50 years of crafting exquisite diamond and precious stone jewellery, Arlington & Co. is the ultimate jewellery store in Hatton Garden. The store works with experienced goldsmiths, designers and setters for the most beautiful quality jewels. The jewellery is made of high-quality gems and raw materials.
Anais Rose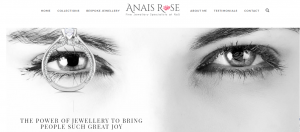 Anais Rose is the place to visit for a unique piece of jewellery made to bring you joy. The store is all about involving you in the crafting of your bespoke jewellery design based on your tastes while ensuring quality and affordability. You can also visit the store if you want to reset a piece of jewellery.
Hyde Park Design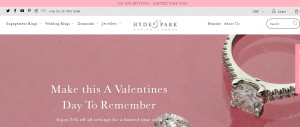 Run by two equally talented brothers, Hyde Park design is a jewellery store dedicated to providing the most exquisite jewellery for your liking. Every jewellery from this company is made with precision, paying attention to detail and a touch of passion.
London Rock Jewellers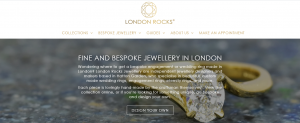 London Rocks Jewellery is an independent jewellery designer in Hatton Garden. It is renowned for beautiful, custom made engagement rings, wedding rings, eternity rings and others. It goes into details to offer you a unique design that makes you stand out at all times.
Daniel Christopher Fine Jewellery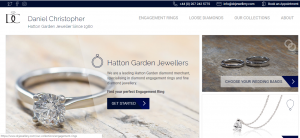 Daniel Christopher Fine Jewellery is a leading diamond merchant with top of the range diamond engagement rings and other fine diamond jewellery. The store works with precision to offer you the best quality. It also allows for flexible payment and financing options.
Queensmith Master Jewellers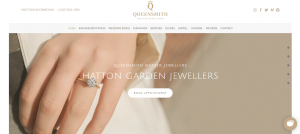 Queensmith is the ultimate jewellery store in Hatton Garden for anyone looking for that stunning engagement ring. This award-winning store boasts of some of the elite expertise in jewellers for all your jewellery needs. It provides a wide selection of both classical and contemporary designs to match your individual needs.
Star Jewels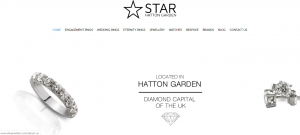 Star Jewels is an independent jewellery store with some of the most exquisite range of diamond wedding rings, engagement rings and eternity rings. The store offers an extensive collection of both bespoke and in-house designs to cater to different budgets.
Harmony Jewels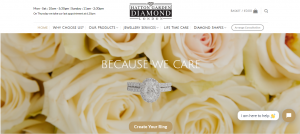 Harmony Jewels is one of the fastest-growing jewellers in Hatton Garden due to the customer service and attention to details in every piece. The store infuses contemporary designs to the classic pieces for unique features. It also has a team of dedicated designers to bring your jewellery ideas to life.
Carriage Diamond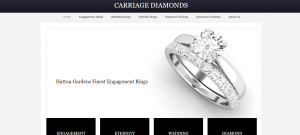 Carriage Diamond is one of the best bespoke jewellers in Hatton Garden. It specializes in producing diamond wedding rings, eternity rings and engagement rings. It also stocks a wide range of classic and modern pieces. The company sources high-quality materials for IGI or GIA certified products.
Solitaire London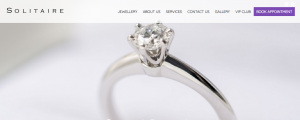 This is one of the newest jewellers in Hatton Garden yet has fast grown a massive following due to its extensive range of quality jewellery and unrivalled customer service. Solitaire offers a wide range of products from the contemporary to classic designs. Clients on a tight budget can still opt for the second-hand antique jewellery.
Jade Jewellers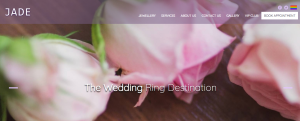 As the biggest wedding showroom in Hatton Garden, Jade Jewellers takes pride in offering top of the range diamond wedding rings. The store has a wide range of luxury jewellery and provides the best in personal service. It also offers jewellery remodeling, aftercare and insurance valuation.
E Katz and Co Ltd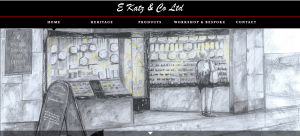 Established in1946, E Katz and Co Ltd, is the oldest established retail jeweller in Hatton Garden. It has continued to redefine over the years as a leading manufacturer of stunning diamond jewellery. The store provides excellent customer service with a wide range of jewellery. It also offers expert repair service.
Abrahams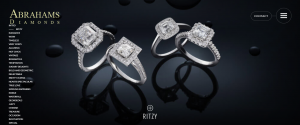 Abrahams is an exquisite jeweller with an extensive collection of diamonds. It has every colour, shape, size and clarity to suit your individual needs. Using high-quality materials, Abrahams is all about value for money. All its jewellery are GIA certified for quality.
Davril Jewels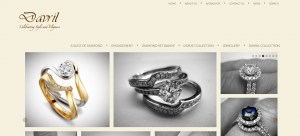 Are you looking for elegant designs made with a personal touch? Then look no further. Davril Jewels Offering exquisite handmade pieces, the store has made a name as a reliable source of original designs for a worldwide audience. It infuses traditional skills to contemporary designs for stunning jewellery.
Pacha of London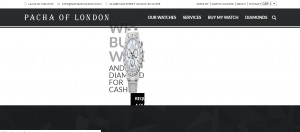 Pacha is your ultimate luxury shop in Hatton Garden. Stocking some of the rarest and collectable pieces, this is the store to visit if you seek serenity. Among its ranks are some of the top designer pieces like Cartier, Chanel and Rolex. It has a dedicated customer service team to help you identify the best luxury piece and to deal with any concern.
Smith & Green Jewellers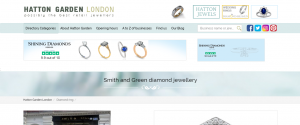 Are you looking to sweep your special other off their feet? You will never go wrong with a piece of bespoke jewellery from Smith & Green. Run by skilled jewellers, the shop looks to make you feel special with every piece. The store engages through the entire process to make the right jewellery depending on your style and budget.
Daniel Prince Jewellery Designs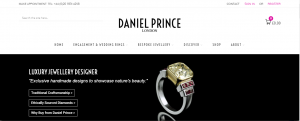 Daniel Prince is all about handcrafted luxury made with excellent craftsmanship. With some of the most skilled designers in Hatton Garden, the store uses the best of the micro-setting techniques. It sources stones from trusted sources for the best quality. The custom-making allows you a diamond clarity, cut and colour based on your budget.
Diamond Heaven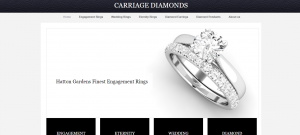 Whether you are looking for a stunning wedding ring, diamond ring, eternity ring, or any other ring, consider Diamond Heaven. The store takes pride in offering a comprehensive collection of jewellery with unbeatable customer service. It also has a team of qualified experts for informed guidance and impartial advice during the purchase.
The London Victorian Ring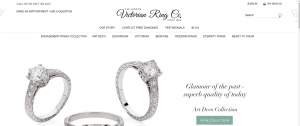 Are you a fan of the classic diamond rings, or do you prefer the contemporary designs while maintaining the quality? Whichever side you choose The Victorian Ring has got your needs covered. The store is willing to work with different hues and settings to make your ideas a reality.
The Wonder Gallery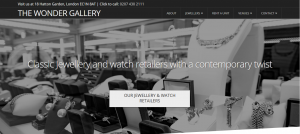 While you can find an extensive collection of jewellery in one shop, imagine what happens when 15 jewellery shops are all located at a single point, each operating independently. That is what the Wonder Gallery offers. The place is after giving a shopping experience like no other. Be sure you will get whatever you need from the premises.
Paris Jewels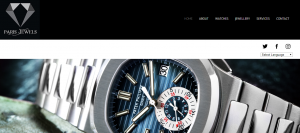 Paris Jewels is a luxury jewellery shop known for top of the range bespoke jewellery and classic watches. The shop seeks to offer a personal shopping experience with uncompromising customer service. It also provides diamond ring resizing among other services.
Finecraft Jewellers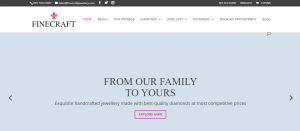 As one of the oldest operational jewellers in Hatton Garden, Finecraft has made it a tradition of producing the most exquisite bespoke jewellery through artful craftsmanship. This family-owned business engages you to provide what you need. It allows you the gem of your choice at the best prices.
The Sapphire Shop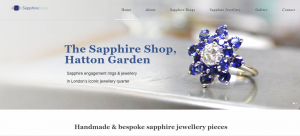 Operational for over 30 years, The Sapphire Shop is one of the leading shops in the UK. With a team of some of the most talented designers, the shop takes pride in offering top quality services. Whether you have an idea or are looking for some of the unique designs around, the shop has something for everyone.
Jewelworks Jewellery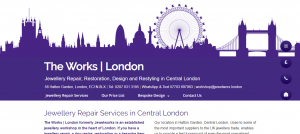 Jewelworks is one of the best shops in the Hatton Garden for all your jewellery resizing, restoration or bespoke creation. Jewelworks combine years of experience with the latest technology to ensure fast turnaround times and quality. The shop provides a wide variety of designs for your needs.
Beverly Hills Jewellers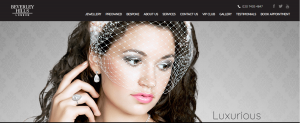 Beverly Hills is a reputable jeweller in Hatton Garden known for some of the best quality in jewellery. It provides a wide range of wedding rings, engagement rings and other pieces of jewellery for the complete look. This is the place to visit if you are looking for the VIP treatment that you deserve.
Leiser & Co Diamond Traders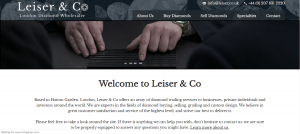 Leiser & Co is all you need when it comes to diamond trading. They are experts in selling, buying, grading, and designing diamonds. Having delivered for some time, the company has built a name as the leader in customer satisfaction. It provides for expertise in classification and valuing precious stones to ensure you find what you are worth.
Boutique 36 Jewellers

Yet another group of jewellers coming together to provide the ultimate shopping experience, Boutique 36 is made up of 18 independent jewellers. The team of jewellers mean you can easily find what you are looking for without leaving your comfort. It also offers access to expertise for any jewellery concern.
Savvy +Sand Jewellers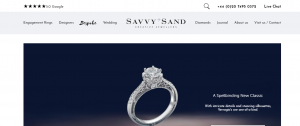 Mark your special moment in life with a piece of stunning jewellery from Savvy+Sand diamond merchants. The shop employs creativity in creating handcrafted engagement rings that stand the test of time. The company believes that as long as you can imagine an idea, they can bring it to life.
Hamilton Jewellers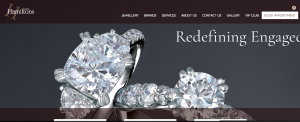 Hamilton is a top jeweller in Hatton garden that specializes in engagement rings. It offers a wide variety of fine jewellery that never fails to impress even the hardest of hearts. It also has a wide range of certified diamonds and branded designer jewellery.
Max Diamond Bespoke Jeweller

Max Diamond is a leader in engagement and wedding ring settings. It combines traditional techniques with contemporary designs for a timeless piece. It offers a wide range of engagement rings, wedding rings and cocktail rings. It allows a wide variety of stones, metals and design to suit your budget.
If you're particularly looking for that ideal London jeweller for wedding jewellery, have a look at renowned Hitched Magazine's recommendations, where you can also find many other inspirations for your upcoming wedding.