The London Business News Blog had the opportunity to interview the SearchScene.com Founders Dr Neil Williams & Dr Ciara Muldoon to learn more about their charitable search engine venture  https://www.searchscene.com/ based in London.
1. Tell us about you as a founding couple and your search engine. What was/is your main motivation or goal and what difference has this venture together made to your lives?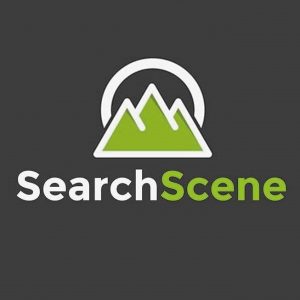 Neil is originally from Wales. He has a Ph.D. in Aerospace Engineering and worked in the space industry in Germany for many years before changing his career path and becoming an internet entrepreneur. Ciara grew up on Inishmore, a small island off the west coast of Ireland. She has a Physics degree and a Ph.D. in Science Studies. She joined Neil's internet company after they were married in 2009. We now live in England with our four-year-old daughter.
With the growing climate crisis, we wondered what kind of world our daughter would grow up in. We also wanted to do much more to help people, animals, and the planet. Looking at Google's immense profits, we wondered what could be achieved if those profits were used differently. What if, instead of going into Google's shareholders' pockets, those profits were used to plant trees, feed hungry children, bring clean drinking water to impoverished people and save wildlife habitats.
So, we created SearchScene.com – The Charitable Search Engine, which donates 95% of its profits to humanitarian and environmental charities that fight the causes and effects of climate change. The more we worked on this project, the more we realised that we were doing the right thing, even if it was a difficult way to earn a living. The world needs charitable alternatives to all the big-tech companies – Google, Facebook, Apple, and Amazon. Unfortunately, it is very challenging for small tech companies to compete. So, we need people power if we are to succeed.

2. Can you share what is special/unique about your search engine?

Firstly, SearchScene is a charitable search engine. Just like Google, SearchScene makes its money from search ads. These are the ads that appear at the top and bottom of your search results. Unlike Google, we donate 95% of our profits from these ads to a range of international charities. These are all charities that focus on tackling either the causes or effects of climate change, which is the burning issue of our time. You can even choose which of our nominated charities you would like to support.
Secondly, we make a point of being as private as possible. Unlike Google, we don't save your searches, we don't save your IP address or personal data, and our ads don't track you across the web.
Thirdly, our homepage gives you stunning scenery that changes each time you refresh the page, hence the name "SearchScene". You can also set your own wallpaper image if you prefer, or simply switch to a blank homepage for that Google-like minimalist look.

3. What challenges have you faced so far with building this search engine business?
Whilst we get the majority of our baseline search results from Microsoft Bing, we don't get everything we need to build a modern, full-featured search engine from Bing. We had to build all our own knowledge panels, instant answers, and widgets, like our weather widget, etc. This was challenging, but we think we've done a better job of it than any other alternative search engine, and there are many more features planned.
However, the biggest challenge we face is marketing the site. Although most people think that SearchScene is a great concept, getting people to actually switch from Google to SearchScene has been challenging and expensive in terms of marketing. There is too much inertia to overcome. That said, most people who take the chance and switch to SearchScene are very happy with it and we have 5-star reviews on most platforms.
4. How do you ensure that 95% of its profits are donated to major international charities you support?

Right now, as a start-up, we are loss-making. The tens of thousands of pounds we've donated to charity so far have all come from our company's own reserves. However, as we scale up our traffic, we will become profitable and 95% of those profits will be divided up between our chosen charities according to everyone's selections.
When we reach this point, we plan to have a chartered accountant sign-off on our finances as proof of the fact that we donate 95% of our profits to charity. We are already the only charitable search engine that provides actual, traceable receipts for all its donations. We recognise that transparency and trust are everything.

5. What is the biggest difference between SearchScene and Google in your view?

SearchScene donates 95% of its profits to charity. Google does not. If you want to make Google's shareholders rich, use Google. If you want to use that money to help save the planet, use SearchScene. It's that simple!
Additionally, SearchScene does not save your searches or track you around the web as Google does.

6. Do SEO tools and trackers provide analytics data for your search engine?

No, we do not use any analytics software. Nor do we use trackers. We only store the total number of searches from each country and each device. We minimise the amount of data we collect, so we have avoided using any analytics tools and we've vowed never to use Google Analytics on our site.

7. In which ways does your search engine protect users' data and privacy?
We have lots of great privacy features on SearchScene: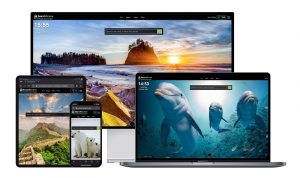 We don't save your searches
We don't save your IP address or user data
Our ads are non-personalised and don't track you across the web
We automatically delete our server logs every day
All your searches are encrypted
We don't sell your data to advertisers (we have no data to sell)
We don't use Google Analytics
Our SearchScene iOS and Android apps remove cross-site tracking cookies, social trackers, crypto miners, and fingerprinters from every website you visit. This is privacy that extends beyond our search engine.

8. Can you enlighten us about your own algorithms and how users can be assured that their search results are up to date and relevant? (How do you ensure that the data you pull in from other sources, such as Wikipedia, IMDb, Spotify, Goodreads, Tripadvisor is offering the best search experience?)
Our baseline search results come from Microsoft Bing's index. This ensures up-to-the-minute, relevant results. We pull in other data from other sources to populate our knowledge panels and instant answers. This gives SearchScene the full-featured search experience that users get from Google, which few alternative search engines provide. In many ways, we've gone further than Google.
Our knowledge panels are often split into tabs. If you look up a band or songwriter, you will get tabs for their songs, albums, similar artists, etc. (where the "songs" tab contains playable snippets). If you look up an actor, you will get a tab with a full list of the TV shows and movies that he or she has starred in. If you look up a movie, you will get movie reviews, a full cast list, similar movies, all split into tabs within the knowledge panel. If you look up a book, you will get book reviews, other books by that author, etc.
Furthermore, if you hover your mouse pointer over a link in one of our knowledge panels, you will often get a popup balloon with more information about that topic, which is dynamically pulled from Wikipedia. Google does some of this, but only on mobile. We do it on mobile and desktop.

9. Upon conducting a search on SearchScene, a button appears at the bottom of the search results page to "repeat this search on Google". Can you explain the purpose of this, please?
There is also a button at the top of all our search results that allows you to repeat your search on Google. Whilst SearchScene is a great search engine, there is no denying that Google is better at pulling obscure articles from the deep web than any other search engine. So, whilst most users would be more than happy with SearchScene's search results 99% of the time, we allow our users to repeat their search on Google with just one tap/click for those rare occurrences where you can't find what you're looking for on SearchScene.
You don't have to type your search into Google again, our button will take you straight to Google's search results page for your search query. So, we are not saying that you have to avoid Google completely, but you can drastically reduce your reliance on it. With this in mind, there really is no reason not to use SearchScene instead of Google!

10 Finally, can you share your biggest achievements with your search engine and which business/environmental goals you hope to achieve within the next 5 years?
It's hard to pinpoint the biggest achievement. Getting the search engine to the point it's at right now has all been difficult. In particular, finding all the correct data for our knowledge panels and serving them up fast enough for the user was a challenge. SearchScene is under constant improvement, so we are still working on improving our search results further.
We are also working on a group feature that will allow our users to create or join a group that will allow them to view their collective charitable impact. These groups might be schools, classes, universities, departments, businesses, organisations, or just groups of friends.
In the long-term, we hope to improve our privacy credentials even further and become the most private search engine, as well as the most charitable.
In terms of environmental goals, these are wide-ranging, so it is hard to put a figure on it, as we support so many charities, most of which support hundreds of humanitarian and environmental causes. It is widely accepted that saving the planet is not just about planting trees! But we hope that, with the help of your readers, we can make a big, positive difference in the world.
You can check out SearchScene at https://www.searchscene.com, and if you like it, please share it with your friends and family.
FB: https://www.facebook.com/searchscene/
Instagram: https://www.instagram.com/searchscene_official/
Twitter: https://twitter.com/SearchScene
LinkedIn:
https://www.linkedin.com/in/neil-williams-53342a4/
https://www.linkedin.com/in/ciara-muldoon-67097b4/
YouTube:
Contact:
Neil Williams
Co-founder
SearchScene.com
Press Pack: https://www.searchscene.com/press-pack
Media Pack / Graphics:
https://www.dropbox.com/sh/s1gh7hsdx6j2ws5/AACFIN-xhdikcnevJ6GAb0Eia?dl=0
Author Profile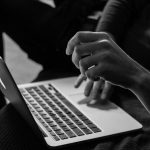 Always on the chase after hot and trending London and UK business news that disrupt, inform and inspire.