FreeOfficeFinder predicts the office won't die, it'll just get smaller:
Leading serviced office agent FreeOfficeFinder reports that 35 percent of London firms are planning on taking smaller offices
The average desk rates in London decreased by more than 7 percent from January 2020 to January 2021
Almost two-thirds cite employee demand for flexible working as a factor, with an average reduction of space at 20 percent per company
The importance of the office for in-person interactions and 'light bulb' moments will still prove a draw
Record numbers of start-ups and unbeatable deals will see demand for small offices rise
2021 will be the year of the 'small(er)' office for London firms, predicts serviced office broker FreeOfficeFinder. The company reports that more than a third of London companies (35%) that have enquired for office space in January and February have said they would be taking smaller offices than their previous workspaces. They follow in the footsteps of the likes of HSBC and Lloyds who recently announced they were reducing their office space due to a combination of falling profits and employees' desire to stay at home.
Of that third, almost two-thirds (62 percent) said that flexible working was a factor in the decision to move to smaller offices, with their company planning to adopt a "hybrid" model where employees would rotate the days in the office with their colleagues to keep the office size needed down to a minimum.
On average, companies are cutting their office space by 20 percent. More than half (56 percent) reported that downsizing was part of a money-saving plan, while just under half (43 percent) said that their decision to downsize was due to the redundancies made within the company.
The increased volume of available office space in London is driving providers to offer competitive prices and large incentives to new clients, such as initial rent-free periods and flexible start dates. Despite this, the average price for London desk rates still went down 7.2% between January 2020 and January 2021 (£539 to £500), while the average price for a desk across the UK decreased almost 7.4% during the same time.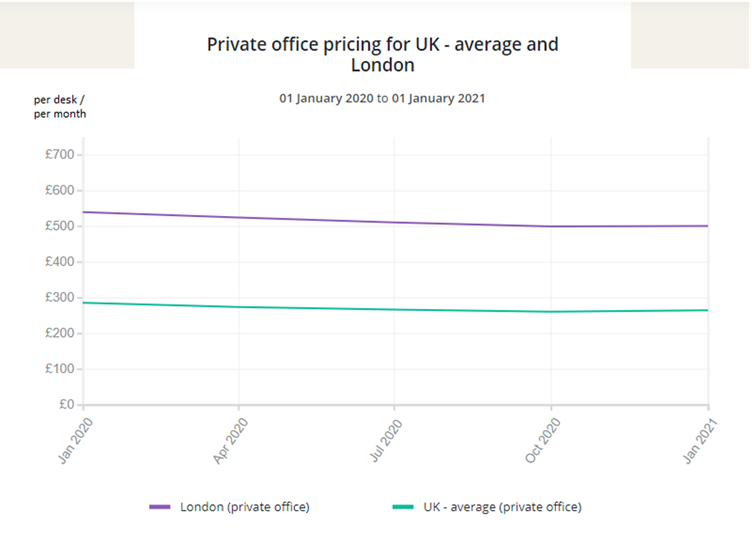 The pandemic is forcing London companies to re-evaluate their office space strategies and is acting as the catalyst for changes that were already afoot. Remote working was on the rise prior to the pandemic, and according to a Gartner survey of company leaders, 80% plan to allow employees to work remotely at least part-time following the pandemic.
"We are already seeing that the remote working trend means that London businesses are opting for smaller offices with more flexible agreements,"
commented Nick Riesel, MD of FreeOfficeFinder.
"Many companies simply won't require a desk space for every employee, and we expect locations outside of city centres to also experience a surge in demand."
But it's not just remote working that is prompting companies to seek out smaller spaces. In the short-term at least, FreeOfficeFinder predicts companies will favour private or self-contained offices over open plan coworking areas for hygiene reasons: it's easier to control footfall and the risk of cross contamination is lower.
Other factors influencing the demand for small offices include the increase in the number of companies starting up as a result of the pandemic (UK business incorporations were up 30 percent in the four weeks to mid-December), and companies in some sectors, such as gaming, looking to expand due to a lockdown boom.
And Riesel believes offices are here to stay:
"Despite the positives of remote working, the pandemic has revealed its drawbacks. Success – for businesses operating in the knowledge economy, for instance – relies on those spontaneous in-person interactions and light-bulb moments that Zoom just can't replicate. Offices can also be vital hubs when it comes to attracting and retaining top talent."
FreeOfficeFinder surveyed 1,000 of its London-based clients and prospects during February 2021.
For more information or interviews please get in touch with Kate via kate@brightsparkpr.co.uk or 07890 921961.
About FreeOfficeFinder
Founded in 2002, FreeOfficeFinder is a boutique commercial property agency. The company specialises in matching individuals and organisations with their perfect office, helping organisations of all sizes to find office space to rent in more than 2,300 locations on its database across the UK. The service is completely free to use due to the unique way it is funded by landlords.
Whether you're looking for a co-working space (shared office), a private office, a whole floor or even an entire building, FreeOfficeFinder markets 98% of available flexible office space and can cater to every style, size, location and budget.
FreeOfficeFinder has helped more than 35,0000 businesses since 2002 and clients include Barclays, Uber, Samsung, PWC, the NHS, BBC, n-power, B&Q, Dyson, BT and many more.
www.freeofficefinder.com
Author Profile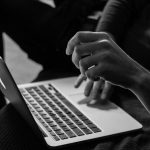 Always on the chase after hot and trending London and UK business news that disrupt, inform and inspire.