IP lawyers play a variety of critical roles related to the protection of intellectual property. They act as advocates representing clients in legal disputes and court proceedings.
They serve as advisors, counseling clients about intellectual property matters. Due to the nature of the work involved, intellectual property lawyers are likely to work for companies in the technology, life sciences, media, and IT sectors where intellectual property is fundamental to a company's business strategies.
Intellectual property can be separated into various legal subcategories such as trademarks, copyrights, patents, and design rights. Intellectual property law encompasses a broad range of legal disciplines including tort, contract, and competition law. Intellectual property is an important asset in any company, especially if the nature of the company's work is inventive.
Choosing an IP Lawyer can be a challenging task. There are many factors to consider such as the lawyer's experience, their location, and their expertise.
However, some other important considerations may help you choose which IP lawyer is right for you.
Here's a list for you of the best IP lawyers in London and their services.
1. CMS Cameron McKenna Nabarro Olswang LLP

IP Lawyers: Sarah Wright; Tom Scourfield
Address: Cannon Place, 78 Cannon Street, London, EC4N 6AF, United Kingdom
Phone No. : +44 20 7367 3000
Website: https://www.cms-lawnow.com/area-of-law/intellectual-property
Awards:
The international law firm CMS has been ranked a top UK employer for social mobility. Ranked 19th in the 2022 Social Mobility Index.
Services offered:
Corporate law, capital markets law, advertising, marketing and media law, and commercial and business law.
Work highlights:
Representing Qatar Airways in a claim brought by the Performing Right Society (PRS) for copyright infringement.
Advising UEFA in securing innovative live-blocking orders for infringing content during football matches.
Advised Nestlé regarding several strategic mandates, including the secure trademark protection of the four-finger Kit-Kat.
2. Brandsmith

IP Lawyers: Michael Forrester; Andrew Lee
Address: Old Pump House, 19 Hooper Street, London E1 8BU
Phone No: 020 8038 4821
Website: https://brandsmiths.co.uk/expertise/intellectual-property/
Services offered:
Intellectual Property, Litigation, Crypto & Cyber, Corporate, Commercial.
Work highlights:
The team has considerable experience in high-profile litigation in the Appellant Courts, High Court, IPEC, and before the registries. Their main strengths are trademark, design, passing off, copyright, and confidential information cases.
The team experience is utilized to secure clients for the best licensing, corporate, and other IP-related deals. They also represented clients in the Lifestyle Equities V Ahmed case which will reach Supreme Court in 2023.
3. Carpmaels & Ransford LLP

IP Lawyers: Ian Kirby, David Wilson, Camilla Balleny, Jennifer Antcliff.
Address: 1, Southampton Row, London WC1B 5HA, UK
Phone No:  (020) 7242 8692
Website: https://www.carpmaels.com/
Services offered:
An integrated prosecution and litigation team covering all areas of intellectual property.
Work Highlights:
They work as a powerful patent litigation practice built on the solid foundations of one of the country's leading patent attorney firms.
The team draws on deep wells of knowledge across all conceivable scientific disciplines but has particularly cut a dash in life sciences.
4. Fox Williams LLP

IP Lawyers: Mary Elliott, Richie Clark
Address: 10 Finsbury Square, London, EC2A 1AF
Phone No.: +44 (0)20 7628 2000
Website: https://www.foxwilliams.com/legal-expertise/intellectual-property/
Services offered:
They provide services to all IP-related inquiries from brand protection, copyright infringement, fashion design, coordinating cross-border IP disputes, anti-counterfeiting, IP strategy, trademark portfolio management, managing your patent life cycle, copyright enforcement, and more.
Work Highlights:
Fox Williams is especially active in eight key sectors — fashion, financial services, fintech, natural resources, professional services and partnerships, publishing and digital media, technology, and travel.
They provide support to clients nationally and internationally on their most important and complex legal and regulatory matters and are known for their ability to deliver effective solutions.
5. Allen & Overy LLP

IP Lawyer: Mr. David Stone
Address: One Bishops Square, London E1 6AD, UK
Phone No.: +44 20 3088 0000
Website: https://www.allenovery.com/en-gb/global/expertise/practices/intellectual-property
Services offered:
Commercial Intellectual Property, Intellectual Property Disputes, ITC Section 337 Investigations, Patents, Trademark and Design Portfolio Management, Trademark, Designs and Copyright and Trade Secrets.
Work highlights:
Managing the global trademark portfolio for Acamar Films, the creator and distributor of the Emmy Award-winning children's television series Bing Bunny.
Representing Samsung in a trademark infringement and passing off claim filed by ten claimants which are members of the Swatch Group of companies, alleging that Samsung has infringed various watch brand trademarks.
Advised Etsy on the trademark and IP aspects of its acquisition of the entire issued share capital Depop, the UK-based global fashion resale marketplace, from various institutional, angel, and management sellers.
6. Baker McKenzie 

IP Lawyer: Ben Allgrove and Hiroshi Sheraton
Address: 100 New Bridge St, London EC4V 6JA, UK
Phone No.: +44 20 7919 1000
Website: https://www.bakermckenzie.com/en/expertise/practices/intellectual-property
Services offered:
Dispute Resolution, Employment, and Intellectual Property, advising clients on some of the largest, most complex transactions and legal matters in the European and global markets.
Work Highlights:
Baker McKenzie stands out for its international presence and management of global trademark portfolios. The team handles complex IP-driven joint ventures, acquisitions, and disposals, and is highly experienced concerning licensing agreements.
The Baker McKenzie IP department houses additional expertise in patent protection across a wide range of technical disciplines.
7. Charles Russell Speechlys

IP Lawyer: Mary Bagnall
Address: 5 Fleet Pl, London EC4M 7RD, United Kingdom
Phone No.: 44 20 7203 5000
Website: https://www.charlesrussellspeechlys.com/en/expertise/services/intellectual-property/
Services offered:
An integrated prosecution and litigation team covering all areas of intellectual property.
Work Highlights:
Brand Management & Soft IP risk management and dispute resolution (trademark, copyright, registered and unregistered design, passing off, domain and internet issues, advertising clearance, and complaints).
IP licensing/transactional, especially concerning sport, retail, and technology, much of it international. Most of the team's business is derived from clients who are in the business of commercializing intellectual property.
Major areas involve licensing and other means of exploitation of IP and work with innovative deal structures, such as international joint venture companies used as IP boxes, and with IP working principles hardwired into their constitution.
8. Mishcon De Reya LLP

IP Lawyer: Jeremy Hertzog
Address: Africa House, 70 Kingsway, London, WC2B 6AH, England
Phone No.: 020 3321 7000
Website: https://www.mishcon.com/services/intellectual-property
Awards:
Mishcon de Reya has been recognized as a Top 75 employer in the Social Mobility Employer Index 2022.
This year, the firm rose in the rankings to achieve a final standing of 40, out of the 149 employers which participated.
Services offered:
Commercial and IP litigation and fraud matters.
Work highlights:
Acting for Sky in a major trademark dispute with SkyKick which considers the approach to take about key aspects relating to trademark specifications.
Assisting Nintendo in securing a website blocking order relating to websites selling pirated game downloads.
Acting for Nuclei in defending the High Court trademark and passing off proceedings brought by EasyGroup
9. Lewis Silkin LLP 

IP Lawyers: Tom Gaunt, Simon Chapman, Giles Crown
Address: 5 Chancery Lane, Clifford's Inn London, EC4A 1BL | DX 182.
Phone No.: +44 020 7074 8000
Website: https://www.lewissilkin.com/en/cmi/services/intellectual-property
Awards:
Lewis Silkin moves into Top 20 on Social Mobility Employer Index – For the third consecutive year, Lewis Silkin has improved its ranking in the Social Mobility Employer Index, rising to 18th place – up from 34th last year and 59th the year before. The firm now falls within the top ten law firms in the Index.
Services provided:
They provide IP services related to brands, trademarks, patents, domains, designs, confidential information, and copyright.
Work Highlights:
Lewis Silkin is one of the very few law firms that can represent its clients across all fields of IP. A team of over 50 commercial and litigation IP lawyers, patent, and trademark attorneys, and specialist support staff delivers a coordinated global IP strategy with a consistent approach across the searching, registration, management, commercialization, defense, and enforcement of all IP assets.
They represent clients nationally both in the UK and Ireland and internationally through an extensive network of trusted contacts. Their client base covers diverse industry sectors, including FMCG, technology, pharma, advertising, media, entertainment, sports, retail, fashion, leisure, automotive and professional services.
They manage global IP portfolios of tens of thousands of trademarks, designs, and patents and the litigation team has acted on many leading IP cases as well as coordinating multi-jurisdictional disputes. Driving value from IP through licensing, franchising, sales and securitization is the focus of lawyers.
Clients often require a mosaic of services provided from a variety of platforms, domains, content monitoring, anti-counterfeiting tools, and custom search functionality. They partner with tech providers to deliver this as part of comprehensive centrally delivered IP360 solutions and offer unique innovative services such as Ad Slogans, developed by the firm, which is a database of slogans and end lines used in advertising.
10. Bristows LLP 

IP Lawyers: Matthew Warren; Simon Clark; Ian Gruselle
Address: 100, Victoria Embankment, London, EC4Y 0DH, England
Phone No.: 020 7400 8000
Website: https://www.bristows.com/expertise/litigation-dispute-resolution/brands-designs-copyright/
Services offered: 
Intellectual Property, Information technology, Data, Cyber & Libel, Commercial & technology disputes.
Work highlights: 
Advising the WPP group on coordinating and managing the worldwide (except the US) trademark portfolio.
Advising the Financial Times on the management of its worldwide trademark portfolio, conducting clearance searches for new brands, filing applications to expand the protection of the FT and FINANCIAL TIMES brands around the world, and assisting in the protection of new brands and products.
Assisting Master Moley from the early development stages of a project and through the entire lifecycle of a film special, including managing its worldwide trademark portfolio.
Final Thoughts
Hopefully, this IP lawyer list will help you find the support you need whenever you are faced with an IP-related legal dispute, which can happen to any business in the digital age. Look up the firm first on LinkedIn or Facebook to see its ratings and activity. Check for testimonials from satisfied clients on the firm's website or social media pages. Arrange a free consultation call with them to hear their views, suggestions, and ideas. Opt for the IP lawyer, you find the most competent and always ask for the charges before agreeing to anything. It is often good to start with consultations, but if you want the lawyer to take care of all the communication then they will usually provide you with a package of legal services as most London law firms do.
Author Profile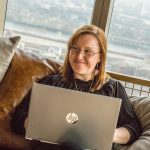 Blogger and Educator by Passion | Senior Online Media & PR Strategist at ClickDo Ltd. | Contributor to many Education, Business & Lifestyle Blogs in the United Kingdom & Germany | Summer Course Student at the London School of Journalism and Course Instructor at the SeekaHost University.