The London Business News team had the pleasure to join the Investors in People Make Work Better event to celebrate the accredited organisations in their community at The Renaissance St Pancras in London on the 28th of June 2023.
Investors in People have accredited more than 50,000 organisations and their accreditation is recognised in 66 countries around the world, making it the global benchmark when it comes to people management.
The event recognised organisations and their achieved accreditations, by having their photo taken with the CEO, Paul Devoy, presenting them with their accreditation awards.
The accreditations range from accredited, silver, gold to platinum and recognise people management, employee wellbeing, and apprenticeships in the workplace.
Before the local speakers were on to share their accreditation stories, Investors in People put on a buffet lunch offering the opportunity for all guests to mingle and catch up.
Make Work Better – How accredited organisations achieve it with Investors in People
Investors in People have worked with a huge range of big and small organisations from Public Sectors, SMEs, Charities, PLCs, and anything in between to provide support and guidance in making work better.
At the event organisations such as The Gym Group, Tate, Energy UK, Pearson, the British Retail Consortium, and many more were recognised for their accreditation achievements.
The speakers at the event highlighted why the accreditation is so special to them and what a difference it has made to their staff and work.
Investors in People Event Speakers, Highlights & Interviews
The first speaker, Jason Ashley, Head Teacher at Redbridge Community School, emphasised the benefits of the anonymous survey, which in his view helps all staff to express their honest opinions, leading to an open conversation about everything requiring improvement.
He strongly believes that the accreditation has helped him and his school to celebrate employees more effectively by implementing an employee of the month for example. And he recommends every school to get accredited, despite this being rather rare. The school achieved Platinum accreditation for the second time.
The second speaker, Danielle Massey, Talent Manager at BAM Nuttall, shared that in a male dominated industry such as civil engineering, the accreditation process has helped with improving mental health in their organisation through interviews and surveys where staff were able to communicate concerns that may otherwise have not come to surface.
They have taken part in the accreditation process over the past 20 years and have so far achieved Gold accreditation.
The third speaker, Vicky Goodacre, Chief Human Resources Officer at London Bridge Hospital emphasised the important role of ownership and communication, which the leadership focused on during the accreditation process.
Mental health first aiders were nominated to support staff especially during the pandemic. They are the first hospital to achieve Platinum accreditation.
The Investors in People CEO, Paul Devoy, congratulated all organisations at the event for their achievements, recognising how challenging it is to make work better for every single member of staff in an organisation.
He acknowledged that all organisations taking part invest in their people to achieve higher efficiency and a better ROI by working with Investors in People as their assessors ensure that every employee's feedback is considered.
You can find more success stories here to get inspired or head to our business innovation news and business spotlight sections.
Author Profile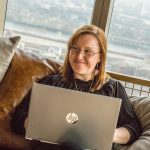 Blogger and Educator by Passion | Senior Online Media & PR Strategist at ClickDo Ltd. | Contributor to many Education, Business & Lifestyle Blogs in the United Kingdom & Germany | Summer Course Student at the London School of Journalism and Course Instructor at the SeekaHost University.