In preparation for The Business Show 2023, returning to London's ExCeL on the 22nd & 23rd of November, the London Business News team had the opportunity to ask the people behind Europe's largest business event some curious questions.
As the 45th edition of the show will focus on "getting Britain back to business by revealing the secrets of business adaptation and innovation", we endeavour to gain some exclusive insights from the TBS team beforehand that we can share with our audience – and stay up-to-date about business events in London via our website and socials.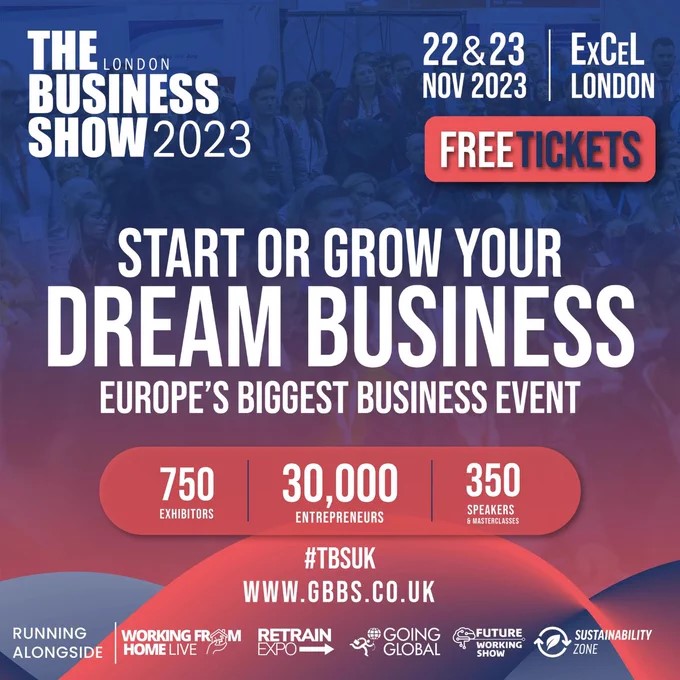 1. How was the idea for The Business Show born?
The Business Show identified a gap in the market within the event industry, a business event that is completely free to attend and accessible to all. And thus, the show was born, providing some of the latest knowledge and resources, inspiring talks, and numerous networking opportunities for entrepreneurs and business professionals across the UK free of charge!
2. What is the biggest challenge to getting the event up and running every year?
One of the main challenges is ensuring that the event runs smoothly on the day. We can do as much prep as possible but sometimes on the day, there are things outside of our control. Our team works hard to ensure that everything works smoothly, seminars and keynotes are on time, and visitors are aware of the day schedule.
3. How do you decide about the show's programme and speakers?
We begin prepping for the next edition of the show straight after the event has finished. The team plans the programme and speakers months in advance to ensure bigger and better events year after year.
4. What is the most important thing every exhibitor and attendee should know before the show?
The show guide will be your best friend at the event! Our show guides are designed to allow attendees to plan their day, accordingly, take notes, highlight all the keynotes and seminars they would like to see the most, and generally help our visitors navigate their days. As for exhibitors, the show guide is a great way to check out all the other brands at our event, network with like-minded business owners, and check out their own listings.
5. What makes The Business Show stand out or special from other business events?
The Business Show is different from other business events as it is completely free to attend. We focus on bringing the best resources and knowledge to aspiring entrepreneurs and business professionals free of charge so that every business has the best chance of success. Additionally, we are one of the longest-running business events in the UK; we've been established for over 22 years. Because of this, we have created lasting relationships with visitors, exhibitors, and partners.
6. What can visitors expect this year as you attempt to reveal the secrets of business adaptation and innovation?
This year we unveil our new zones Sustainability Zone and Future Working Show. These have been created due to the emerging trends in the workplace focused on tackling the environmental crisis and evolving technological advances. We are confident that with the new additions, you'll leave the event with all the knowledge you need to succeed and revolutionise your business. From global expansion, reskilling & upskilling to setting up a hybrid workplace model, The Business Show will prepare you for every challenge you may face!
7. Do you have any networking tips for attendees to make the most of the event?
Bring your business card! Over the years we've seen more and more attendees bring their business cards to the event as this is a great and easy way of passing on your own or your business details. Alternatively, some have digital business cards which is a more modern alternative and is popular amongst attendees.
One of the best ways of making lasting connections at the event is our speed networking zone. This is an intense session of one-minute mini-meetings designed to help you gain more contacts in one hour than some people do in a career. You will need to book your spot via our website as seats fill up quickly!
8. Do you have any tips for the exhibitors, or do you provide guidance on how to make the most of being an exhibitor?
We suggest numerous ways our exhibitors can make the most of exhibiting at the show. From creating an eye-catching stand, to providing some innovative freebies there are numerous ways exhibitors can increase their interactions with visitors.
Freebies: Freebies are a great way of gaining traction to your stand. According to Princeton Marketing, 52% of attendees at an exhibition are more likely to visit a stand if they're offering a giveaway or a freebie. We've seen a lot of freebies handed out from our exhibitors, last year Lead Forensics offered Pick n Mix to attract more visitors to their stand.
Engaging with attendees: It's important that you market yourself as friendly and approachable. Go out of your way to connect with attendees, strike up a conversation, and explore the other stands around you! Networking is key at business expos, so exhibitors need to make sure they're engaging with attendees as much as possible.
Interactive games & quizzes: Another great way of gaining traction for your stand is by providing interactive games and quizzes. Interactions like these generate a buzz and are a great conversation starter.
9. Where and how do you see The Business Show 5 years from now?
This year The Business Show has made its debut launch in the US and in the future, we see the show expanding into more locations across the globe. We aim to make The Business Show a global name and continue to help thousands of entrepreneurs and business owners build the business of their dreams. Our events are currently in London, Los Angeles, Miami, and Singapore and we can't wait to bring the show to locations near you and make The Business Show the biggest and best event in the world!
We thank the TBS team for sharing their event tips and hacks and look forward to an amazing show this November so get your free ticket now!
Europe's largest Business Show @TheBusinessShow is back for 2023, returning to @ExCeLLondon on the 22nd & 23rd of November, helping #smallbusinesses #grow and #develop.

Get FREE tickets here: https://t.co/CiVDf9xioB #dayofencouragement #londonbusinessnews #londonevents pic.twitter.com/8LaHlCWhFn

— London Business News Mag (@LbizNews) September 12, 2023
Author Profile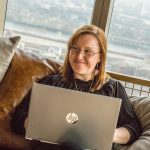 Blogger and Educator by Passion | Senior Online Media & PR Strategist at ClickDo Ltd. | Contributor to many Education, Business & Lifestyle Blogs in the United Kingdom & Germany | Summer Course Student at the London School of Journalism and Course Instructor at the SeekaHost University.