When it comes to accepting online payments in the UK, there are several payment methods and gateways to choose from. Each has its own strengths and weaknesses, and selecting the best option for your business can be a daunting task.
If you are a business owner who needs help navigating the world of payment gateways and finding the best fit for your needs, consider working with a company like a Shuttle for example. Shuttle assists businesses in boosting their sales while minimizing costs by identifying suitable payment services and technology partners and facilitating their integration when feasible.
Let's look at some of the most popular payment gateways in the UK and provide some guidance on which one may be the best fit for your business, depending on its features.
PayPal
View this post on Instagram

PayPal is one of the most widely recognized payment gateways in the world. It is a popular choice for businesses of all sizes because it is easy to set up and use.
PayPal allows customers to make payments using a variety of methods, including credit cards and bank transfers, and it is available in multiple currencies. One of the advantages of PayPal is that it has a large user base, which can help to increase the visibility of your business.
However, it does charge transaction fees and may not be the best option for high-volume transactions.
Stripe
Stripe is a popular payment gateway for businesses of all sizes. It is known for its ease of use and quick setup, and it offers a range of features, such as recurring payments and support for multiple currencies.
Stripe is also known for its security features, which can help to protect your business from fraud. Stripe charges transaction fees, but these are typically lower than those charged by PayPal.
Acquired.com
In the latest edition of our handy payment guides we have focussed on merchant acquiring! Take a read!https://t.co/ugyB7b9WUo

— Acquired.com (@AcquiredPayment) February 20, 2023

Acquired.com provides tailored payment processing and digital banking solutions that address various payment-related challenges. Their solutions are customer-led and continuously innovated to provide the best service possible.
They have become a one-stop-shop platform for all payment needs. Their in-house team offers customer-centric and agile software development, enabling rapid integration of the best solution for your business.
Acquired.com has a consultative approach, providing best-in-class service to resolve payment challenges.
Ecommpay
Why ECOMMPAY:
🎯All-in-one payment platform
🎯Obtain insights with an easy-to-use dashboard
🎯Drive more sales through customisable checkout
🎯Seamless integration

Learn more about ECOMMPAY's solutions: https://t.co/bWqXGBgyW5#retail #payments #paymentsolutions #fintech pic.twitter.com/hkwET3yDhy

— ECOMMPAY (@ECOMMPAYglobal) February 22, 2023

Ecommpay is an online payment gateway provider that has gained recognition for its exceptional customer service and prominent presence in specific industries such as travel and gaming. They also offer an Open Banking solution and provide competitive pricing because they are also the merchant account provider.
Ecommpay's services include acquiring capabilities, integration of over 100 global and local payment methods, enhanced security features, and technological innovation, all in one scalable solution.
Authorize.net
Authorize.net is a payment gateway widely used in the US but is also available in the UK. It offers a range of features, such as support for multiple currencies and recurring payments.
Authorize.net is known for its security features, which can help to protect your business from fraud. However, it does charge setup fees and transaction fees, and it may not be the best option for businesses that primarily operate in the UK.
Wrapping Up
Now that you're in the know about the most used and popular payment gateway businesses in the UK and worldwide use, decide which is the best choice for you and your customers. If you're a business purely operating online, offering e-vouchers for example, you'd want to ensure that the payment gateway you pick is safe, reliable, and suits your budget.
Author Profile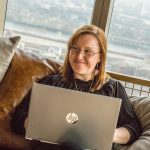 Blogger and Educator by Passion | Senior Online Media & PR Strategist at ClickDo Ltd. | Contributor to many Education, Business & Lifestyle Blogs in the United Kingdom & Germany | Summer Course Student at the London School of Journalism and Course Instructor at the SeekaHost University.