Plastic pollution is getting worse every year. With a recycling rate below the national average, London is under pressure to meet the UK's 2050 target for a net-zero economy.
Let's take a look at four London businesses who are successfully tackling the plastic waste issue.
Making London more eco-friendly
In the face of increasing plastic pollution, four London-based retailers are setting the benchmark for providing sustainable solutions. If London is to improve its recycling rate and help meet the UK's 2050 net-zero target, other retailers should take note.
They would do well to implement equally innovative business strategies, ones that reach out to and reward their customers who are becoming more and more eco-conscious. Eco-friendly business is a win-win across the board. Companies attract more discerning customers who want to reduce their carbon footprint, while London helps the nation meet its targets for a cleaner economy.
Author Profile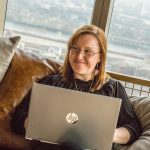 Blogger and Educator by Passion | Senior Online Media & PR Strategist at ClickDo Ltd. | Contributor to many Education, Business & Lifestyle Blogs in the United Kingdom & Germany | Summer Course Student at the London School of Journalism and Course Instructor at the SeekaHost University.