The top London Business Directories listed in this post are influential avenues that are mainly overlooked by small businesses. Being featured in numerous renowned business directories lists is equal to valuable advertising and many small businesses may not be aware of this marketing method. The following best London Business Directories can enhance your exposure and give your business a chance to reach out to a larger audience.
But with hundreds of Business Directories available, how do you know which ones are adequate enough to expose your business and reach the right audience? To save you from having to find out, here are the top 22 London business directories that every small business should be listed on, recommended by our business experts (check our Top 100 UK Business Directories List and Free Business Directories List for more info). Please read the fine print on all of them regarding the cost – choose the ones that are within your business budget.
You can list your business on our top business directories for free to boost your SEO and exposure online or contact us for any queries.
Get listed on UK Business List
Get Listed on SeekaHost Business Directory
Top 22 Business Directories In London
1. Bing Places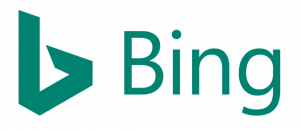 Bing Places is often underestimated; Microsoft constantly rolls out major new Bing Maps notifications as it strives to reel in Google's gigantic lead in the sector. Add photos, opening times, contact details, web links, and more using Bing places. It is one of the top local business directories out there.
Website: https://www.bingplaces.com/
Listing cost: Free
Monthly Visitors: 1+ billion users
Features:
You can include images of your company and its products and information about its operating hours, services, and contact information.
Join the millions of companies that have already added their business to Bing.
By verifying your listing, you can protect it against unauthorized changes.
2. Yelp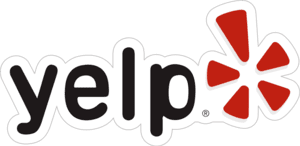 Yelp is a great business directory that is quite unique. Here, you get a chance to list your business, and satisfied clients also get a chance to review your products or services. This could work in your favour and attract more customers.
Website: http://www.yelp.co.uk/
Listing cost: Free
Monthly Visitors: 90+ million users
Features:
You may upgrade or manage your page for free to stand out from the crowd.
Simple ways to reach out to new clients and expand your business
Customers can send you direct messages to ask inquiries, get quotes, or arrange an appointment.
3. Yell

Just like the title depicts, Yell is a business directory that announces to the UK and the world that your business exists. Watch your business grow in leaps and bounds to become a valued industry competitor merely weeks after listing your business here. There are over 1.7 million other businesses listed on Yell.
Website: http://www.yell.com/
Listing cost: Free
Monthly Visitors: 50+ million users
Features:
Clients can contact you via instant message from your Yell listing (on the Yell app and website)
It enables you to rapidly reply to potential business opportunities any time of the hour and wherever you are
Users can send messages, photos, and their location, so you can gather the necessary information to help with their inquiry without the need for a phone call.
4. The Cylex UK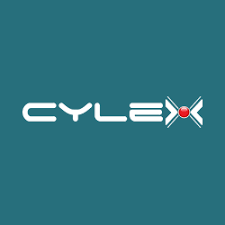 Cylex was established in 1998 as an online business directory. They run more than 30 directories and expect more than one million visits daily. You may easily create a profile, contact information, a website address, social media links, business hours, and much more. Visitors can also read and provide feedback about your company's goods and services.
Website: https://www.cylex-uk.co.uk/
Listing Price: Free
Monthly Visitors: 30+ million users
Features
Connect businesses to the unique requirements of their clients.
It provides the chance for your business to gain exposure by appearing among the top search engine results.
Users can read and post reviews about local businesses and check contact information, company hours, and other information.
5. 192.com

This UK business directory, which has about 700 million records, can be used to search for customers, companies, and locations. Companies are automatically listed, but it is advisable to claim your company profile, and information like phone numbers and website links. Most offerings, including searches for nearby businesses and directory inquiries, are free.
Website: https://www.192.com/
Listing cost: Basic free listing option and a paid premium option.
Monthly Visitors: 12+ million users
Features:
Every entry in this directory can add full names, complete addresses, director reports, etc.
Maximise your influence on the UK's market by enlisting or claiming your business, linking to your website, adding a detailed description, etc.
com is a directory of places, individuals, and businesses all over the UK.
6. LocalMole

LocalMole is a business directory that works hard to popularize the businesses enlisted therein. They conduct frequent adverts on over 140 local newspapers and 100 local sites with the goal of redirecting readers to their site. Currently, there are over 1.8 million businesses enlisted on LocalMole.
Website: http://www.localmole.co.uk/find-business/London
Listing cost: Free
Monthly Visitors: 11+ million users
Features:
For your advertisement to have the highest chance of being noticed, LocalMole collaborates with 62 newspaper websites and over 140 local newspapers.
Enable companies to submit offers and photographs to their listings and manage them online, all of which can increase lead generation.
Allows companies to reach customers in one of the most affordable methods.
7. Yalwa

Yalwa business directory, besides having great command in the UK, also operates in 17 different countries. Yalwa helps small businesses in different sectors promote themselves and their services or products by advertising them for free.
Website: http://www.yalwa.co.uk/
Listing cost: Free and paid listing options
Monthly Visitors: 10+ million users
Features:
Free advertising for your goods and services could greatly impact your online marketing approach.
The purpose of Yalwa is to make it easier for locals to access details about companies in every UK city and neighborhood.
People can post reviews after using a service, which others can use to determine which companies will provide them with the most value for their money.
8. Opendi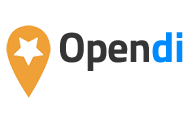 With over 1.7 million businesses currently featured in the Opendi business directory, you have a good chance of showing prospective clients or customers your best side by enlisting here. Opendi is a German directory, but going by the numbers, it is fast gaining ground as a worthwhile business directory in the UK.
Website: http://www.opendi.co.uk/
Listing cost: Free
Monthly Visitors: 9+ million users
Features:
Localize your business and attract more customers with detailed and current descriptions that include information about your company's history.
Keep your company's phone number, opening hours, testimonials, website address, videos, and pictures.
You can add all your products and services in the directory and a thorough description.
9. Thomsonlocal

Are you adamant about enlisting your business in the good old printed directory? If yes, you'll be ecstatic to learn that Thomsonlocal has both a printed business directory and an online version as well. Here there are over 1.8 million businesses already enlisted. Increase your company's exposure by taking advantage of this business directory's vast reach via various channels.
Website: http://www.thomsonlocal.com/
Listing cost: Free
Monthly Visitors: 9+ million users
Features:
Plans to award thomsonlocal products as competition prizes and support the local community and new business events.
It provides everything from free business listings to responsive websites, SEO services, and ads in excellent positions.
10. Kompass

The Kompass business directory offers access to precise and locally sourced data with a regularly updated customer database of 53 million companies. If you are a seller, this tool is your way to enhance online visibility and engage a B2B audience. Get Kompass trusted supplier certificate and be on top of the buyer's search results. You can demonstrate your services and products in 64 countries and 25 languages.
Website: https://www.kompassinfo.co.uk/
Listing Price: Free
Monthly Visitors: 7+ million users
Features:
Enhance your SEO and attract more people effectively.
Get efficient digital marketing with managed PPC and IP website tracking.
Enhance your online visibility and engage new business leads
11. MisterWhat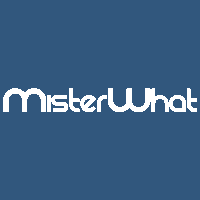 With a domain authority of 44, this known directory offers an excellent backlink; add your company profiles with helpful details like address, postcode, phone number, website links, business category, and a local map. This site is excellent for small businesses in your area and will boost the visibility of your website
Website: https://www.misterwhat.co.uk/
Listing Price: Free
Monthly Visitors: 7+ million users
Features:
MisterWhat technology assists businesses to rank with the most helpful and reliable reviews.
MisterWhat ranks local businesses using computerised software.
Constantly enhances the service by introducing new features that will benefit you and enhance your overall experience.
12. Manta

Registering your business on a prominent directory such as Manta is what can help you rank even higher on Google. This way, you have an audience that you can reach out to via the Manta directory and a different audience that can find you separately online. Either way, it's a win-win situation because you still get more traffic to your site.
Website: http://www.manta.com/
Listing cost: Free with paid package options
Monthly Visitors: 3+ million users
Features:
Keep track of every pound spent and monitor the progress of your campaign every day.
It empowers companies to attain their maximum potential and attract new clients.
Utilise proven technology created just for your company to take it to new heights.
13. Hotfrog

If you want exposure in and outside the UK, Hotfrog is operational in a whopping 38 countries. So far, there are over 68 million businesses enlisted here. If you exploit this platform the right way, you have the chance to reach out to 1.2 million prospective consumers who visit this site every month.
Website: http://www.hotfrog.co.uk/
Listing cost: Free
Monthly Visitors: 1.6+ million users
Features:
You are welcome to add up to ten business listings for free if your business has numerous locations.
The keywords clients select for their profiles are compared to the terms that potential customers enter online search engines.
The benefits of SEO are significant, and Hotfrog assists in highlighting what makes the client's goods and services unique.
14. All in London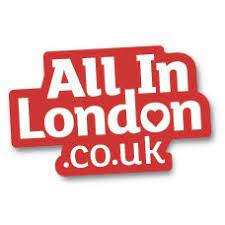 Business listings for London can be found in the All In London web directory. This is undoubtedly necessary if your company is located in London. Customers can also rate and evaluate your company like on other review sites. Your brand's recognition will increase by having a listing in this directory.
Website: https://www.allinlondon.co.uk/
Listing Price: Free and paid listing options.
Monthly Visitors: 730,000+ users
Features:
Assists London companies by democratising innovative digital marketing products
Enables companies to develop their businesses through connections with their target market.
London business directories include entries for stores, clubs, and services; London blogs, a detailed city guide; and more.
15. Locanto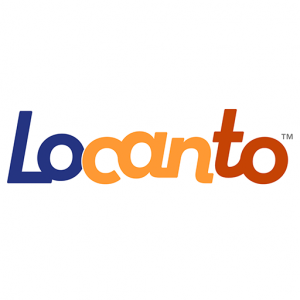 Locanto provides free user-to-user classified advertising in all important cities within the United Kingdom. You can explore the large collection of free adverts and post-free ads.
Link: https://www.locanto.co.uk/
Listing Price: Free
Monthly Visitors: 350,000+ users
Features:
Locanto provides a local marketplace instead of nationwide classifieds.
Advertising on Locanto is very simple to do and functions exactly like advertisements in the local paper.
The option to upload images or include a link to your website makes it much more interesting and attracts more clients.
16. UK Small Business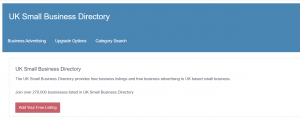 Imagine having up to 2000 people possibly looking at your listing at any one time online. This is what the UK Small Business Directory can promise you. Here the probability of you meeting the right audience and connecting with the right people doubles or even triples. It honestly depends on your efforts and how you portray yourself online. There are over 180,000 UK businesses registered here.
Website: http://www.uksmallbusinessdirectory.co.uk/
Listing cost: Free with paid package options
Monthly Visitors: 80,000+ users
Features:
This directory has two search options: a Category search option and a county search option. It is both user- and search-engine-friendly.
A great directory, especially now that more people choose to use small companies rather than huge ones.
Their Facebook, Twitter, and Google+ directories also showcase your social network brand profiles.
17. Scoot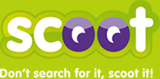 The fact that there are over 7 million people online searching to find various products and services on Scoot means that you have a grand opportunity to advertise yourself. Few directories can boast such a large network. So take advantage and enlist your business here to increase your popularity and ultimately, revenue.
Website: http://www.scoot.co.uk/
Listing cost: Free and paid listing options
Monthly Visitors: 76,800+ users
Features:
Boost website traffic and drive phone calls and inquiries to your business.
Connect with millions of consumers actively looking for the services and products you offer.
You can change your profile at any time using your Scoot Dashboard.
Offers businesses the chance to be found on numerous top search engines.
18. FreeIndex

With over 400,000 other businesses already listed here, FreeIndex is certainly a business directory worth your time. This site has plenty of positive customer reviews, all of which go to show that you can expect results.
Website: http://www.freeindex.co.uk/
Listing cost: Free with paid package options
Monthly Visitors: 76,400+ users
Features:
Companies can request quotes from nearby businesses for any goods or service using the Quote Get service.
It enables businesses to read reviews of nearby companies and improve their services and products.
There is no cold calling, spamming, upselling, or other aggressive marketing techniques used by this directory.
19. BusinessMagnet
Is yours a B2B type of business? Often, businesses work with other businesses to increase


sales and revenue. In this case, you would need a business directory that can understand your needs and can link you to other relevant businesses.
If this pretty much sounds like what you want, then BusinessMagnet is that directory for you. They have over 140,000 businesses whose products and services are enlisted here. They also have over 75,000 categories to accommodate all types of businesses and their products/services.
Website: https://www.businessmagnet.co.uk/
Listing cost: Paid
Monthly Visitors: 60,000+ users
Features:
The web-based contacts made possible by Businessmagnet are currently beneficial to 140,000 businesses.
Promote your website to real visitors.
The online platform offers free company registration.
20. Lacartes

A relatively new business directory that has taken over by storm, Larcartes now has over 57,000 businesses already enlisted from over 138 countries. Want to expand and broaden your reach? Then, no doubt, Larcartes is a business directory you cannot afford to ignore.
Website: http://www.lacartes.com/
Listing cost: Free
Monthly Visitors: 21,500+ users
Features:
Discover amazing local businesses and interesting individuals.
Your connection to international vendors is made possible via Lacartes Marketplace.
Add everything, including the location of the company, its phone number, its hours of operation, a map, and images.
21. Brownbook

Ready to set your business up on that global pedestal? Brownbook is that business directory you definitely want to be associated with. It has a solid hold in countries all over the world making headlines as the top business directory with over 2.2 million businesses from the UK listed.
Include accurate and up-to-date information about the location of your business and the services and products you offer. Also, include contacts people can use to reach out to you and make inquiries.
Website: http://www.brownbook.net/
Listing cost: Free
Monthly Visitors: 2,000+ users
Features:
List your business, claim it to update the information, and add more information like text, pictures, videos, and much more.
Your Brownbook listing assists your business website in ranking on major search engines.
Attract more consumers to your business.
22. SeekaHost Directory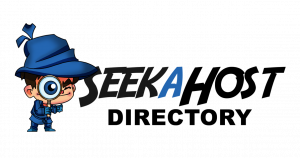 Register with the SeekaHost Directory to add your company to an international business listing that enables you to connect with a wide range of local and international customers in the UK and beyond. By registering on the SeekaHost Directory potential customers can find your business and all its info easily via the fast business search option.
Website: https://directory.seekahost.com/
Listing Price: Free and paid listings are available
Monthly Visitors: 100+ users
Features:
The audience can learn more about your company and services by clicking on a backlink to your website. Additionally, your search engine ranks are improved.
You may also post articles about your company with a premium listing.
Increased probability of attracting more visitors and improved visibility in search engine keyword searches.
The importance of registering with as many business directories as possible, also with a thriving Online Business Directory, cannot be stressed enough. With developing companies engaging in a cutthroat competition to outdo each other, you have a better chance of coming on top by reaching as many potential customers as possible.
Learn more about how such a listing can improve your SEO and ranks on search engines and get one of the top London SEO agencies to do all the hard work for you, if you've got other things to do. Top SEO agency ClickDo offers citation building services that can support your business as many other digital marketing agencies do.
Author Profile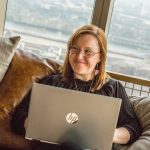 Blogger and Educator by Passion | Senior Online Media & PR Strategist at ClickDo Ltd. | Contributor to many Education, Business & Lifestyle Blogs in the United Kingdom & Germany | Summer Course Student at the London School of Journalism and Course Instructor at the SeekaHost University.