London's underground rail network (or the Tube as it is known to locals) may date back to the Victorian era, but it had to wait until 2016 before someone took a serious interest in the adverts that appear on it and their impact.
The study, an exercise in what is known as neuromarketing, was carried out jointly by researchers at COG Research and Bournemouth University and used a mix of eye-tracking software, skin conductance response data, user interviews and surveys to give advertisers an insight into what works and why when it comes to advertising on the Tube.
Some of the headline findings on tube advertising include:
The vast majority of travellers say they are favourable to London Underground advertising.
80% of respondents say they don't like social media ads or TV ads but do like London Underground ads.
60% of travellers notice when a new ad appears along their Tube journey.
The London Tube – the perfect Advertising Space?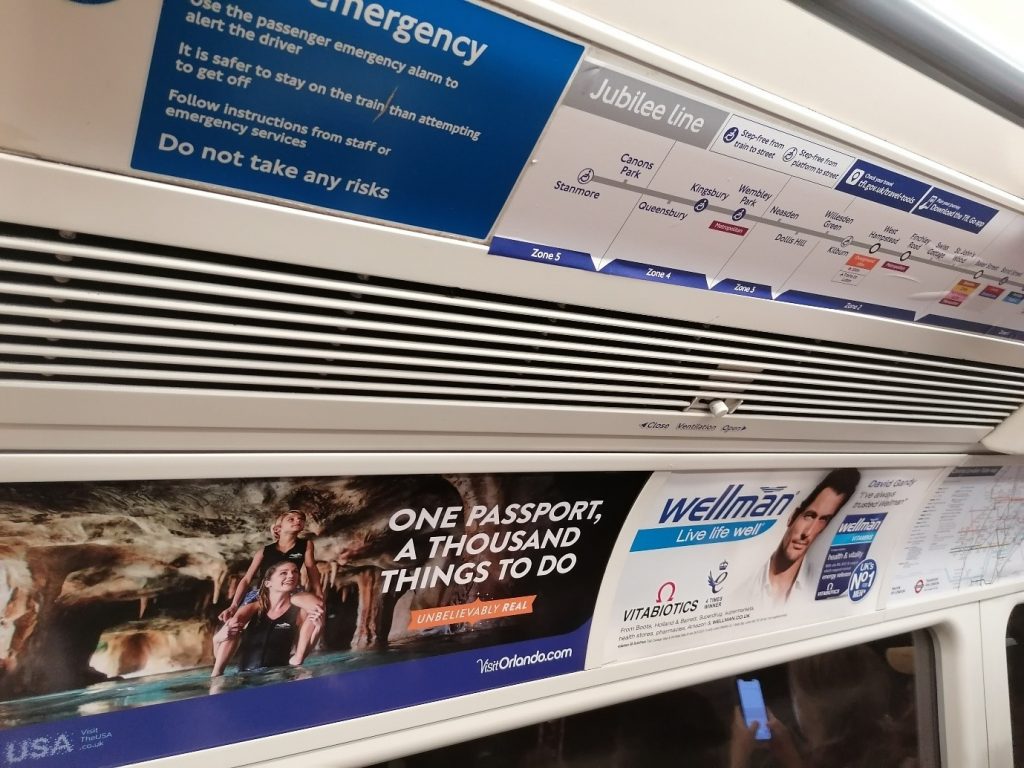 The research suggests the Tube is an advertising space unlike any other in many ways. Perhaps owing to the fact that travellers are over 100 feet below the earth's surface on some parts of the network and mobile phone reception is patchy, passengers have been shown to be more receptive to ads than they are when above ground.
"Interestingly, travellers were motivated to engage with advertising for its own sake, regardless of whether the product category was immediately relevant to them," notes Marketing Week, a trade magazine.
In terms of station geography, the research finds that the average Tube user spends five minutes in a corridor, three on an escalator, 35 on a train and five on a platform.
In each of these locations, the Tube offers opportunities to sell, plug and promote something, often using a simple billboard on passenger platforms or eye-level signage in carriages, but also via more immersive experiences that exploit the Tube's unique layout.
Immersive Advertising in London's Underground
For example, Twinings, a tea maker, recently ran a campaign that featured billboards impregnated with the scent of spiced apple, vanilla, and chamomile to evoke the aroma of its sleep tea. The Tube's rabbit-warren-like commuter corridors allowed this to work because the whiff could be confined.
Hendrick's Gin had previously tried something similar when they wafted commuters with the smell of cucumber.
Most people living in London using the tube regularly will be familiar with the likes of such TFL posters and ads, some of which are non-digital and digital.
Recent Developments on the TFL Network Impacting Tube Advertising
The new Elizabeth Line, opened in May 2022, has added to TfL's advertising mix, especially as far as digital marketing opportunities are concerned.
Global, the company that handles advertising for much of the TfL rail network, has integrated the Elizabeth line into its pioneering digital advertising platform, DAX
The Elizabeth's Line's Bond Street station has exploited the potential of DAX to the max. It boasts two 44-metre-long digital video advertising spaces, the longest on the Tube, that run the length of its escalators.
Google, Sage, and Schweppes were the first brands to snap up space there.
Many brands are drawn to the Bond Street stations – be it the underground one or the one on the Elizabeth line – because they serve the well-heeled commuters travelling to and from the West End, home to London's theatre area and one of Europe's busiest shopping districts.
Indeed, the recently opened Bond Street station has already attracted the likes of the luxury beauty brand Sephora and fashion designer Michael Kors, neither of which had ever previously advertised on the network and both of which aim their product offering squarely at more affluent shoppers.
Station Takeover & Roundel Rename for Advertising on the Tube
No sooner had the Elizabeth line Bond Street station opened than it underwent a name change – at least temporarily – when it was rechristened 'Burberry Street' to celebrate London Fashion Week.
Introducing #Burberry Street 👀 ✨

To celebrate #LondonFashionWeek, Bond Street has transformed into Burberry Street, featuring knight blue, a colour debuted by Chief Creative Officer Daniel Lee as one of @Burberry's new brand colours

Visit Bond Street until 19 September to see… pic.twitter.com/pz5VqALKJa

— TfL (@TfL) September 15, 2023
This meant the station roundels, the disc-shaped station signs that let travellers get their bearings on the transport network, and signage bore the name of the sponsor.
TfL has okayed several station renames recently.
In 2015, Canada Water tube station was renamed Buxton Water in the run-up to the London Marathon and Westminster station became Webminster for a while, in a bid to promote Amazon's newly launched cloud-based servers.
This type of ad campaign isn't without its controversy – they are often accused of confusing travellers, especially those unfamiliar with the network.
Indeed, according to an FOI request, TfL received 57 complaints over the week that Bond Street was renamed.
"It is clear from customer feedback that this creative activation at Bond Street led to some confusion as to whether they had arrived at the station. Following this activation, we will be reviewing customer and staff feedback to ensure that any future activations across our estate can look to avoid this," a TfL rep announced.
Nevertheless, it certainly got the fashion brand's name out there – and as they, all publicity is good publicity.
Computer Generated Images (CGI) & Other Opportunities
In addition to these on-site adverts, the Tube offers other, more leftfield opportunities to get a company's message out.
For example, as part of a deal TfL struck with IKEA last year, the Swedish flatpack furniture company was given permission to print its logo on the famous Tube maps, helping travellers locate not just their station but the most conveniently situated IKEA store at the same time.
This meant that the stations at Tottenham Hale, North Greenwich, Hammersmith, and Ampere Way were marked by little blue and yellow icons inscribed with the letters IKEA, letting travellers know that an outlet was nearby.
Recently, advertisers have upped the ante by using CGI to promote their brands using the TfL network. The make-up manufacturer Maybelline has taken the lead here and produced a series of viral videos that use London's transport as a backdrop to plug its beauty products.
Advertisement – Next stop ✨ Sky High Mascara Express ✨

Have you seen Maybelline's amazing new CGI ad?! pic.twitter.com/83KYNAZdpT

— TfL (@TfL) July 11, 2023

One shows the front carriage of a Tube train arriving at its station. A CGI-generated eyelash, fixed to its roof, is spruced up by a Maybelline mascara brush that extends from the station wall as it slows to allow passengers to alight.
TfL has also sought out partnerships with high-end brands in a bid to exploit the premium look and feel the company has tried to achieve with the aesthetic of the Elizabeth line.
To this end, in November 2022, the company partnered with the fashion designer Kurt Geiger to produce the 'Elizabeth line collection', a set of five handbags that sport the colours of the new line – Royal purple crystal adorned velvet, leather and glitter.
To remind people that the items are licensed by TfL, all the bags are lined with a material that recalls the Elizabeth line moquette, the hard-wearing fabric you find on the seats in its trains.
Cost of London Underground Advertising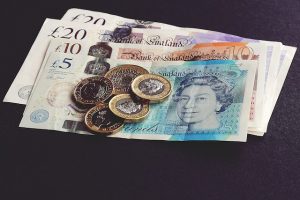 TfL says prices for advertising on its network are set on a case-by-case basis.
However, the Outdoor Advertising website reckons that the average price of advertising on the network is approximately £500-£15,000 per month, but that's likely to be for a campaign that features the static ads you find on platforms and carriages.
To take advantage of some of the more edgy ad opportunities TfL has to offer will set you back a lot more.
IKEA paid £800,000 to have its name printed on the Tube maps and it is believed to have cost Buxton Water £110,000 in 2015 to fill in for Canada Water for a period.
TfL also received £200k for the recent temporary station rename of Bond Street station, with the fashion house also meeting the costs associated with print and production for the campaign.
Top Tips for Advertising on the Tube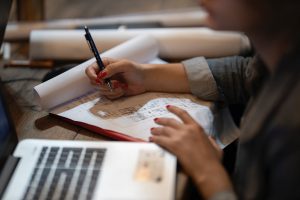 LBN spoke to Alex Ross, co-founder of Red Torch Marketing, a London-based ad agency familiar with running campaigns on the capital's transport network.
Below, he shares his top tips on how to launch an effective TfL ad campaign.
Where should advertisers focus their energies on the Tube?
If you're looking at building brand memories among most people who probably aren't in the market for what you're selling at this moment, then buying a series of ads on an underground walkway and packing them full of your DBAs is a good option.
If it is more performance you're looking for – targeting the minority of people who might be in the market to buy what you're selling now (think West End show offering a discount) then running ads where you're likely to have a longer audience dwell time works well i.e above where people sit on the train works better.
Can you give us an example of a good Tube ad?
The ads for Jack Daniels (comments with images can be found in this LinkedIn post). 
We're often told to keep things short, but Jack Daniels demonstrates this isn't always the case.
They take large ads on the underground and pack them full of well-written copy.
They're not directly selling via discounts or promos, but the ads ensure that JD is front-of-mind for passengers.
The placement of the ads is also superb. The ads are positioned so that commuters have no option but to look at them while waiting for a train.
Ultimately, advertising must capture attention and JD does just this with their creative execution and ad placement.
What are some dos and don'ts?
Don't jump into advertising on the transport network until you're crystal clear on how it fits in with your wider strategy and tactical executions.
Don't expect that just buying media space is enough. There are some truly awful ads on the underground where the budget has clearly been spent on media, but the creative side has fallen short.
Do establish a proper way to measure the success and effectiveness of your campaign.
Do heavily codify your ads and pack them full of distinctive brand assets. If a consumer can't link the ad to your brand, then what's the point of running the ad?
Do remember that the transport network is a great opportunity to capture attention, but you also need to recognise that most commuters have zero interest in what you have to say. Go in with this mindset and it'll help you to deliver clear, well-branded and authentic ads.
Any final advice?
As marketers, we love change but forget that most people don't really care about our brand. 
We need to stick with a message and ensure that visual cues link to our distinctive brand assets. When we get bored of being creative, it is a sign it isn't working.
Remember to always be consistent and clear, and always be distinctive and remember that one of the biggest drivers of campaign effectiveness is creativity.
Further useful Websites and Contact Info
To find out more about advertising on the London Underground visit: global.com/outdoor.
You can also contact TfL directly via tfl.gov.uk/advertisement or email commercialpartnerships@tfl.gov.uk.
Author Profile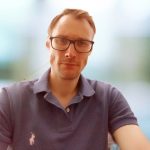 Content creator, freelance journalist and writer based in the North West of England | Contributor to several business blogs and publications | University of Durham & UCLAN graduate