Social media are an extremely lucrative marketing tool, and as it's technically free to launch, use, and sell on social platforms, it can be very beneficial not just to larger businesses, but smaller ones too.
Never has this been more apparent than with small businesses based in the English capital – according to Direct Line, there were over 380 thousand new small businesses in the UK in 2017 alone, with 24% of them registered in London. The city is booming with start-ups and SMBs alike, so what better way to gain traction than via social media?
According to EduBirdie there were a whopping 3.48 billion social media users in the year 2019 worldwide. The number has been growing by 288 million (9 percent) since last year.
Now, if social media doesn't offer exposure then what does? Convinced? Let's get started!
Social content strategy

First thing's first. Any brand using social media for business purposes should have a content strategy, big or small. There's no point getting started without a plan in mind – it just isn't good business, and this applies to all forms of marketing.

Our attention spans are shorter than ever, so business content should reflect this if we want to inspire and engage audiences. Platforms such as YouTube are utilised for longer-form content, but the likes of Facebook, Twitter and Instagram have algorithms which serve shorter-form content higher up the feed, as they tend to generate a lot more engagement than longer pieces. Remember, we access the online world through our mobiles most of the time, too. So, any content should also be optimised for mobile above everything else.

Small brands which see the most success are focussed on storytelling – you have to tell a story and position your brand as a real person to build quality connections.

SMBs can share shorter, snappier content in-feed, but use platform features such as IGTV and Instagram Stories to continue the story in a more suitable format, without taking them off the platform itself. Creating memes can be effective to engage your audience with fun and easy to digest content.

Quality over quantity

On the topic of connecting with the audience, engaging content is much more appealing – sales come afterwards.

If the conversion is your main objective, remember you cannot sell without creating engaging content. Brands that forget to humanise are likely to fail at some point down the line. Put a proper strategy for quality content into place, identify where you need paid support to serve it to a wider audience, and take it to the next level.

Audience-first content is everything – don't over-agonise about what your brand wants, think about what your audience wants.

Conversion

If your main KPI is to generate sales, it's important to ensure your audience are connecting and engaging with content in a meaningful way. But there are many ways in which you can drive conversion.

Look at Shoppable Instagram posts – if you have a business account which is approved for this feature, you can use it to sell products through the platform. Countless brands in London are using this feature, especially local businesses. Think about how much time we have on our hands if we're commuting – it's the perfect opportunity to drive sales.

Social media can be used organically to drive conversion but applying a paid model can bring further success.

Paid media

Paid media is essential to any social content strategy, especially for small businesses. Content needs to be seen, and as the platforms are favouring brands that pay for it above those which don't, many small businesses are factoring this into their plans.

There are many benefits to social media advertising, but one of the main ones is being able to target audiences based on various factors. This includes geo-targeting, which can gate audiences in specific locations (for example, Central London) to enable brands to reach those most-suited.

Every platform has its own advertising feature, most of which have easy user interfaces, and the fact you don't even need a big budget to make an impact means many SMBs are seeing real results.

Test and learn

Above all, any brand needs to test and learn.

Those seeing success will understand what works best for their brand. They understand the need to be audience-first focused and learn about timings, when and where audiences are most likely to be online, and how they engage. Plus, if audiences don't engage, it is important to understand why and how to change this.
To learn more about targeted online advertising to boost your business, check the SeekaHost University for courses on Facebook Remarketing or Google Ads. Stay on top of the competitive London business market and learn the cyber skills of tomorrow.
Author Profile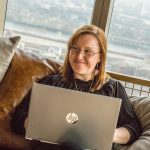 Blogger and Educator by Passion | Senior Online Media & PR Strategist at ClickDo Ltd. | Contributor to many Education, Business & Lifestyle Blogs in the United Kingdom & Germany | Summer Course Student at the London School of Journalism and Course Instructor at the SeekaHost University.