In the bustling city life of London, finding food that's both healthy and quick to eat can prove to be a challenge. This very task set the stage for Segun Akinwoleola's food brand, The Gym Kitchen.
Segun's drive emerged from a simple observation: Individuals valuing their well-being, following dietary plans, or frequenting the gym often find their options limited and boring. The Gym Kitchen aims to break this cycle by redefining fast, nutritious dining.
The Gym Kitchen – The Meal Range that ASDA, Tesco, and Co-Op trust
Picture a culinary range that includes mouth-watering options like Harissa Chicken, Korean Beef Chilli, Thai Green Chicken, or a Mighty Meat Pizza. Now imagine these choices not only tantalising your taste buds but also priced at under £4 each. To top it off, each meal is meticulously designed to fit under 400 calories while delivering an impressive 22 grams of protein, or more.
EXCITING NEWS, this week our chilled range goes on sale in Tesco stores nationwide 🥳

We are on a mission to make your lives easier and healthier.

You can choose from:

✅ Chicken Tikka
✅ Thai Green Curry
✅ Piri Piri Chicken

You can thank us later 😉 pic.twitter.com/EzorzPdpul

— The Gym Kitchen (@thegymkitchen) September 15, 2022
Segun's forward-thinking strategy has led to strategic partnerships with major UK grocery chains, including the likes of Asda, Tesco, and Co-op.
Delving into The Gym Kitchen's Range of Meals
Within the Chilled Meal Range, you'll find enticing options that include:
The Gym Kitchen Thai Green Chicken – 31g Protein, 355 kCal per Pack
The Gym Kitchen Chicken Tikka – 34g Protein, 384 kCal per Pack
The Gym Kitchen Piri Piri Chicken – 35g Protein, 344 kCal per Pack
The Frozen Range brings you the delightful choice of:
The Gym Kitchen Mighty Meat Pizza – 22g Protein, 390 kCal per Pizza
The Gym Kitchen Tandoori Chicken Pizza – 22g Protein, 375 kCal per Pizza
The Rise & Mindset of Segun Akinwoleola with The Gym Kitchen
Segun Akinwoleola stands as a finalist in the Maker and Creator category of the esteemed 2023 Great British Entrepreneur Awards, having brought his imaginative vision to life through The Gym Kitchen.
However, the origins of Segun's narrative traced back to the streets of East London, where the presence of gangs and rampant crime prevailed. In this challenging environment, Segun found solace within the walls of his gym.
His love for fitness spurred him to envision a brand aligned with the needs of fellow gym enthusiasts. However, it was only later that this seed of an idea would evolve to become The Gym Kitchen.
With a distinguished academic background in business management and an academic performance that earned him first-class honours, Segun navigated the corporate landscape. He contributed his skills and expertise to renowned companies including Revlon, Coty Inc., LVK Global, and Kao Corporation.
Drawing also from his experiences within major nutrition corporations, including roles at Life Health Foods UK, VEGBLOCK, and The Black Farmer, Segun's wealth of knowledge in healthy foods and practical insights equipped him to establish his own dietary food brand.
Segun Akinwoleola's Entrepreneurial Achievements
Asda Partnership:
Within two years of launching, The Gym Kitchen secured a listing in Asda in 2020. Since then, its meal range has also been stocked in Tesco, Co-Op and Dunnes.
Black-Owned Business:
The Gym Kitchen is one of the few black-owned brands in UK retail.
Entrepreneurial Recognition:
Segun Akinowleola has been nominated as a finalist for the 2023 Great British Entrepreneur Awards in the Maker and Creator category.
The Gym Kitchen also received the Co-Op 2022 Pioneering Product Award at the Pioneer Awards.
View this post on Instagram
Eco-Conscious Initiatives:
The brand's success isn't limited to sales; it extends to responsible practices. By implementing changes that have led to a 40% reduction in plastic usage, The Gym Kitchen has demonstrated a dedication to sustainable practices.
Media Spotlight:
Segun Akinwoleola's accomplishments garnered attention from a wide audience as he was featured in The Grocer magazine.
The Gym Kitchen continues to redefine the boundaries of healthy convenience, nurturing a healthier way of living for Londoners and beyond.
Segun Akinwoleola's The Gym Kitchen stands as a testament to innovation, resilience, and a deep-rooted commitment to health and community.
View this post on Instagram
Segun in his own Words – our exclusive Q&As about The Gym Kitchen Journey
Q: Your pizzas have gained significant popularity. What do you believe sets them apart and makes them such a hit with customers?
Segun Akinwoleola: Our pizzas are under 400 calories PER PIZZA and have over 22g of protein, this is something that's unheard of. We develop game-changing products to help customers on their health journeys!
Q: Could you share specific ways in which your East London heritage has directly impacted your business decisions and brand identity?
Segun Akinwoleola: When you are from East London you come with a hustle mentality, are driven, and have the passion like no other. Everything we do and think to do is about winning. This is winning for us, our customers, our retail partners, and our manufacturing partners. We never want to give up like a true Londoner.
Q: From your vantage point, what would you consider your most significant accomplishment so far?
Segun Akinowoleola: Most definitely landing our initial launch with Asda stores. This helped propel us to hopefully one day become a household name!
Q: Entrepreneurial journeys are often filled with challenges. Can you reflect on a key challenge you faced while building The Gym Kitchen and how you overcame it?
Segun Akinwoleola: We've faced so many challenges in the short space of time since launching: Brexit, COVID-19, and now inflation. For me, it's about controlling the controllable, being resilient and continuing to stand up for what you believe in.
We thank Segun for his business insights and wish him many more successes to come.
Author Profile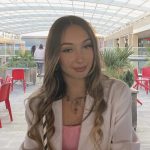 Passionate Blogger and Digital Strategist | 2023 Media, Journalism and Publishing Graduate from Oxford Brookes University | Georgian-British | Establisher and Creative Director of ClickSocial Marketing | Contributor to various Daily, Political, and Breaking News articles