8 JUNE, 2022, London, UK "The use of Industrial Internet of Things (IIoT) technologies allows warehouses to become better at managing and performing a multitude of tasks, improve the operational efficiency by huge margins. They have real-time data transfer, flexible communication, and Big Data analytics. These, along with the cloud-based solution, enable automated, sophisticated, and agent-based control."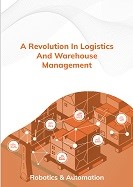 These are the insights shared by British AI, Data, and Robotics company BotsAndUs in their seminal White Paper –  Robotics And Automation: A Revolution In Logistics And Warehouse Management – that clearly lays out the business case for the use of AI and robotics solutions in logistics and warehouse management.  As the industry knows at a great cost, limited visibility of the goods' journey affects every step and stakeholder within the supply chain.
Robotics and AI introduce total visibility of the good's journey, together with cost-efficiencies, improvements in processes, and optimization of operations.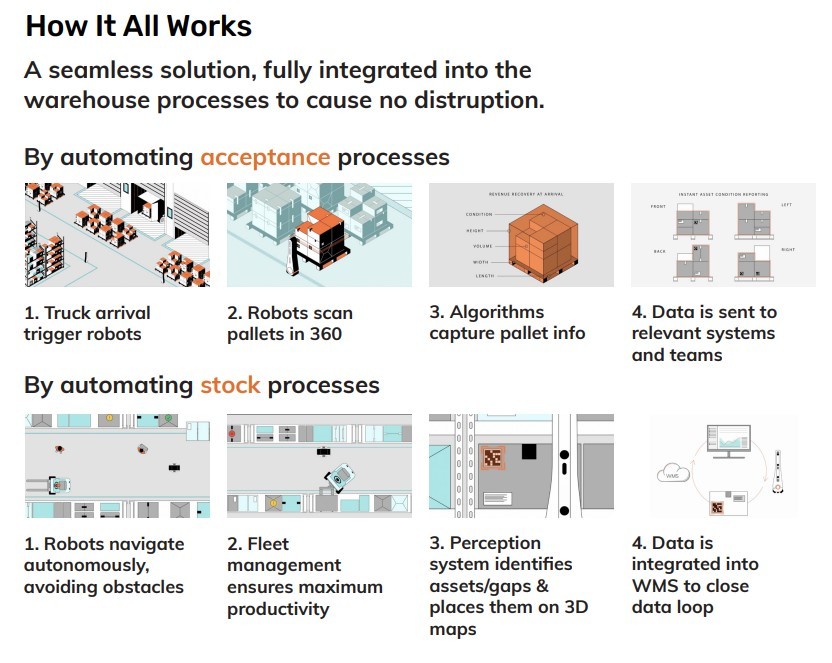 In recent years, the logistics and warehouse markets have experienced unprecedented growth. This was mostly driven by the surge in E-commerce in response to the pandemic and restrictions, as well as by the industry's need for efficient warehousing, inventory management, and real-time data to deliver efficiencies and cost savings. Across the supply chain, there are challenges in stock changes, shortages in the workforce, issues with deliveries, and a rise in overall costs. In addition, billions of pounds are lost annually due to the lack of real-time data on warehouse operations and crucial logistics nodes.  Coupled with other major concerns that include the ability to quickly identify and act on problems in the warehouse, logistics, and wider supply chain early on, it is easy to see why the industry is looking for solutions.
BotsAndUs is a London-based data-driven technology company using artificial intelligence, autonomous systems, and robotics. It is transforming the logistics industry through automation and real-time digitization of assets. Its White Paper explains the technology and allays the concerns – and myths – that are worrying operators of logistics and warehouses in the UK.
Oana Jinga, BotsAndUs Co-Founder commented on the White Paper, saying,
"The release of our White Paper – Robotics And Automation: A Revolution In Logistics And Warehouse Management – coincides with increased demand from the industry for practical and cost-effective solutions. At first glance, it would appear that the only way for companies to ease these pressures will be to introduce big changes to the way they operate along the supply chains. However, we know that automation in logistics and warehousing present immediate solutions and immense opportunities for early adopters in terms of more efficient processes and space optimization, regardless of the size of their operations."
Andrei Danescu, CEO and Co-founder continued,
"At BotsAndUs, we are pioneers in this industry and we are building the next generation of AI and robotics technology to help organizations harness the power of real-time data and become more efficient in driving their operations. We have developed autonomous technology that works alongside logistics and warehouse employees. The technology focuses on data capturing and automation through fleets of autonomous robots that scan the entire warehouse, building up data for a digital twin for real-time analysis and insights on the storage of goods in warehouse space. This then feeds into optimization programs. There is no workflow disruption at any stage. The data-gathering robot accelerates productivity, reduces unnecessary time spent processing and tracking, and allows businesses to drive better business decisions."
The White Paper features a clear explanation of this technology and how it can be delivered across logistics and warehouse operations.
BotsAndUs uses artificial intelligence, autonomous systems, and robotics to transform the logistics industry through automation and real-time digitization of assets. Founded in 2015, its state-of-the-art robotics and AI products combine social sciences with human-centered design and cutting-edge engineering. Mim, their fully autonomous mobile and modular robot measures, tracks and finds goods across warehouses without workflow disruption and provides real-time data at every stage of the process.
Watch Mim in action here:
-ENDS-
Find more information about the latest technology trends here: https://www.londonbusinessnews.com/category/technology/.